"When you're homeless, you get so used to doing what you have to do to survive another day that you're not thinking about getting up at a certain time or looking for work or taking care of yourself. Those are skills you have to re-learn."
— Robin Lloyd, resident of the Portland Rescue Mission.
Architecture graduate students at the UO in Portland are designing concepts to provide relief for Portland's unhoused population that will help ease them back into mainstream society.
"Campus of Hope: Addressing Portland's Homeless Crisis" is a design studio collaboration of the UO, Opsis Architecture in Portland, and the Oregon Harbor of Hope to help address the needs of the 3,800 individuals in Multnomah County who are houseless on any given night. An estimated 12,000 more people are in unsafe situations and at risk of becoming houseless.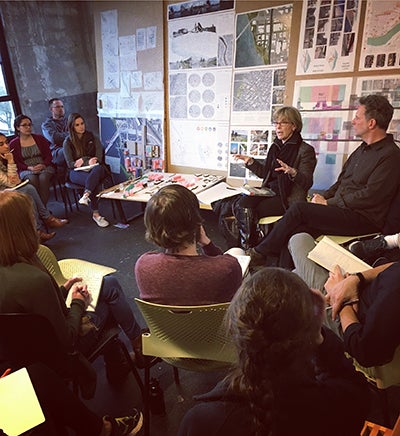 Above: Ann Meyers, former executive director of San Antonio-based Haven for Hope, visits UO students to talk about the Texas city's program and how it might inspire the Campus for Hope's work in Portland. Seated next to her is Opsis Principal, Jim Kalvelage, co-instructor of the studio. Photo by Sabina Poole.
Opsis Principal Jim Kalvelage and Associate Principal Joe Baldwin are co-teaching the class, which asks students to develop concepts for a homeless service center in inner city Portland.
The "Campus of Hope" is envisioned as a comprehensive center to rehabilitate and house the chronically homeless in Portland through joint efforts of the nonprofit, faith-based, government, and private sectors. Portland-based developer Homer Williams is leading the effort to raise funds for the campus.
During winter term 2017, the UO architecture students have connected with homeless support organizations, visited existing shelters, and engaged with city leaders and homelessness activists about the programmatic needs, social challenges, and political hurdles surrounding houselessness.
Students analyzed three potential sites in Portland, each with a distinct organizational typology. They researched and mapped the historic, demographic, environmental, cultural, and urban characteristics that define each site and its context.
With that information, students then developed architectural interventions aimed at creating the most uplifting, rehabilitative environment to guide homeless citizens through the Campus of Hope and on to mainstream society.
Visiting speaker at the class Ann Meyer, the original executive director for San Antonio's Haven for Hope, shared an interactive presentation with the students about the Texas city's program that helps homeless individuals and families.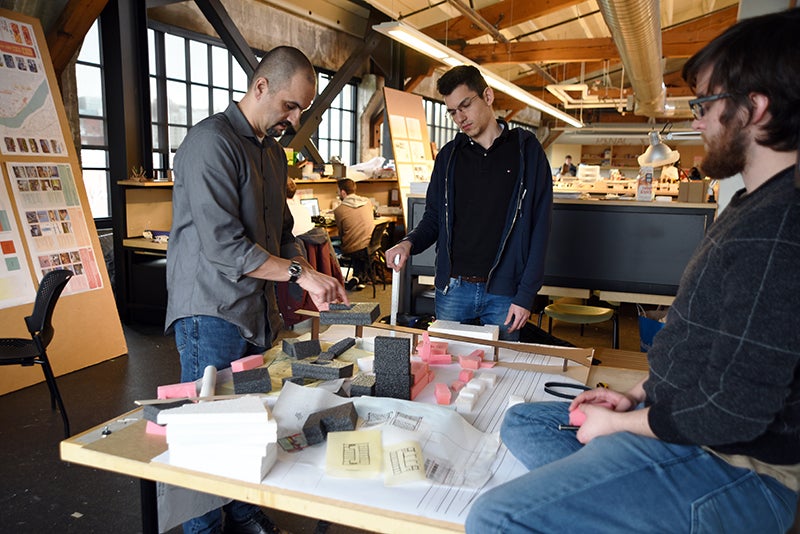 Above: Opsis Associate Principal and studio instructor Joe Baldwin talks to students during a review of the work. Photo by Sabina Poole.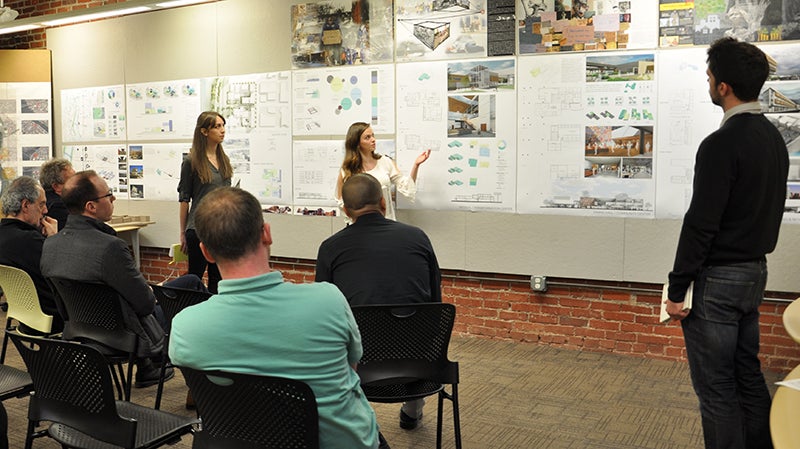 Above: Students present their work during review week. Photo by Brooke Freed.

Above: "Campus of Hope: Prospective Site Locations." Graphic by Joe Baldwin, Opsis Architecture.