Architect magazine named ZGF Architects, founded in Portland, Oregon, the No. 1 design firm nationwide—both overall and in sustainable design. Five of the firm's current partners are graduates of the UO School of Architecture and Allied Arts and more than 70 A&AA alumni work for ZGF globally.
ZGF's higher-education projects include the John E. Jaqua Academic Center for Student Athletes and the Hatfield-Dowlin Complex at the UO. Their portfolio includes projects in healthcare, high performance, higher education, hospitality, housing, interiors, office/mixed-use, public and civic, research, sports, and urban design/transit/landscape.
"ZGF has a knack for designing super-efficient buildings that don't skimp on aesthetics," Architect's Amanda Kolson Hurley wrote in the magazine's September 2016 issue that announced the firm's No. 1 status.
"Its design for a future expansion of Nike's world headquarters in Oregon is as kinetic as a runner in motion, while a new cancer center at the University of Arizona echoes its desert surroundings with walls clad in coppery metal sunscreens," Kolson Hurley continued.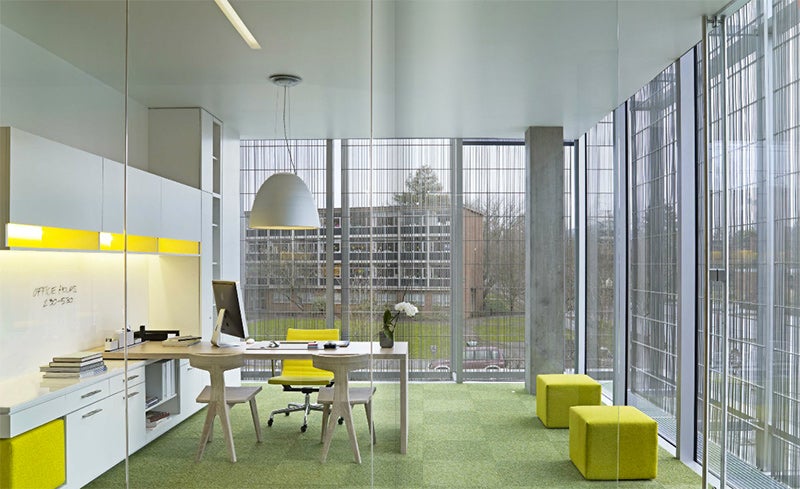 Above: ZGF's higher-education projects include the John E. Jaqua Academic Center for Student Athletes at the UO. Photo courtesy ZGF.
Founded as Zimmer Gunsul Frasca (by Norm Zimmer, Brooks Gunsul, and Bob Frasca), ZGF now has nearly 600 professionals in offices in Seattle, Los Angeles, Washington, New York, and Vancouver, BC (as ZGF Cotter Architects Inc.).
In addition to receiving more than 850 design awards, ZGF has been honored with the American Institute of Architects' highest honor, the Architecture Firm Award.
Hurley noted in Architect that "some technologies ZGF adopted early, like chilled beams and air-sampling systems, quickly entered the mainstream. Now, the firm is trying to anticipate—and drive—the next curve of change. 'Net-zero has to become the baseline,' managing partner Ted Hyman, FAIA, said. 'As a group of architects, we all have to figure out how we do that and build a business case for it.' "
ZGF design partner Larry Bruton, FAIA, BArch '67, joined the firm in 1981 and was made partner in 1987. Bruton was involved in major projects for ZGF clients including the Fred Hutchinson Cancer Research Center in Seattle, Washington, and the Mark O. Hatfield Clinical Research Center at the National Institutes of Health in Bethesda, Maryland.
"We have focused on the 'three legs of the stool,' with business, design, and technical as the structure," Bruton said of ZGF. "We steered away from the studio structure that some other firms practice, and instead worked to develop a team of the most diverse group of people. ZGF has always been a very collaborative firm."
Bruton retired from ZGF in November 2012. In 2013, he and his wife, Janice Bruton, made a $5 million deferred gift commitment to A&AA to aid faculty recruitment and retention.
Current ZGF partners with degrees in architecture from UO include Braulio Baptista, Mark Foster, Eugene Sandoval, Allyn Stellmacher, and Jan Willemse. Seventy-three graduates of A&AA currently work for ZGF worldwide, ranging from a graduate in 1974 (David Gonrowski, BArch) to a graduate in 2015 (Miranda Shum, BArch).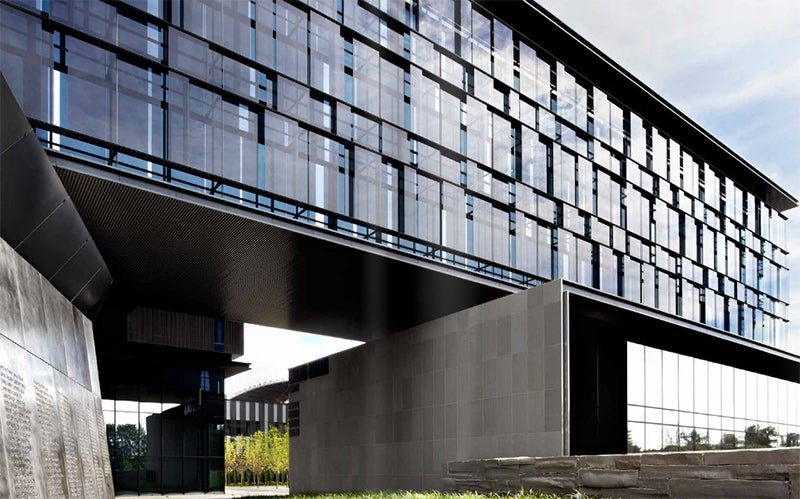 Above: ZGF's Hatfield-Dowlin Complex at the UO. Photo courtesy ZGF.