The annual Holistic Options for Planet Earth Sustainability (HOPES) conference takes place in Lawrence Hall this Thursday through Saturday, April 7-9, and is open to students, scholars, and the general public at no cost. The event begins at noon April 7 and wraps up April 9 with a social mixer in the Hayden Gallery courtyard at 8:30 p.m.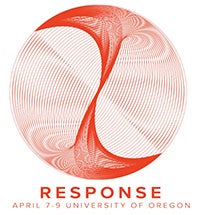 HOPES is hosted each spring by the Ecological Design Center, a UO student group. Inaugurated in 1994, the gathering is an opportunity to discuss the relationship between ecology and design and how this connection can produce sustainable buildings.
The conference, which marks its 22nd year, consists of panels, keynote speakers, professional showcases, workshops, a competition, and social mixers. The full schedule is available on the HOPES website.
This year's theme is "Response." As the HOPES website explains, "Access to information is rapidly becoming a global standard for the first time in history. This super-connected network of minds is accelerating the speed of human innovation. Nevertheless, changing environmental conditions are reaching a crisis point, and even large scale responses can take years to have any effect. The decisions we make now will have lasting repercussions. How do we respond?"
Speakers include:
• Sean Ahlquist, assistant professor of architecture at the Taubman College of Architecture and Urban Planning at the University of Michigan.
• Blaine Brownell, associate professor at the University of Minnesota and director of UM's Master of Architecture Program and Graduate Studies.
• Jill Desimini, assistant professor in landscape architecture at Harvard Graduate School of Design. 
• Michael Fox, associate professor at California State Polytechnic University. 
• Kristina Hill, associate professor of landscape architecture at University of California Berkeley. 
• Sean Lally, founder of Chicago-based WEATHERS, which has explored the creation of new spaces and how those spaces enable and shape the interactions of the people who use them. 
• Francois Roche leads the architectural practice R&Sie(n) in conjunction with the research lab New Territories. 
• Adam Yarinsky, principal at the Architectural Research Office (ARO) in New York, has taught at the University of Michigan, the University of Virginia, Harvard, and Princeton. 
A full description of speakers and their backgrounds is available on the HOPES website.
Participants can use a HOPES punch card — available at any HOPES event — to win free swag. Anyone who attends at least three events will receive a free HOPES shirt. Attend at least five events and be entered into a raffle for a free Bull & Stash notebook.
Attendees can earn academic credit. Contact Kassia Dellabough, kassia@uoregon.edu, 541-346-8272, for more information.
The event is sponsored by the Associated Students of the University of Oregon and the UO Student Sustainability Center.