An exhibition by Architecture Professor James Tice is on display in the Hayden Gallery in Lawrence Hall through February 20. The gallery is free and open to the public during regular building hours including weekends.
Video of Tice's February 6 lecture, "Mapping Rome," is now available on the UO Channel website.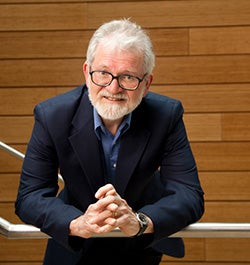 Tice shares his passion for Rome through the creation of interactive online maps. "When I first started this work over ten years ago, it was a labor of love that I thought twelve people might find interesting," Tice says. "I had no idea that hundreds of thousands of people from all over the world would find it engaging."
Rome "is the most thoroughly documented city in the world," Tice notes. "For almost two thousand years, architects and artists have depicted the city through a variety of cartographic methods employing virtually every kind of media at their disposal: stone, paper and graphite, oil and canvas, copper plates, wood, and frescoed stucco. In the process, they have left a vivid record of their impressions that has created a vivid portrait of one of the world's great cities."
Tice authored an op-ed piece (pdf) in the February 4 The Register-Guard that complements his exhibit in the Hayden Gallery. In the RG piece, Tice states that, while "Rome may not be the first city that comes to mind when you think of Eugene, [there] are lessons to be learned from this ancient city as we debate the future of Eugene City Hall, the Willamette riverfront, Civic Stadium, west 11th Avenue and other hot-button city planning issues."
Tice began his study of Rome four decades ago as a graduate student at Cornell University. Most recently his research has involved collaborative, interdisciplinary projects with colleagues at UO, Stanford University, Dartmouth College, and Rome in the fields of geography, architectural history, archaeology, and computer sciences.
He is currently working on his third venture into interactive online maps related to Rome—the GIS Forma Urbis Romae Project: Creating a Layered History of Rome.
The previous websites that Tice cocreated with Erik Steiner and Allan Ceen—the Interactive Nolli Map and Giuseppe Vasi's Grand Tour of Rome—were conceived as a resource for students and scholars but have mushroomed into an international phenomenon.
The Nolli map documents work by Giambattista Nolli, who in 1748 created the first accurate map of Rome, the Grande Pianta di Roma. "This room-sized cartographic masterpiece includes detailed information about every aspect of Rome's urban fabric from palaces, churches, bridges, and encircling city walls to its landscape topography such as the famous seven hills and the winding course of the Tiber," Tice says.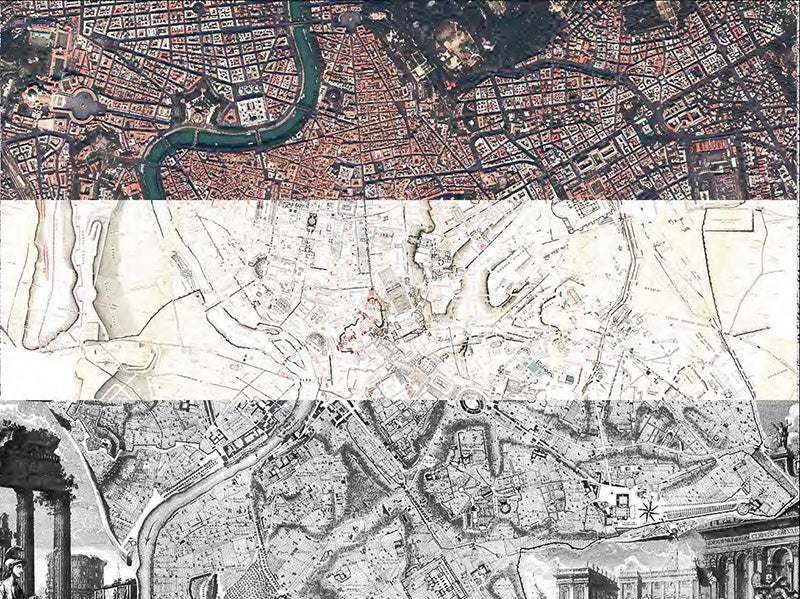 Above: Collage Map of Rome: Bing Maps, Forma Urbis Romae and Pianta Grande.
Tice's second online map project was devoted to Vasi, Nolli's contemporary and author of over 230 urban views of the city published in his Magnificenze di Roma Antica e Moderna.  "When geo-referenced into the Grande Pianta, these vedute (views) amplify and enhance Nolli's map, showing pictorial scenes of virtually every part of Rome along with charming vignettes of city life as lived in both aristocratic and humble neighborhoods," Tice says. "The result, when taken as a whole, is to render a three-dimensional view of 18th century Rome during one of its most illustrious periods."
That investigation led to the design for a traveling exhibition at the Jordan Schnitzer Museum of Art, Giuseppe Vasi's Rome: Lasting Impressions from the Age of the Grand Tour, which he cocurated with James Harper, associate professor in the UO Department of the History of Art and Architecture.  The exhibition traveled to the Princeton University Art Museum the following year.
Using state of the art GIS (Geographic Information Science), Tice's new project examines the city from antiquity to the present by analyzing and updating a 20th century map of Rome created by Rodolfo Lanciani. Completed in 1901, shortly after Rome became the capital of a unified Italy, the Forma Urbis Romae "reveals the city as a series of superimposed color layers showing ancient, medieval, Renaissance and Baroque, and contemporary Rome, the latter as it was unfolding before Lanciani's very eyes," Tice says. "The layered effect presents a complex and fascinating picture of the city over time showing, the astonishing staying power of the ancient city to influence subsequent urban development."
As an additional complement to the Nolli map, the Forma Urbis has been geo-rectified with 20th century aerial photogrammetry and 21st century satellite imaging, "thus providing a scientifically precise tool to examine the ancient, medieval, and modern city in great detail," Tice says. "The eventual goal is to create a dynamic digital geo-database that will render both a temporal and spatial understanding of the Eternal City and its evolution over two millennia."
Tice has authored numerous books and publications, including Courtyard Housing in Los Angeles, coauthored with Stefanos Polyzoides and Roger Sherwood. Tice also served as editor for the American section on housing for The Socially Responsible Environment: USA/USSR 1980-1990.
He is the recipient of a citation of merit from the AIA Architectural Education Initiative for his 1987 publication, Principles of Architectural Design. He has also collaborated with Paul Laseau to explore Wright's work from a typological point of view in Frank Lloyd Wright: Between Principle and Form. His scholarship has appeared in The Journal of Architectural Education, Metamorfosi, Architectural Design, and Casabella. He has also appeared on BBC television and venues at the Victoria and Albert Museum in London and the Dumbarton Oaks Museum in Washington, D.C. The Interactive Nolli Map website is now permanently archived in the Bayerische Staatsbibliothek (Bavarian State Library).
Tice worked in the offices of Richard Meier and Partners, Studio Seven, and Whiting Associates in Rome before founding Coastal Architects in Eugene with Virginia Cartwright. He has been recognized by the Association of Collegiate Schools of Architecture for design excellence in promoting architecture and research as a reflective discipline. His work has been exhibited at the National Academy of Design, and selected drawings are part of the permanent collection in the Avery Centennial Drawings Archive at Columbia University.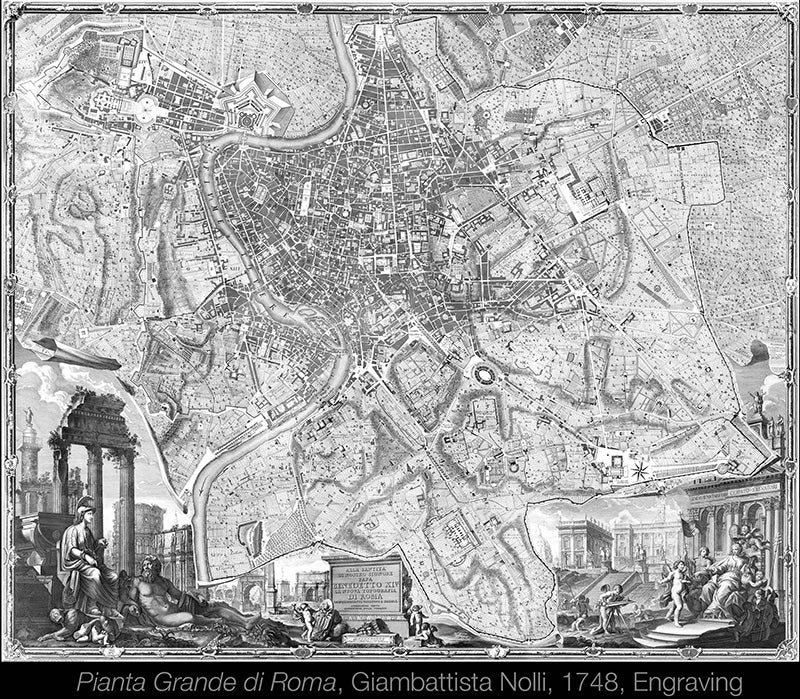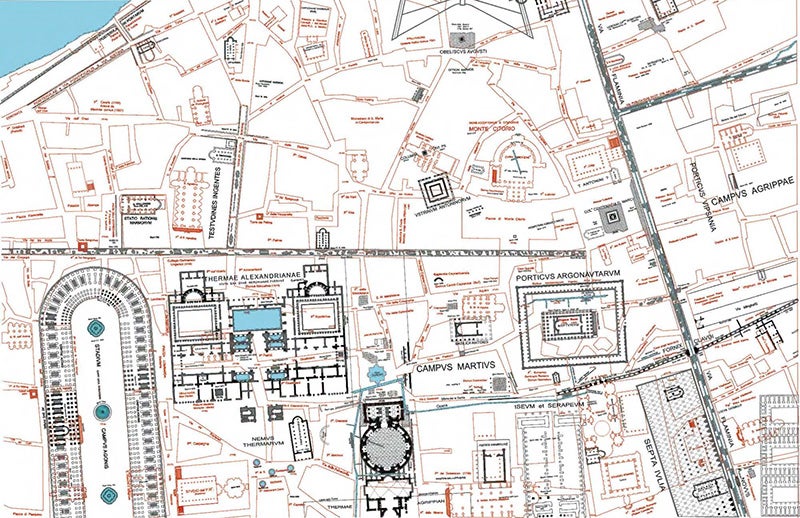 Above: Detail of the Campus Martius, Forma Urbis Romae, Rodolfo Lanciani, 1901, Digital Remastered Image.