Associate professor of architecture Mark L. Gillem can now add FAIA to his credentials. Gillem, PhD, AICP, and principal at The Urban Collaborative, is among 139 AIA members recently elevated to the prestigious College of Fellows by the 2014 Jury of Fellows from the American Institute of Architects (AIA).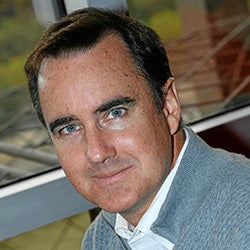 The award honors members who have made significant contributions to the profession. Gillem was nominated for having "advanced the science and art of planning and building by advancing the standards of architectural education, training and practice."
The 2014 Fellows will be honored at an investiture ceremony at the 2014 National AIA Convention and Design Exposition in Chicago in June.
"Mark Gillem is a great example of an architect who is very accomplished in both academic and professional domains," said Judith Sheine, head of the Department of Architecture at UO. "He provides terrific opportunities for his students to be involved in his work; his current studio is working with a university in Gabon on a new master plan for their campus and spent a week in Gabon engaged in a participatory planning process. His global practice in master planning strategies informs his research and teaching, which, in turn, influences and enriches his practice. Mark is clearly very deserving of this honor."
Don Kahle, executive director of the Oregon AIA Southwest Chapter, noted that it's more the norm than an anomaly to have Fellows from UO. "Our little chapter with fewer than 200 members has added more Fellows per capita over the past five years than practically any other AIA chapter in the country. Credit for that has to go to the Fellows themselves, to the university, and to a culture of excellence. It's really something to be proud of."
Gillem has taught at UO since 2005. A certified planner with extensive project experience in both the public and private sectors, Gillem has developed master plans for more than 100 sites worldwide through The Urban Collaborative, an award-winning urban design firm in Eugene. His firm has completed master plans for sites including communities, military bases, churches, schools, and transit agencies.
The firm is currently preparing numerous master plans in Hawaii including master plans for Joint Base Pearl Harbor-Hickam, Fort Shafter, Schofield Barracks, Wheeler Army Airfield, and Fort DeRussy. His firm is also preparing plans for sites in Texas, California, Kentucky, and Louisiana.
In studio, Gillem challenges students to balance theory and practice through participation in community design and interaction with clients, fostering collaboration in the shaping of sustainable urban form. He initiated the City Design Lecture Series in Eugene in 2006 to fund visiting speakers on topics relating to transportation, land use, and livability.
Gillem also has extensive experience in sustainable military planning. He has completed plans at a range of scales for all branches of the U.S. military, from real property master plans to small area development plans at more than fifty military installations worldwide. His designs, form-based codes, and his collaborative design processes set a new standard for military planning.
The Federal Planning Division of the American Planning Association has honored Gillem with numerous national design awards including awards for plans at installations in Japan, Italy, South Korea, Washington, and Oklahoma. He was also the primary author of the Department of Defense's policy for installation master planning. This innovative document also received a national award for its unique contributions to sustainable planning.
Gillem holds a PhD and a master of architecture from the University of California, Berkeley, and a bachelor of architecture with highest distinction from the University of Kansas. He is a licensed architect in California and Oregon. He recently retired from the U.S. Air Force Reserves at the rank of lieutenant colonel. He remains a primary instructor for introductory and advanced master planning courses for the U.S. Army, U.S. Navy, and U.S. Air Force.
His publications include an award-winning book on military bases, America Town: Building the Outposts of Empire (University of Minnesota Press, 2007). America Town examines the forces behind the export of the American lifestyle to military bases abroad and explores the impact of this approach on foreign lands. He also contributed an essay on this topic to Indefensible Space: The Architecture of the National Insecurity State, edited by Michael Sorkin (Routledge, 2007).
Other honors include a Design Excellence Award from the U.S. Air Force and the Crocker Award for Teaching Excellence at the Air Force Institute of Technology. His diverse portfolio includes a renovation honored by the Berkeley Architectural Heritage Association (California) and pro bono designs for projects in New Guinea, Guatemala, and Indonesia.
Gillem is director of the University of Oregon's Urban Design Lab and director of the International Association for the Study of Traditional Environments.
From a total AIA membership of more than 83,000, just over 3,100 members have been distinguished with the honor of fellowship and honorary fellowship. The elevation to fellowship is conferred on architects with at least ten years of membership in the AIA in a nomination category.
Other new Fellows with UO affiliations include:
• Alan Bright, BArch '84, HOK, San Francisco, California. Bright is also a member of the A&AA Advisory Board.
• Becca Cavell, instructor, THA Architecture, Portland, Oregon. Cavell was an exchange student at UO 1989-90 and has taught for UO frequently since 2006.
• Kenneth I. Fisher, MArch '87, Gensler, Boston, Massachusetts.
• David Maglaty, BArch '77, HMC Architects, San Jose, California.
Other FAIA faculty members in A&AA include Wilmot Gilland, Jerry Finrow, Michael Fifield, John Reynolds, Charlie GZ Brown, and Otto Poticha.