Maybe you've heard of wind scoops in the desert. For Hussain Mirza, who grew up in Pakistan and is now an architect at SRG Partnership in Portland, wind scoops were a given. The towers catch breezes high above the intensely hot desert floor and redirect them into buildings, to cool them naturally.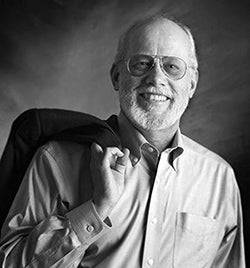 What surprised Mirza, BArch '74, was discovering that someone in Oregon was merging Old World practices like wind scoops with new technology to create natural ventilation in modern American buildings.
That someone was G.Z. "Charlie" Brown, Philip H. Knight Professor of architecture at UO and the founding director of the UO's Energy Studies in Buildings Lab (ESBL).
Brown is known for "pushing the envelope on natural ventilation and daylighting and thermal mass —and not have the mechanical engineers go off the deep end," says Mirza, a principal at SRG. Mirza first worked with Brown on the UO's Lillis Business Complex beginning in 1999, and has collaborated with him, SRG's Kent Duffy, and the ESBL on more than fifty projects since.
Based on that collaboration, in 2008 SRG principals Duffy, BArch '71, and Dennis Cusack, BArch '72, helped facilitate a gift creating the SRG Partnership Graduate Research Fellowship to support ESBL research.
SRG has now contributed the lead gift in a new endowment, the G.Z. Brown Fund, to carry forward the legacy of Brown, who stepped down in September 2015 as ESBL director but continues in his role as architecture professor and principal investigator.
"The research fellowship allowed Charlie to identify students doing noteworthy work and who have great potential, to assist them in carrying out their studies," Duffy says. "There was no direct connection between our projects and their research, but we would meet with those students and Charlie and it added a great deal to our culture about sustainable design and what the research could mean to the design process and the resulting projects."
The G.Z. Brown Fund — which, through the UO School of Architecture and Allied Arts, welcomes other donations to help build a lasting endowment in Brown's honor — will continue what the research fellowships began.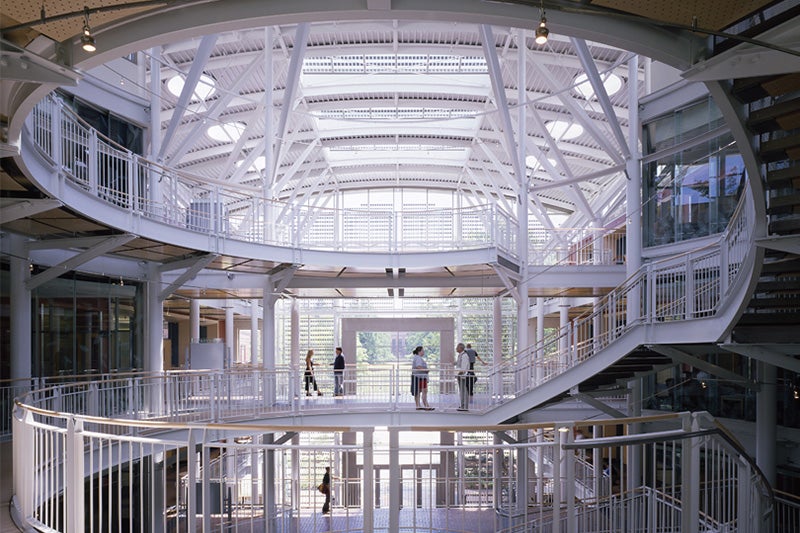 Above: The Lillis Business Complex is home to the Charles H. Lundquist College of Business. In 2005, the building received the U.S. Green Building Council's LEED-NC Silver designation, ranking it higher than any other business school in the nation at that time. The atrium solar array is the largest installation of architectural solar glass in the Northwest United States. SRG Partnership was design architect. Images courtesy SRG Partnership.
"From the very moment we started working with Charlie and ESBL on Lillis," says Duffy, "it was highly collaborative and instructive and helped us make better buildings. We really prized that. We did several projects together because, as we got to know each other better, we wanted to collaborate more."
Since its founding in 1977, the ESBL under Brown's direction has supported more than 200 graduate research assistants and provided assistance in energy-conscious design for more than 17 million square feet on a wide range of building types around the world.
By funding the graduate research fellowships and now the G.Z. Brown Fund, SRG's generosity helps ensure ESBL's leading-edge research will continue.
"Sometimes I worry that we're getting more out of it than Charlie and his students because we're building real projects that they've researched," Duffy says, "but we're asking them questions they otherwise would not have been asked. It's been mutually beneficial to explore these topics. I'm really glad we found each other."
Judith Sheine, head of the UO Department of Architecture, agrees that the relationship has benefitted both sides of the equation.
"Professor Brown's work with ESBL has produced groundbreaking research, which he has applied to over 400 buildings over the last thirty years," Sheine says. "His commitment to making the world a better place by creating buildings that are at the cutting edge of environmental responsiveness has led the Department of Architecture at the University of Oregon to be recognized as the leader in the United States in sustainable design principles and practices. SRG's support of ESBL has been and will continue to be a significant and much appreciated contribution to this work."
Internationally recognized as a sustainable design educator, author, and researcher, Brown has investigated topics including manually activated pneumatic shade controls, natural ventilation, daylighting, heat exchangers, modular construction (especially structural insulated panels), classroom design, building massing, passive design, energy auditing, and straw bale construction. Among his many publications, he is the author of a pioneering book on the practice of sustainable design, Sun, Wind and Light: Architectural Design Strategies (John Wiley & Sons, 1985).
Those sustainable design principles are reflected in new buildings at the UO and other campuses that SRG designed with research assistance from Brown and the ESBL.
SRG's practice centers on higher education buildings, ranging from science and technology to health care and genomic research. "We like working directly with the end user. It's more fun to design a building that's going to be occupied by the people you're talking to," Mirza says. "If we're talking to, for example, a physics department, they have an invested interest in what the space is going to look like because they're going to live in it. They know what the lab is like, what the students are like. They can approach it from every aspect."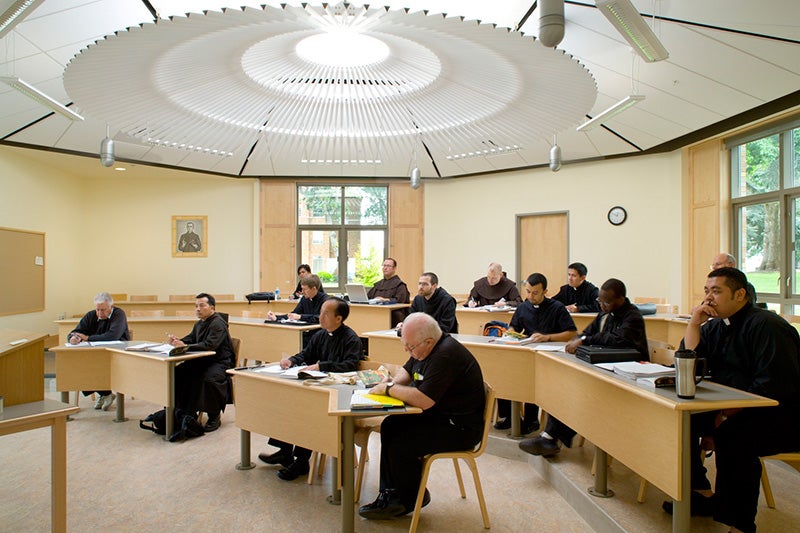 Above: Mount Angel Abbey was a "landmark project for [SRG]," says SRG principal Hussain Mirza, "because so many of our subsequent projects directly benefitted from that experience. … Mount Angel was the turning point for me personally and for many of the others in this office to be able to make remarkable buildings."
SRG's campus designs include the Integrative Science Complex Lokey Laboratories Phase 1 and the Lillis Business Complex at UO, the Lane Community College Health and Wellness Center and the LCC Downtown Campus, the Chemeketa Community College Health Sciences Complex, Mount Angel Abbey Annunciation Hall, and the Portland Community College Library Southeast Campus, among others.   
The ESBL has contributed to many of these projects, says Duffy, noting that Mount Angel Abbey was a "landmark project for us because so many of our subsequent projects directly benefitted from that experience. That's because that whole notion of having a central skylight and operable louvers turned into the ability to make classrooms where — 95 percent of the time the sun is in the sky — you don't require electric lights. Mount Angel was the turning point for me personally and for many of the others in this office to be able to make remarkable buildings."
Duffy and Mirza both attribute much of SRG's success to the firm's continued collaboration with Brown and the ESBL.
"Charlie has a real knack for demonstrating things to me that I probably should've understood anyway but didn't see as clearly before he pointed out things to me," Duffy says. "He has a way to dramatically tell the story of what is available in terms of air movement and natural ventilation and reflective light or colors in the room, or how much thermal mass is needed in the building to make it all work."
As an example, Duffy and Mirza both point to Brown's research for the Lillis Complex, which was initially conceived as an all-steel structural system. They soon realized it needed thermal mass "to make it all work. We had a steel structure we now had to convert to concrete," Duffy says. "Charlie said 'Let me figure out how much mass you need.' He came back and said 'All you have to do is add two inches to the thickness of the slab on top of the steel structure and you'll have all the mass you'll need.' What that meant was we could have that level of performance without adding a million dollars to the budget if we had had to switch to a concrete structure. That was an amazing turning point in the whole process, finally pouring more concrete on top of the structure we already had. That level of investigation, that it can be that precise, was an extraordinary tool. We knew we wanted to spend more time with this guy. That specific kind of information is an incredible resource."
Brown's insights on the Lillis complex also included room orientation, Mirza says.
"When Charlie looked at [the design], he got a glint in his eye and said 'I think you have the whole thing on its head, you've got it upside down' based upon daylight distribution. That was it. We had to swallow hard, then flipped it around, and the rest is history."
Mirza adds, "I got used to sitting in a room with him and he gets that glint in his eye and says, 'Well, maybe….' He comes at it from a researcher's point of view. He can throw out five, six ideas, at first you roll your eyes, say that may be a little too extreme, he goes through another idea until something sticks. He's persistent and backs it up with factual information. He helps us think outside our comfort zone. I cherish that about Charlie."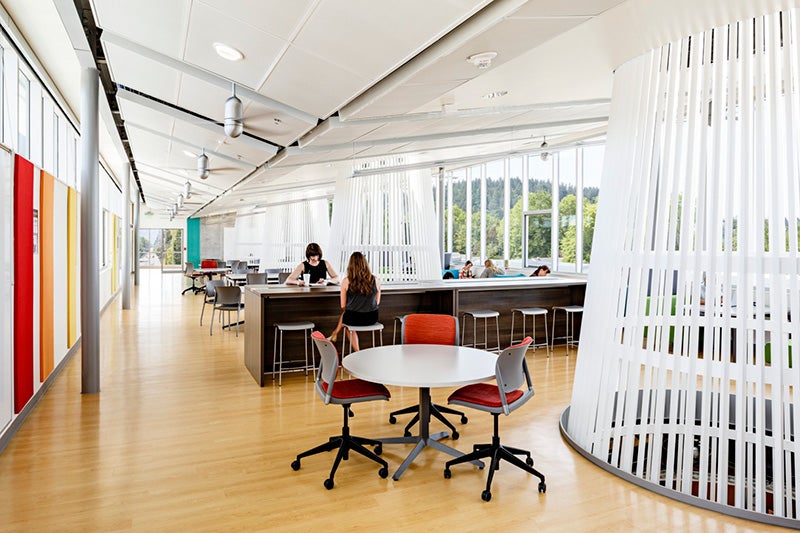 Above: Portland Community College Library Southeast Campus, another SRG design.
SRG's return on investment from funding the ESBL graduate research fellowship "was so clearly realized that we figured we needed to make sure that Charlie and ESBL have the ability to continue," Mirza says, and so the G.Z. Brown Fund was established.
Such a commitment is in line with SRG's overall philosophy. The firm also participates in the Public Architecture program (formerly The 1% program). That program challenges architecture and design firms to pledge a minimum of 1 percent of their time to pro bono service for nonprofit organizations in need of design assistance. "For an office of about ninety people, that amounts to a large amount of hours that we offer the community," Mirza says of SRG's participation in Public Architecture.
SRG is part of another drive to honor Brown for his transformational work, a Festschrift scheduled at UO on May 14. It's appropriate that the event will take place at the Lillis Business Complex, where SRG and ESBL first collaborated, and which, in a nod to wind scoops in the desert, includes a sculptural wind fence in a forest.
For more information about the Festschrift, email esbl@uoregon.edu.