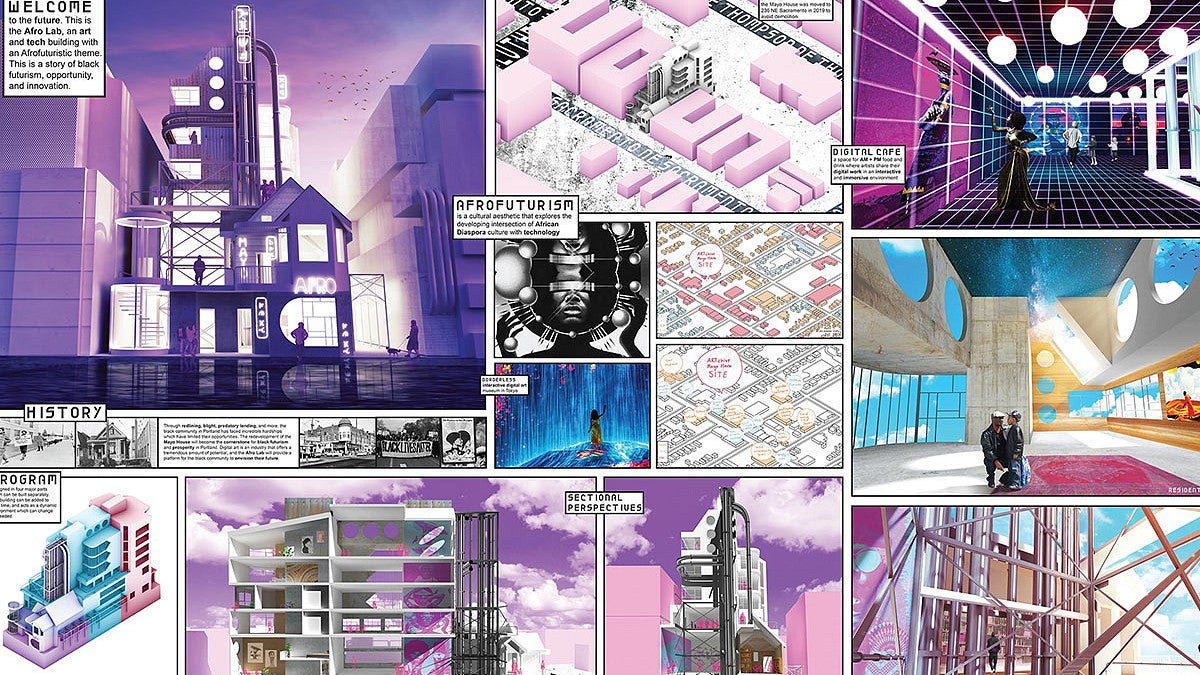 Student Jade Danek's AfroLab project for DSJ Fellow Karen Kubey's studio with artists Cleo Davis and Kayin Talton Davis, Rebuilding Cornerstones: Toward Spatial Justice for Portland's Black Diaspora
In his 2018 TEDx Detroit talk "The Architecture of Hip Hop," architect, activist, artist, and scholar Craig Wilkins cautioned that designers should not only prioritize visual aesthetics. 
"Hip-hop architects are looking at it differently," Wilkins said. "They are adding not just visual aesthetics but visible ethics. What are your politics? Whom are you serving? Is it equitable? Is it just? It's those two [visual aesthetics and visible ethics] in combination with each other—that's how you address marginalized communities and distressed and disfranchised people."
This winter and spring term as a member of the Design for Spatial Justice Initiative (DSJI) cohort, Wilkins comes to the School of Architecture & Environment as the Pietro Belluschi Distinguished Visiting Professor, along with Visiting Assistant Professor Cory Parker, a landscape architect and academic working at the intersection of poverty, movement, and landscape.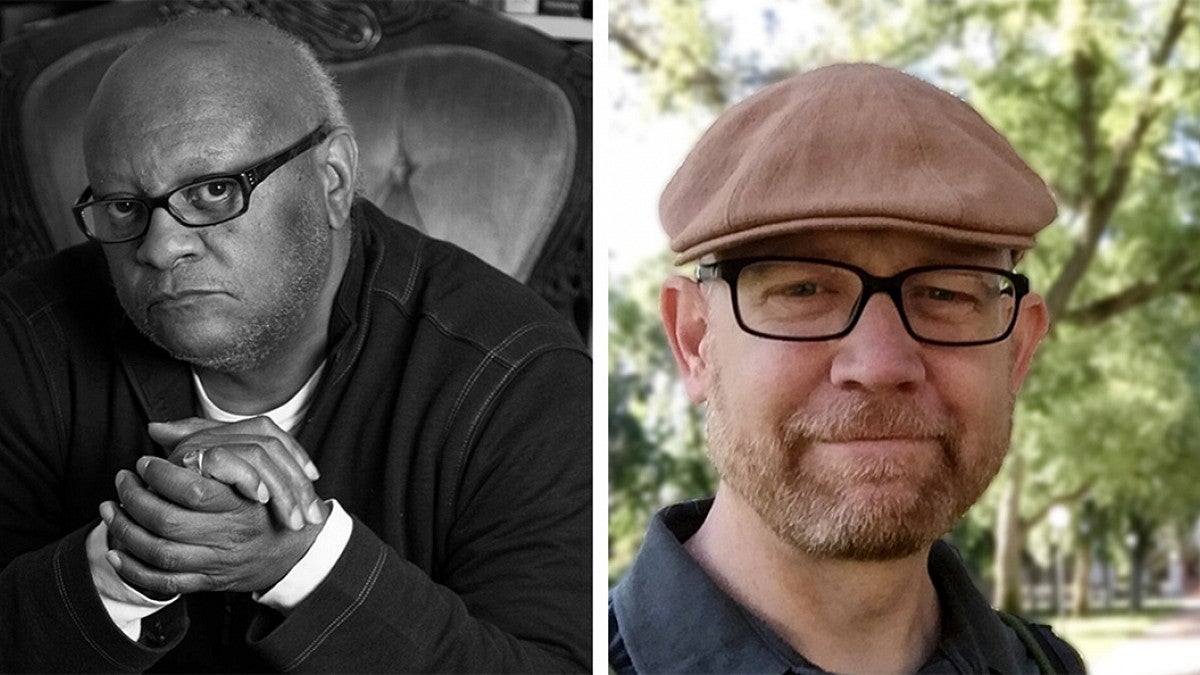 Craig Wilkins and Cory Parker
Wilkins will teach architecture and historic preservation for two terms at the Portland campus, made possible by the Pietro Belluschi Distinguished Visiting Professor in Architectural Design endowment, an honorary position created in 1993 at the College of Design (then the School of Architecture & Allied Arts) to bring in a world-renowned distinguished architect to teach and lecture. In 2017, the Smithsonian Institution honored Wilkins as a "visionary design mind" with the National Design Award. Wilkins will be giving a public lecture on Monday, January 27, in Eugene (see sidebar for details).
Design for Spatial Justice
Public Lecture 
5:15-6:30 p.m. Monday, January 27
206 Lawrence Hall
Craig Wilkins, University of Michigan,
Pietro Belluschi Distinguished Visiting
Professor and Design for Spatial Justice
Visiting Faculty Fellow
Georgeen Theodore, INTERBORO NYC
and Kenneth I. Helphand Endowed Lecturer
-Moderated by James Buckley, Associate 
Professor and Venerable Chair, Historic
Preservation
Parker will teach landscape architecture for two terms in Eugene. He recently completed a PhD from the University of California, Davis, that examined the geography of homeless movement in California cities. Parker practiced landscape architecture for 16 years at Jones & Jones Architects and Landscape Architects (cofounded by College of Design alum and Lawrence Medalist Johnpaul Jones) where he led design teams in the creation of socially inclusive landscapes, in particular working with Native American tribes on museums, highways, and campus centers.
The three-yearlong DSJI fellowship program, which began in fall 2019, has selected visiting faculty who will engage communities, within and outside of the UO, in their research and teaching, and whose scholarship at the intersections of gender, race, ethnicity, indigeneity, sexuality, and economic inequality is enriched by their lived experience.
New applicants are encouraged to apply for this ongoing fellowship, and applications are reviewed on a rolling basis. For more information, visit the UO posting for the visiting faculty fellowship.
In the first term of the DSJI, faculty fellows and School of Architecture & Environment students investigated design solutions for issues as wide-ranging as invasive cattle and flooding on the plains of Nepal to the preservation of a Victorian home in Portland's historically African American neighborhood of Albina.
Here's a review of some of the projects of DSJI fall term.
Priyanka Bista and The Vertical University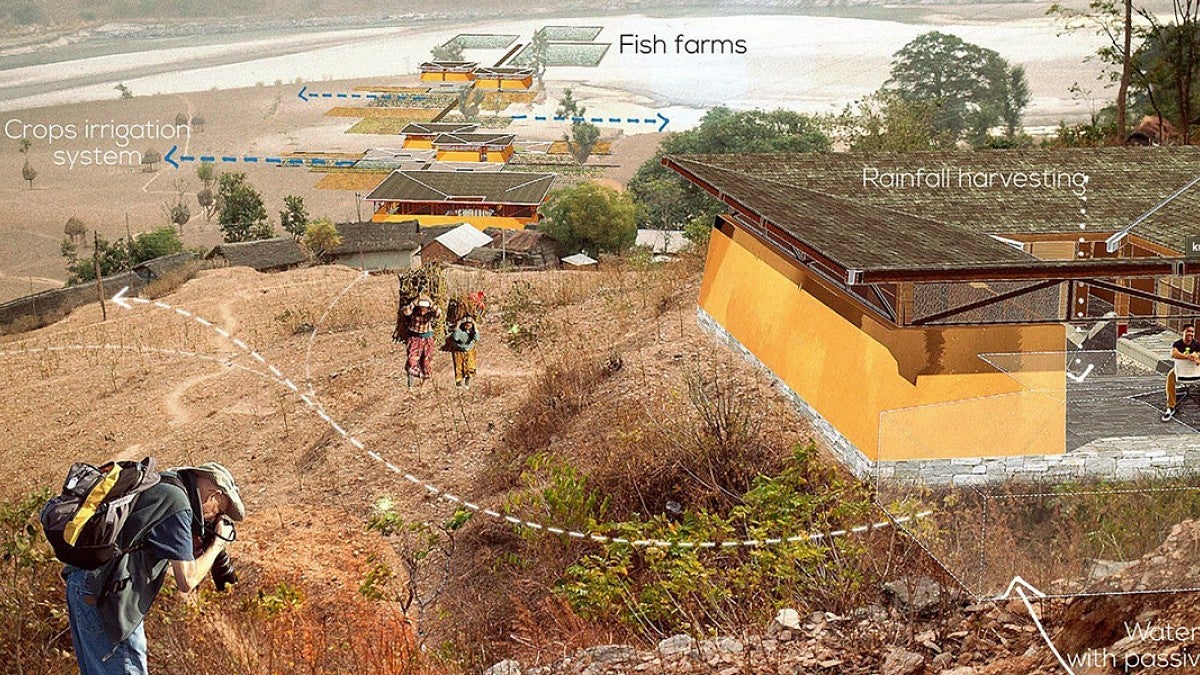 Rendering for part of the Vertical University in Nepal
Think like a bird. That's the prompt Design for Spatial Justice faculty fellow Priyanka Bista gave students in her fall term Portland studio which focused on her large-scale conservation and design project in Nepal.
"Think like a bird and translate that experience into architecture," Bista said. "That got students to think about the needs, requirements, and experience of non-human species."
Bista, a Nepali-Canadian architect and designer, worked with students to identify design solutions for her conservation and design project in Eastern Nepal—the "Vertical University," a project that spans an 8,000-meter rise, from the Koshi Tappu Wildlife Sanctuary (67 m) to the peak of Kanchenjunga (8,586 m), the third tallest mountain in the world.
The site selected for the term is located at the flat plains in Koshi Tappu, which Bista says is home to 5 percent of the world's birds, with 526 bird species. One student team worked on a scavenger bird observation center. 
"In this design, one of the students created a space where people have to crouch down and enter a glass box to meet the eye level of the scavenger," Bista said. "Usually we look down at animals. So, this was a very simple yet special move." 
Another team developed a speculative proposal while they looked at how to manage the site's 10,000 invasive feral cattle problem, which is destroying the critical bird habitat.
The cattle are the result of a geopolitical conflict; they were abandoned after India cracked down on an illegal trade of cows, which are considered sacred in the Hindu culture. The student team examined how these cows, essentially an invasive species of a kind, could also generate energy through methane production. This process resulted in developing an energy hub for the Vertical University and helping the area become energy-sovereign, as it has traditionally relied on India and China for large-scale energy infrastructure—much of this infrastructure is also the reason for the decline of biodiversity.
"They also did case studies on how dung has been used as a building material around the world and in Nepal," Bista said. "It's a native method that the vernacular homes in Koshi Tappu use." 
"The main takeaway for me? I have been working with Koshi Tappu for a few years, but I haven't been looking at many of the problems the students brought forward," Bista said. "The way I think about the Koshi Tappu has completely changed. This has been incredibly helpful."
In March, Bista will exhibit the student projects at the Taragaon Museum in Kathmandu. Bista continues, "The work of the students in Oregon will be displayed along with the work of the local marginalized youth of Koshi Tappu. In the next two months, I'll be doing a series of 'being a bird' exercises to engage the local youth who live in and around the habitats of these endangered birds," Bista said. "We need more engaged young people to solve the biodiversity crisis we're facing today—both from the West and the East." 
While in Portland, Bista also produced the Design for Spatial Justice Podcast Series to provide a platform for the inaugural fellows to discuss complex socio-political issues spanning the fields of design, housing, geography, landscape architecture, and biodiversity conservation. Bista talks with DSJI faculty including researcher and architect Menna Agha about architecture from the point of view of the other; PhD student Zannah Mae Matson about uneven power structures and racial hierarchies propagated through infrastructure; and urbanist Karen Kubey, along with her studio co-instructors Cleo Davis and Kayin Talton Davis, about spatial justice for Portland's black diaspora. The podcast series will debut in the spring of 2020.
Karen Kubey and Spatial Justice for Portland's Black Diaspora with Cleo Davis and Kayin Talton Davis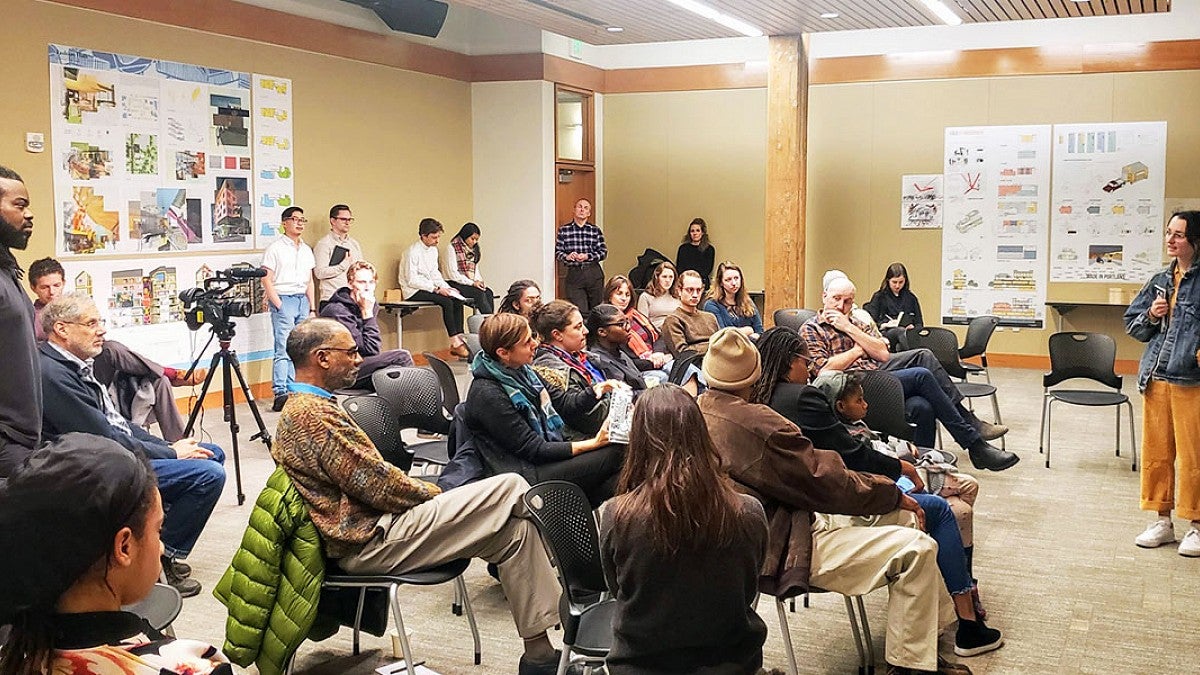 Student Jade Danek presents in Karen Kubey's Portland studio with Cleo Davis and Kayin Talton Davis, Rebuilding Cornerstones: Toward Spatial Justice for Portland's Black Diaspora
Kubey collaborated with Portland artists Cleo Davis and Kaylin Talton Davis to teach the studio Rebuilding Cornerstones: Toward Spatial Justice for Portland's Black Diaspora. The Davises have long been artist-activists in the Albina neighborhood, recently saving the historic Victorian Mayo House from demolition and relocating it to their property, where it will become a community hub called the ARTchive.
Kubey and the Davis team worked with students on asset mapping of the Albina neighborhood and emphatic visual narratives responding to Karen J. Gibson's text "Bleeding Albina: A History of Community Disinvestment, 1940–2000." 
Student teams had a range of creative responses, Kubey says, from a project by Olivia Bain and Josh Gabbard that drew on "centuries of Black prosperity and intergenerational knowledge through ties to the ancient Nubian culture of North Africa, a site of importance to the Davis Family" to Jade Danek's "Afro Lab," which would be a cornerstone for Black futurism and prosperity in Portland.
"When we were planning the studio, Cleo said, 'I want this class to change lives,'" Kubey recalled. "I know it's changed mine, to have the chance to collaborate with Cleo and Kayin, local partners, and the UO's talented, engaged students on this important project toward racial justice." But, she added, there is much work still to be done. 
"In Oregon, there are only four registered black architects. Architectural education in the U.S. is based on the Beaux Arts model from 19th-century France," Kubey explained. "We have a long way to go to get to an architectural education system and profession reflective of diverse communities, and I hope that this studio played a small part in getting us there."
For winter term, Kubey will work with students on the Eugene campus, teaching a seminar that will lay the groundwork for Good Neighbors II, a comprehensive guide to affordable housing in the U.S., updating the original 1997 publication.