When UO architecture undergraduate Shirley Huang had a chance to work on a real-life design project for the City of Albany, she was initially seeking practical experience. City officials thought the former St. Francis Hotel might be adapted to support housing or return to use as a hotel. Through an architecture studio course at the UO, Huang hoped to give city officials some options to implement their vision.
But after taking a tour of the 1912 building, which is listed on the National Register of Historic Places, she became more inspired. The four-story downtown building has been three-quarters vacant since the 1960s, with a printing company occupying the ground floor and the top three floors mostly unused. Huang wanted to see it come back to life as an updated version of its original use—a downtown hotel.
Above: Undergraduate architecture student Kevin So's re-envisioning of St. Francis Hotel. All images courtesy Megan Banks.
"The key features are still there, and especially the first floors are pretty well-maintained," she said. "The other floors have cedar flooring and the wallpaper was beautiful, really colorful."
Huang realized that structural changes were needed. "It's not immediately useful as a hotel just by adding furnishings," she said.
In 2012, the hotel was listed as one of the state's "most endangered places" by the Historic Preservation League of Oregon, prompting new discussions on ways to save it.
To match the city's vision for a mixed-use design, accommodating retail or business space and dwelling units, Huang decided it would be ideal to preserve the building's still-attractive structure. To update it, she created a unique design that includes both hotel and apartment spaces. "I think the building should have the ability to provide all those options," she said.
That's exactly the kind of perspective Albany officials wanted when they partnered with the Sustainable City Year Program at the University of Oregon to develop ideas and concepts that further the city's vision for its historic downtown.
"We're buying brainpower and ideas and a fresh approach that are uncorrupted by a paycheck," said Ed Hodney, director of Albany's Parks & Recreation department and acting director of the city's Economic Development/Urban Renewal department.
Huang was one of four students in the design studio led by architect Joseph Moore that focused on the St. Francis Hotel during fall term 2016 as part of the SCYP.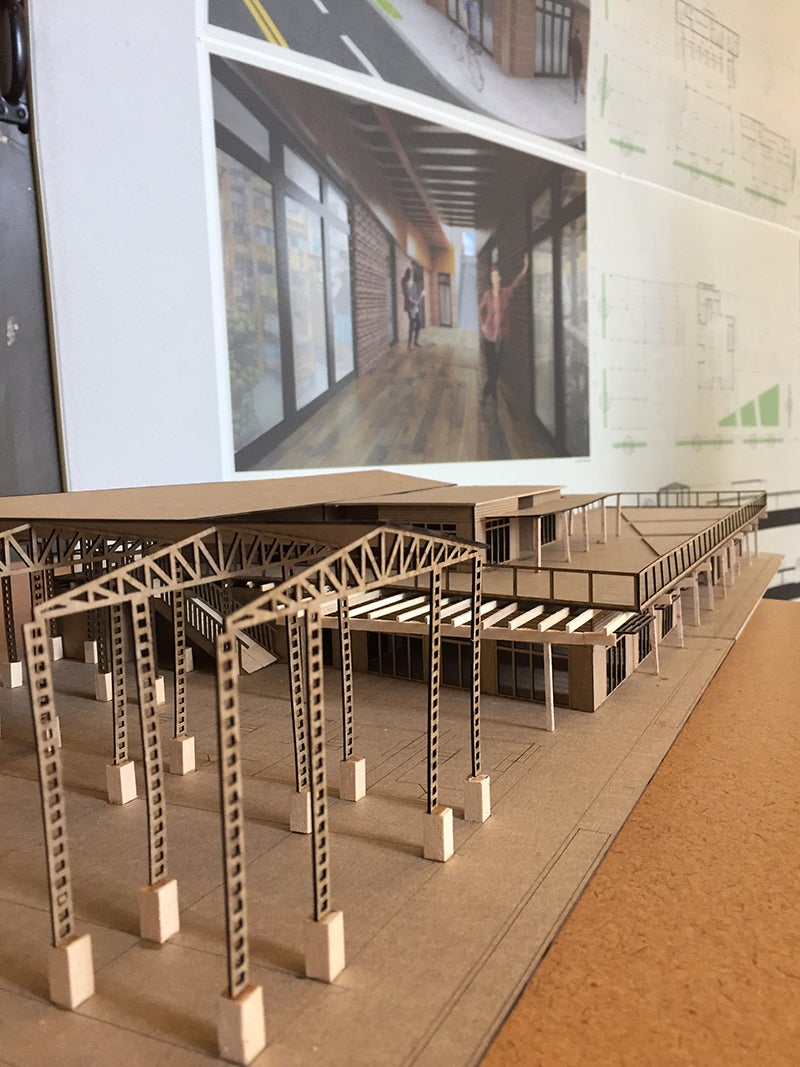 Above: Student Steven Liang's model and visual interpretations of the hotel redesign.
Moore, principal at GMA Architects in Eugene, wanted students to consider the city's vision for the hotel and its relationship with the rest of the environment.
"You're getting all of these connections, and it's just so much more fruitful or interesting for the students to be involved and to see that all of these things are related, and to start navigating those worlds early," Moore said.
In December, Moore's students presented their design concepts to City of Albany officials.
"It's a piece of a conceptual vision that's been developed over the last several years, and we're now giving some form to those ideas," said Bob Richardson, Albany's planning manager.
The St. Francis Hotel renovation is only one of several initiatives the SCYP is helping Albany research and conceptualize, thanks to the UO-City of Albany collaboration this academic year.
"This partnership is all about generating ideas and possible strategies and projects that city staff simply don't have the time and the resources to pursue," Hodney said.
"It will increase our capacity to think creatively toward the solution to a myriad of issues and problems that the city is going to have to tackle at some point or another."
Albany Mayor Sharon Konopa is pleased with what she's seen from students.
"I have been amazed over the projects the students have worked on so far. The architectural designs for our historic downtown were not only creative but a wonderful fit for our community," she said. "The students looked toward the future when it came to their creations."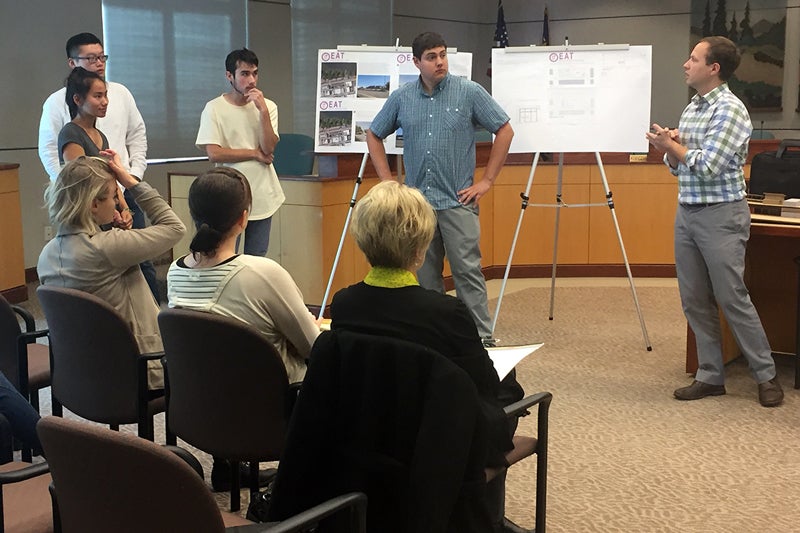 Above: Students Mia Ashley (from far left to right) Steven Liang, Luke Janzen, and Camden Santo discuss their project.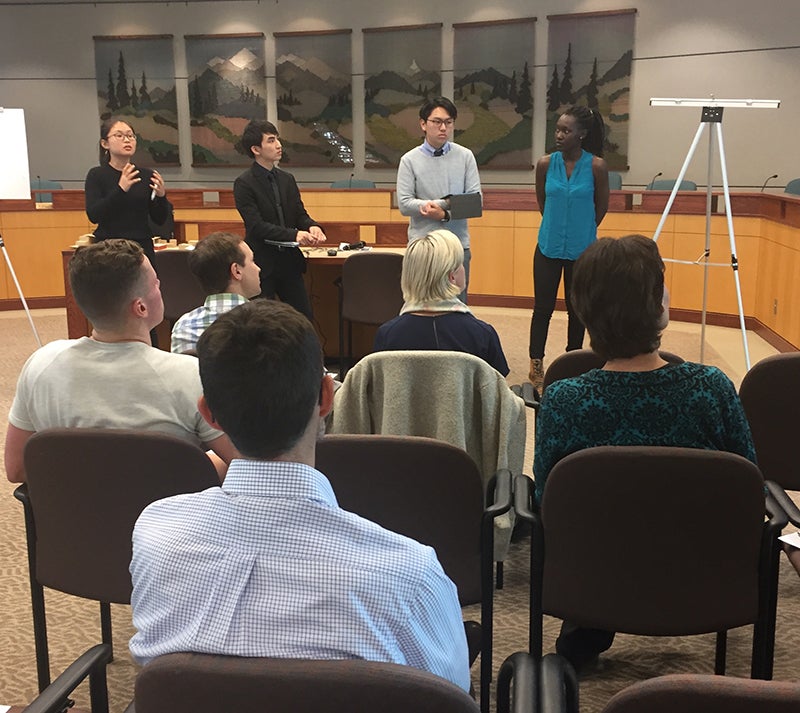 Above: Students Shirley Huang (from left), Kevin So, Allen Suwardi, and Sharon Alitema present their research to the City of Albany.Students Mia Ashley (from far left to right) Steven Liang, Luke Janzen, and Camden Santo discuss their project.