When Haley Davis boarded a plane headed to Singapore last summer, "I left knowing very little about what I was getting myself into and ended up having one of the most exciting, memorable, and educational summers I could have asked for. "
Davis, an architecture undergraduate at UO, interned with Eco.id architects for a three-month adventure that, along with project work at Eco.id, included weekend trips to Indonesia, Thailand, Vietnam, and Malaysia — cultural experiences encouraged by Calvin Sim Chen-Min, BArch '89, founder and director of a Eco.id, a global architecture firm headquartered in Singapore with offices in Bangkok, Thailand, and Guangzhou, China.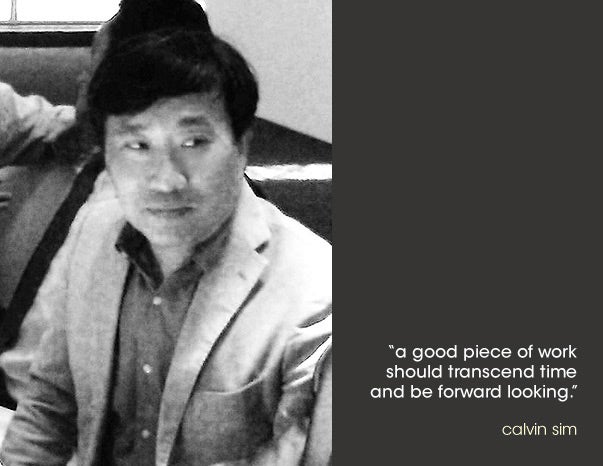 Above: Calvin Sim Chen-Min, BArch '89, founder and director of Eco.id.
"Calvin really encouraged us to travel as much as we could during the time of our internship," Davis says. "Singapore is a mix of all the cultures of Southeast Asia and more, so you really only start to understand its significance as this tiny, highly developed city-state once you visit the surrounding countries." 
Summer 2015 was the inaugural year for the Eco-Id Architects Internship, which will be offered again in summer 2016. (The applications process for the 2016 summer internship closed in January and applications are currently in the review process.)
"This is a tremendous experience for our students," says Pam Macki, internship coordinator for the Office of Professional Outreach and Development for Students in A&AA. "We are very grateful for Cal Sim's support and our new relationship with this excellent firm."
Called "one of Singapore's best known practices for stylish hospitality and residential work" (Hinge magazine), Eco.id is a multidisciplinary firm established in 1996 by Sim and founding partner (and former army buddy) Sim Boon Yang.
Eco.id offers two internships to UO undergraduate or graduate students — one in architecture and one in interior architecture.
"I had no idea what to expect out of the internship when I applied, since this was the first year of the program," says Davis. "I was hoping to learn more about how the architecture profession works in other parts of the world, and I definitely got that experience and more. I learned a lot about the architectural process of designing project types I had not encountered before, like resorts and condos, but the most valuable things I got out of the internship were experiences I would not have gotten to have any other way. Cal was a really great mentor at the firm and always made sure to include us."
Sim replies "Yes, of course!" when asked if he finds time to work with the interns personally. "Being a relatively small office, everyone works very closely with the directors, who are intimately involved in both design and job running."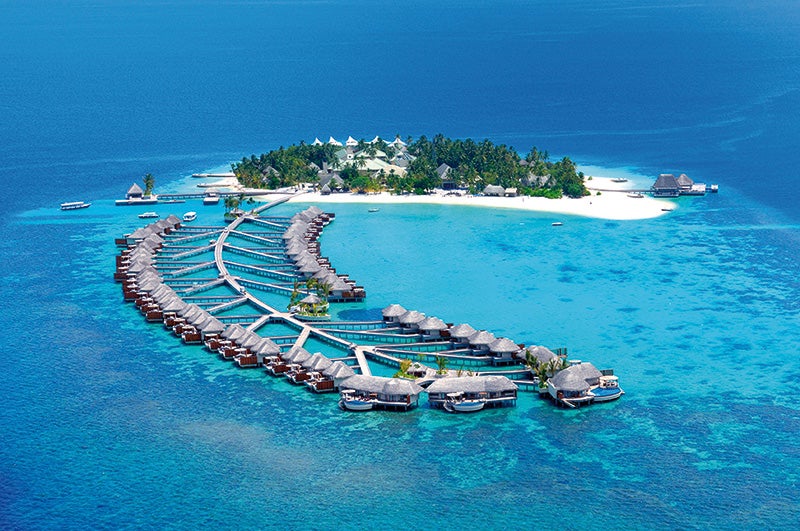 Above: The design language Eco.id employed at W Resort, part of the Starwood hotel group, fuses organic forms and chic modernity. The island resort, in the Maldives, comprises fifty "Aqua Retreats" on a lagoon and thirty "Beach Retreats" along a coastline. Image courtesy Eco.id.
The firm, which has 106 employees, has captured international repute with award winners such as luxury hotel Metropolitan Bangkok, W Retreat & Spa in the Maldives, and luxury boutique hotel Naumi Singapore. On the horizon are cutting-edge residential projects in Kuala Lumpur and Singapore. The firm's completed projects have been extensively published in design books and magazines such as Architectural Digest and featured in broadcast media.
Sim initiated the internship after speaking with UO representatives John Manotti (associate vice president, International and Domestic Projects), Dennis Galvan (vice provost, International Affairs), and Mike Andreasen (vice president, University Advancement). The three "tirelessly visit alumni in Singapore on a regular basis," Sim says.
"The internship was a way of giving back to the university," Sim adds, "as I benefitted from not only from my education at UO but also from the exchange program that I was involved in during my undergraduate years." Sim spent a year at the University of Liverpool during an exchange program when he was a UO student.
As a UO architecture undergrad, Sim says, the curriculum "allowed me to take a whole range of art classes including art history, and these were great assets in architectural design." But the clincher was his internship. "Nothing in school is really able to prepare one for life in the real world except via internship programs where interns get a real sense of the work environment."
With that in mind, Sim shaped the Eco.id internship so students can gain the most not only from the firm's focus and expertise but also because the firm itself is a cultural crossroads.
"First and foremost, the interns are able to put their studies and skills to use, gaining hands-on experience," he says. "Beyond that, here at Eco.id we're also a multicultural firm. This allows the students to interact and understand about the various cultures that come together — and the best part is everyone has the same passion, giving different perspective to what it means to be in this field. [Interns] also have a great opportunity to travel and see Asia."
Sim credits "the great teachers, the school environment as well as great classmates who made a big impact on me during my time at U of O."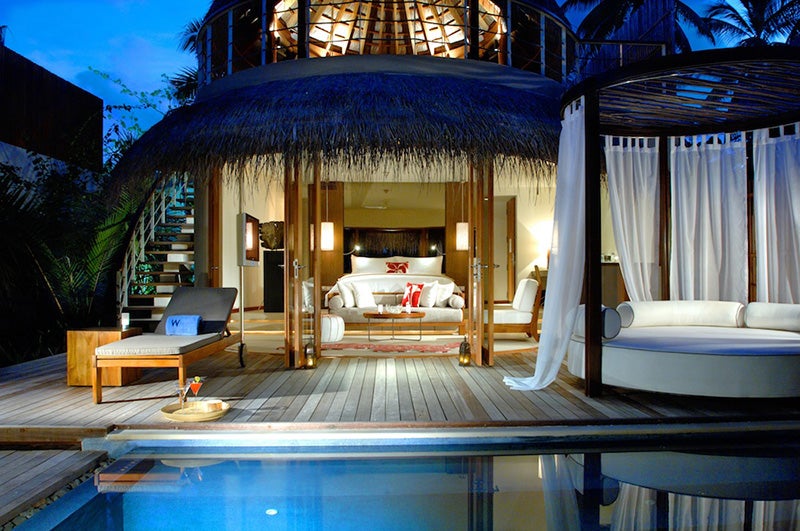 Above: W Resort in the Maldives, designed by Eco.id, includes indoor and outdoor living and dining areas, plunge pool, and a spacious bathroom in each retreat. Image courtesy Eco.id.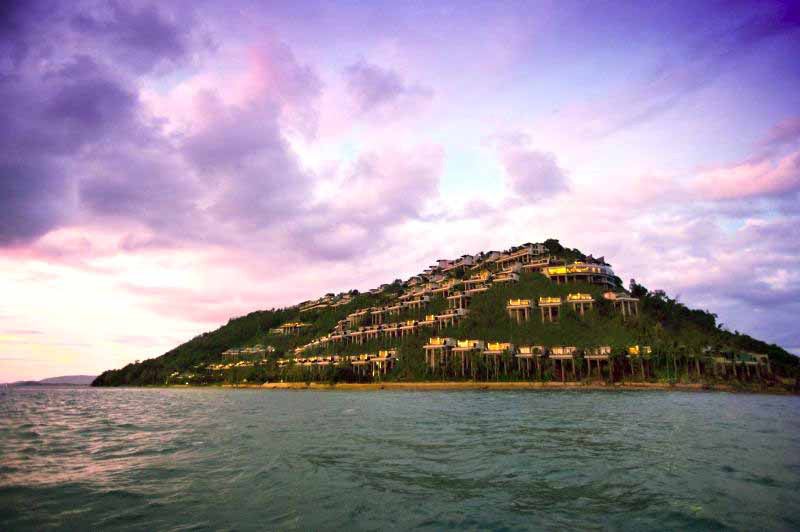 Above: Eco.id designed Conrad Koh Samui, in Thailand, for Hilton Worldwide Holdings, Inc. Sited on a 30-degree slope, the property offers spectacular, unobstructed views of the Sisters Islands in the Gulf of Thailand. Image courtesy Eco.id.