Kiara K. Galicinao, a third-year undergraduate in the Department of Architecture, is this year's Hatfield Architectural Scholar, presented by the Architectural Foundation of Oregon (afo). The award, announced in 2014 for the 2015 award year, includes a $2,000 scholarship.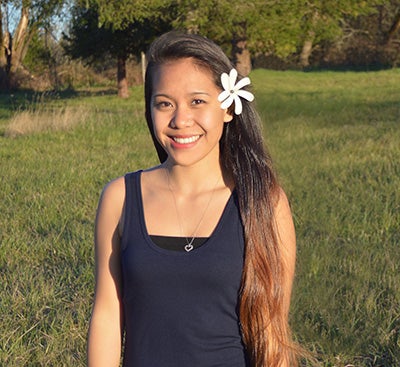 The award honors both architectural design and community service, two fields of "elemental importance" to Hatfield, a former U.S. senator and Oregon governor, the afo website states.
A native of Lahaina, Hawai'i, Galicinao has a strong and broad commitment to volunteerism, the award announcement stated, and her design work is thorough and thoughtful, with a particular interest in and focus on housing.
"My main purpose and goal for my degree is to make a difference in the world. I believe that every move makes a difference, no matter how small," she says. "If I can contribute to the communities of Oregon and Hawai'i at the smaller scale, things will definitely improve at the world's largest scale."
Galicinao began her long involvement with community service projects and activities in high school, working with Relay for Life and the American Cancer Society in particular. She has continued her volunteerism into her college years, most prominently as communications director for the UO's Hui `O Hawai'i club. "It's been amazing to have the opportunity of perpetuating my Hawaiian culture 2,500 miles away from home, and being able to serve the Eugene community while still serving my community in Hawai'i," she says.
Having grown up in a single-parent household, Galicinao says the financial aspect of the award "is truly a blessing," but the award "specifically is very important to me as it is the first scholarship I have received from a local foundation in Oregon. Coming from the islands of Hawai'i, I am very proud to continue my successes and achievements in the mainland."
After graduation Galicinao looks forward to interning at architecture firms in Oregon and Hawai'i. "I would really like to get a deep experience in the professional world in two completely different environments that I am familiar and comfortable with," she says.  She plans to begin the process of LEED certification and architecture licensing simultaneously. "I would also like to travel to other parts of the U.S. and other countries to explore the variety of historic and famous architectural masterpieces out there, being that my architectural inspiration is constrained to only Hawai'i and the West Coast."
A complete list of former Hatfield Scholarship recipients, many of whom are A&AA graduates, can be found on the Architecture Foundation of Oregon website.
In 1998, Hatfield received the Architecture Foundation of Oregon's Honored Citizen Award. Having dedicated his life to public service and to the citizens of Oregon, Hatfield, who died in 2011, remains one of Oregon's most respected and admired statesmen from his years in the Oregon House of Representatives and Senate, as Secretary of State and governor of Oregon, to five terms as United States Senator. His contributions to Oregon and to the country are many, including funding for literally dozens of important public buildings throughout Oregon.