The scholarship committee of the Architecture Foundation of Oregon has named UO graduate student Annie Ledbury as this year's Senator Mark O. Hatfield Architectural Award recipient. Ledbury is a 2014 candidate for a master's of architecture and a graduate certificate in nonprofit management from the UO School of Architecture and Allied Arts. 
"Her experience and interests epitomize the intent of the Hatfield Award—a combination of the giving culture of the nonprofit world and the concrete realism of architecture," the AFO website said. The award includes a $2,000 scholarship.
After receiving a BS in architecture from the University of Michigan in 2007, Ledbury "worked diligently to learn the craft of the built environment through the lens of the nonprofit organization," the AFO said. "Her twin passions of service and design (are) perfectly aligned with the intent of this award."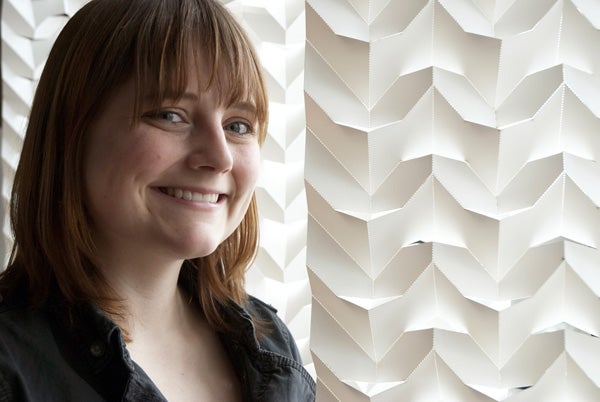 Ledbury worked two years as an AmeriCorps leader at Habitat for Humanity in New York City, followed by an internship with an affordable housing firm. She then served for three years on the board of the New York Chapter of Architecture for Humanity, including a year as managing director, leading the organization of more than 500 professional design volunteers in carrying out community projects, one of which was recognized in last fall's Venice Biennale under the exhibit "Spontaneous Interventions: Design for the Common Good."
Since moving to Oregon to begin graduate work at UO, Ledbury has volunteered with the Portland Chapter of Architecture for Humanity, the Emerging Professionals Committee of AIA Portland, and at AFO's Honored Citizen dinner. She is currently participating in AFO's Architects in Schools program, where she engages with working professionals to take design into schools.
"I'm thrilled to be recognized by such an influential organization in my new home state, and I look forward to deepening my involvement in the Portland architecture and nonprofit communities in the coming months," Ledbury says.
She plans to use the scholarship "to pursue intensive urban design studies abroad this summer, to deepen my understanding of the social contexts of urban architecture, and to inform my thesis for next year."
The award was created when Senator Hatfield was AFO's Honored Citizen in 1997.