"Marking the Forest," a ten-day summer workshop offered by the Architectural Association (AA) School of Architecture in London, England, returns to Oregon for a third year this summer. The application deadline is July 31 for the August 14-24 course.
The AA Visiting School, as it is officially termed, is open to architecture and design students and professionals worldwide.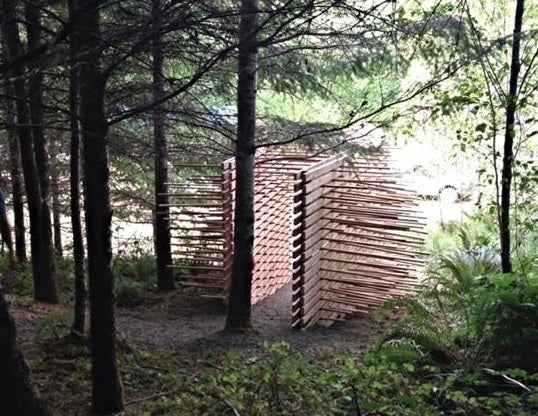 Above: The 2013 AA Visiting School students developed "Amplifier," which enhanced the transition from the meadow to the dense forest.
During the AA Visiting School program, students "will be inventing, imagining, designing and building an insertion into the forest," says Stewart Dodd, managing director of Satellite Architects Ltd., a sponsor of Visiting School. "The idea is to build an amazing timber installation, over a fantastic and fun ten-day period. From previous years the studio has produced fantastic results in the Oregon forests."
Students "will be investigating an architecture that marks territories in the woodland through routes of inhabitation, forest talks from naturalists, environmentalists and loggers," the syllabus states. "We will visit mills and walk the ridge, all of which will inform our design sessions. Our final evening will see us toasting our successes with a 'feast in the forest.' "
Participants in earlier Visiting Schools applaud the course. "Marking the Forest was so different from any studio that I have taken in the past. It was so refreshing to be in a completely new learning environment where we were not constantly on the computer and that in order to experiment with an idea we had to build it to see how it worked," says Stephanie DeWan Johnson, who attended the course in 2013. "I also learned loads about different types of wood, how wood can be used, [and] how to work with different people in a collaborative design process."
Student work is reviewed by professional architects and scholars. Nancy Yen-wen Cheng, an architect and director of the UO Portland Architecture Program, says "It was really amazing to join the Marking the Forest review. Zero to sixty in nine days—and the camera obscura actually worked! What an amazing accomplishment for faculty and students alike."
The summer workshop is a collaboration among the AA, the UO School of Architecture and Allied Arts, and the Bauman Family Tree Farm, a 700-acre forest near Veneta, Oregon.
The AA Visiting School in Eugene is directed by Kristin Cross (director, Satellite Architects, London) and Dodd together with visiting faculty members Jason Griffiths (Arizona State University) and Scrap Marshall (UCLA and former AA student).
Brett Steele, who heads AA, is an alumnus of UO and a former member of the A&AA Advisory Board. Kristin Cross, director of the Visiting School, is a Eugene native.
The collaboration for AA Visiting School at UO is set to run for five years, through 2017.