Professor Mark Gillem, FAIA, is among 14 University of Oregon faculty members chosen as recipients of the 2015-16 Fund for Faculty Excellence Awards. The awards honor tenured UO faculty at the forefront of research and discovery who have demonstrated academic excellence and world-class teaching.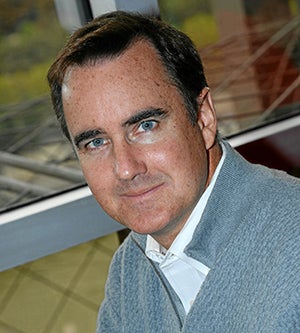 "The recipients of this honor have been chosen on the basis of scholarly impact within their respective fields, their contributions to program and institutional quality at the UO, and their academic leadership," Acting Provost Frances Bronet wrote in an email announcing the awards.
Recipients receive a one-time salary stipend of $20,000 or may elect to take the award as research funds of $25,000.
Gillem is the founder and director of the Urban Design Laboratory on campus and the principal of the Urban Collaborative, an award-winning urban design firm that specializes in preparing master plans and writing master planning policy for communities, military bases, churches, schools, and transit agencies. He and his team have created 17 comprehensive master plans, 81 area development plans, 17 comprehensive plan form-based codes, and 19 concept facility designs. He was elevated to Fellow by the American Institute of Architects in 2014.
Gillem has taught at UO since 2005. In studio, he challenges students to balance theory and practice through participation in community design and interaction with clients, fostering collaboration in the shaping of sustainable urban form. 
"Mark Gillem is a great example of an architect who is very accomplished in both academic and professional domains," said Judith Sheine, head of the Department of Architecture at UO. "He provides terrific opportunities for his students to be involved in his work. His global practice in master planning strategies informs his research and teaching, which, in turn, influences and enriches his practice," Sheine said.
A certified planner with extensive project experience in both the public and private sectors, he recently led his students on a master planning project for Universite Omar Bongo in Gabon, working with UO's Gabon Center. His diverse portfolio includes a renovation honored by the Berkeley Architectural Heritage Association (California) and pro bono designs for projects in New Guinea, Guatemala, and Indonesia.
Gillem's experience in sustainable military planning is extensive and award-winning. They include national design awards for the Sustainability Component Plan at the U.S. Army's Schofield Barracks in Hawaii from the National Association of Environmental Professionals and from the Federal Planning Division of the American Planning Association (FPD APA), and a Design Excellence Award from the U.S. Air Force. The FPD APA has also honored Gillem with numerous national design awards including awards for plans at installations in Japan, Italy, South Korea, Washington, and Oklahoma. He was also the primary author of the Department of Defense's policy for installation master planning, which received a national award for its unique contributions to sustainable planning.
His designs, form-based codes, and his collaborative design processes set a new standard for military planning. 
The Air Force Institute of Technology honored him with the Crocker Award for Teaching Excellence. He remains a primary instructor for introductory and advanced master planning courses for the U.S. Army, U.S. Navy, and U.S. Air Force.  
He has authored or coauthored 75 publications related to sustainable design and planning. 
Gillem holds a PhD and a master of architecture from the University of California, Berkeley, and a bachelor of architecture with highest distinction from the University of Kansas. He is a licensed architect in California and Oregon. He served in the U.S. Air Force Reserves until retiring at the rank of lieutenant colonel. 
Nominations for the Faculty Excellence Awards are forwarded by academic deans and reviewed by a committee of distinguished faculty colleagues, which provides recommendation to the provost. This year's committee members were Karen Guillemin, biology; Michael Hames-Garcia, ethnic studies; Mary Jaeger, classics; Alison Kwok, architecture; and Laura Lee McIntyre, chair, school psychology.
The awards were created in 2006 thanks to a gift to the university from Lorry I. Lokey.
More information on the awards and the winners is available on the Fund for Faculty Excellence website.