The Seattle-based Miller Hull Partnership, one of the nation's leading design firms, demonstrates its commitment to student success in more ways than one. 
The firm has established a new endowment fund at the UO to support architecture and interior architecture graduate student scholarships and continues its on-site internship program for undergraduate students in the Department of Architecture and Interior Architecture Program.
"We are so grateful to Miller Hull for their commitment to higher education," says Brook Muller, acting dean. "These opportunities have tremendous influence on future designers and impacts their career decisions in such highly positive ways."
Providing student scholarship funding to the Pacific Northwest's leading architecture schools—the University of Oregon, University of Washington, and Washington State University—fulfills one of the company's goals of promoting a stronger connection between professional practice and academia. 
The idea of endowed scholarships originated with the firm's founders, Robert Hull, FAIA, and David Miller, FAIA. They both graduated from Washington State University and established the first of the company's scholarship funds at WSU in the early 2000s. In 2008, the firm pledged to establish two new funds, one at UO and the other at UW.
Mentoring students as paid interns has been the other method that the Miller Hull Partnership uses to advance student success in the profession. The benefits go "both ways," says Wendy Abeel, communications director. The internship program is distinct from the scholarship program and UO students can apply to intern in the firm for three to six months.  
"We want to give our student interns and recent graduates a chance to gain different office experiences," says Scott Wolf, FAIA, partner and UO alumnus. "Gaining some professional experience with us gives the student background to use when they return to their studio. We think it helps students be informed by the real world," Wolf adds.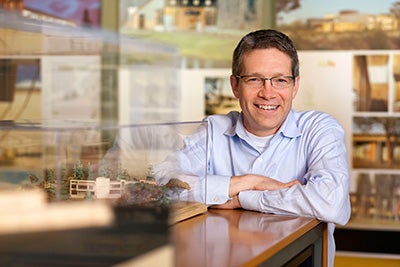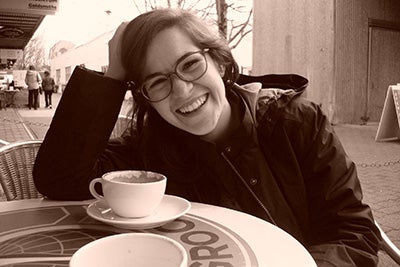 Above left: Scott Wolf, FAIA, partner at Miller Hull Partnership and UO Master of Architecture 1989 alumnus, encourages the firm to stay connected and involved with architectural education. Above right: "Working at Miller Hull has been a dream of mine," says undergraduate architecture student and 2014 Miller Hull summer intern Veronika Jonsson. "They … treat you as a competent professional." She says the experience will help her make more educated decisions about where she wants to go professionally.
UO student and the 2014 Miller Hull summer intern, Veronika Jonsson, agrees that the benefits are being felt now during her last year. "I am way more cognizant of my visual presentation and materials," she says. "As an architect you also do marketing."
As she enters her final year in the UO's architecture program, Jonsson says she is more comfortable collaborating and asking for help since that happens in the workplace as well. 
"Working at Miller Hull has been a dream of mine," she adds. "They give you the opportunity and treat you as a competent professional. I worked a lot on different projects, coordinated, and collaborated with many in the firm. I learned that people skills are important too." The experience gave her insight into the design culture of the firm and she feels she can now make more educated decisions about where she wants to go professionally. "I have more confidence in my abilities and in myself than I did have before," she says. 
In addition to the internship program, Scott Wolf has found a number of ways to connect his firm with UO students. Some design projects on the boards at Miller Hull are suitable architecture studio projects. He graciously shares these challenging projects as learning opportunities. A current example is the Pike Place Market project that is a terminal studio led by John Rowell, associate professor. It is a real project designed by the Miller Hull Partnership. Prior projects include the City of Eugene City Hall that was a design studio last year. When students tour Seattle for site visits and to learn about the city's urban environment, Miller Hull is one of the stops. Even hosting alumni events, such as the recent gathering held in the office in November 2014, helps build a community of alumni and practitioners.
The Eugene City Hall project brings Wolf back to Eugene often. Miller Hull and Rowell Brokaw Architects are codesigning the project. 
"This is such a great opportunity to give back to Eugene," Wolf says. "There is a lot of public interest and scrutiny surrounding the project and, as it should be with any significant civic institution, many active and engaged stakeholders."
The project is moving into the schematic design phase and Wolf recognizes the concerns surrounding the removal and demolition of the current city hall. 
"The older building had a number of structural deficiencies that would have been costly to mitigate and the 1960s era city hall embodied design values that don't reflect today's values that the city aspires to," he says. Wolf feels that the new project will fit well with the city's goals of densification of the urban core and pushing the limits on sustainability. It will also serve as an important civic building with an accessible, outward-facing public facade.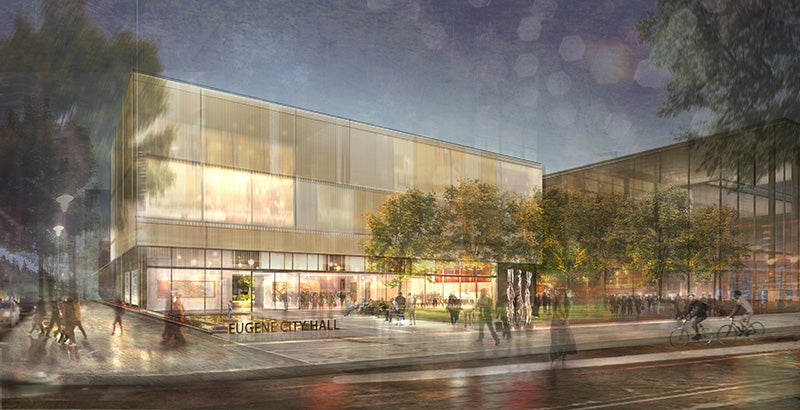 Above: An architectural rendering of the new Eugene City Hall. The project is being codesigned by Miller Hull Partnership of Seattle and Rowell Brokaw Architects of Eugene with Scott Wolf, FAIA, and John Rowell, AIA, as designers.
Miller Hull was honored with the American Institute of Architects Firm of the Year award in 2003 and was the first firm in the City of Seattle to receive the honor. The city's first LEED-certified building was designed by Miller Hull and they continue to push sustainable design in all their work.  
Scott Wolf says he's developed his personal focus on projects relating to water, both at global and social levels, and to advance design solutions for wastewater, water treatment, and storm water design.
"Miller Hull believes in context and aesthetics and as communities become more dense, even the sustainable infrastructure projects like these can become active parts of the community," he says. Projects like the LOTT Clean Water Alliance Regional Service Center can serve an important function and provide amenities in the community. "These infrastructure projects are often underserved by the architecture profession," Wolf says.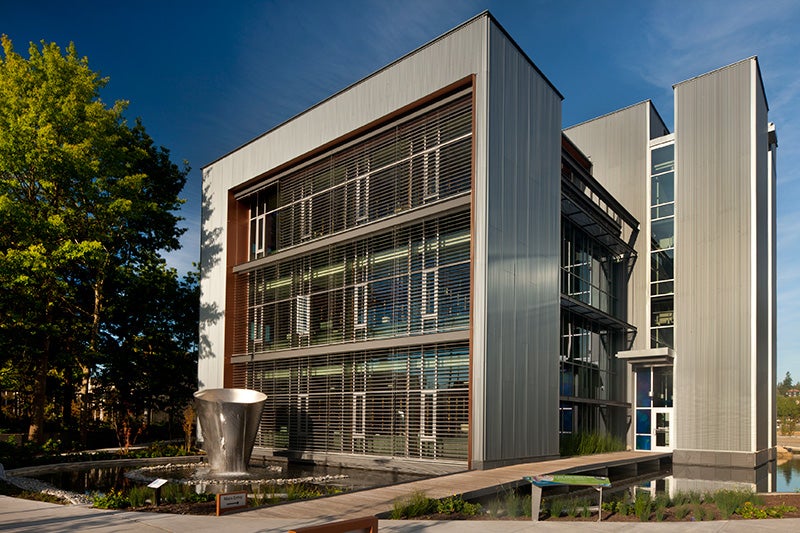 Above: LOTT Clean Water Alliance is the new regional services center in Olympia, Washington. The award-winning project was honored in 2011 with AIA Seattle Honor Award and the AIA/COTE Top Green Projects award. The project included renovating an existing building, adding a new regional center headquarters, emergency operations spaces, and an education space with interpretive exhibits and a classroom. Students can learn about the wastewater treatment and uses of reclaimed water at LOTT. Photo by Nic Lehoux.
Miller Hull has received international attention for the Bullitt Center, the first urban building of its kind and commonly regarded as "the greenest office building in the world." It not only represents the level of sustainability possible in a city setting, it also signifies a shift in the actual process of how buildings are designed and demonstrates the range of opportunities for inventiveness and creativity that are possible when integrated design teams target aggressive efficiency goals. 
The Bullitt Center's certification as a Living Building is pending through the International Living Future Institute's Living Building Challenge, the built environment's most rigorous performance standard. The certification is given when projects meet a series of ambitious performance requirements over a minimum of 12 months of continuous occupancy.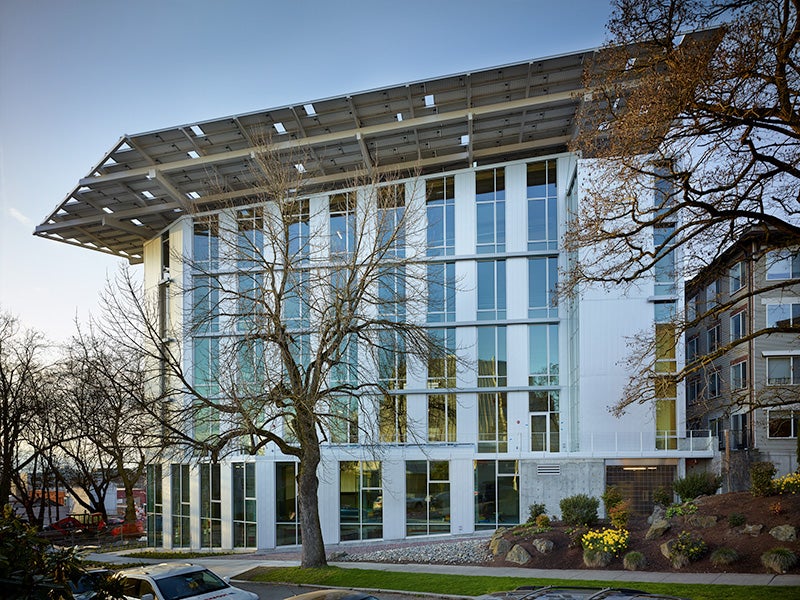 Above: The Bullitt Center is the first urban building of its kind and commonly regarded as the greenest office building in the world. Miller Hull and its team aimed for Living Building Certification and targeted to meet or exceed all the metrics for sustainability in its design and construction. Photo by Ben Benschneider.
Scott Wolf is excited for students coming into the profession. His advice is to "be wide-eyed, excited, and learn as much as you can—I'm still doing it," Wolf says. "It's an awesome profession. You probably could do other things, but if you love creating buildings for people, the rewards are so much more. You can push the industry forward."
Says Muller, "We are always amazed by the achievements of our students and alumni. They question new ways to approach some of the most challenging issues we face—with excitement and creativity. Support for UO students encourages the pursuit of ambitious goals. It helps us create a better way. It's what we do in A&AA."