University of Oregon researchers have co-developed a new digital archive of nearly 4,000 drawings, prints, paintings and photographs of historic Rome that is now available online to the public.
UO architecture Professor James Tice, principal investigator for The Rodolfo Lanciani Digital Archive, notes the project makes accessible "a precious archival collection and demonstrates how similar materials can be made available to scholars, students and the general public through the digital humanities."
The Rodolfo Lanciani Digital Archive, which went online in spring, was developed by the multidisciplinary team to reflect Rome's transformation over the centuries.
The pieces were collected by Lanciani, a renowned Roman archaeologist who sought to document the entire history of Rome's archaeology up to his day. They are housed in the Palazzo Venezia in the heart of Rome's historic center.
Erik Steiner, co-director of the Center for Textual and Spatial Studies (CESTA) at Stanford, observes, "This is part of our long-term ambition to bring one of the most documented cities in the world to the digital age. The project marries intense scholarly interest in Rome with best practices and tools built by the Stanford Libraries."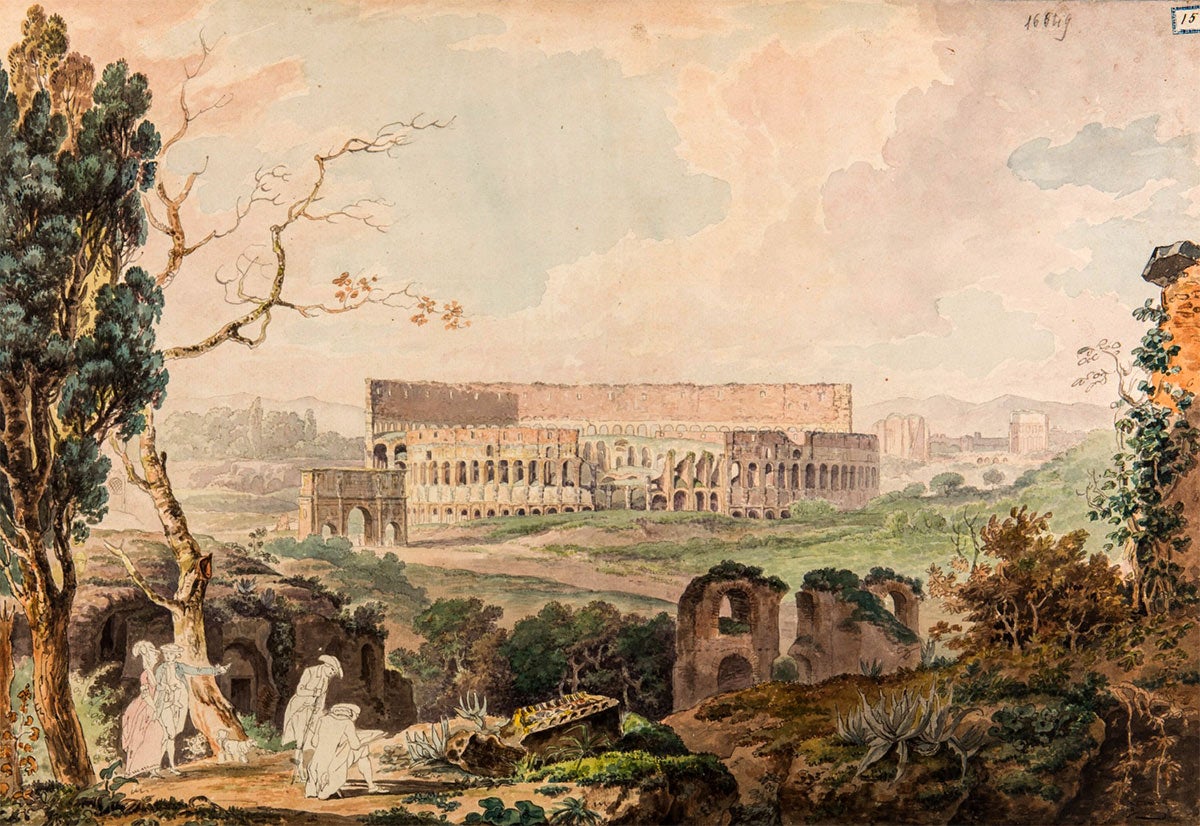 Above: The Coliseum, Watercolor, 18th century. Images courtesy James Tice.
Shining light on isolated treasure
After Lanciani's death in 1929, his library, containing more than 21,000 separate objects, was acquired by the Istituto Nazionale di Archeologia e Storia dell'Arte (Italy's National Institute of Archaeology and Art History) in Rome, the team's Italian partner. Archaeologists, historians, architects and other researchers who study Rome have used the collection in the past to glean valuable information about Rome's history but have had to negotiate a time-consuming process to retrieve this information. Giovanni Svevo, archeologist and project lead, comments, "These materials are very important and have been used by many different scholars, but access to them is quite limited."
So the team—Tice, Svevo, Steiner and Nicola Camerlenghi, assistant professor of art history at Dartmouth College—set out to bring thousands of these objects to light online. Supported by a 2015 Digital Resources Grant from the Samuel H. Kress Foundation, they worked closely with Italy's Ministry of Cultural Heritage and Activities and Tourism and the National Institute to scan high-resolution versions of each of the thousands of artifacts in the collection.
"Our collaboration with the Italian government on this project was very important," Camerlenghi said. "It's such a big help to scholars across the world when such teamwork can occur."
Each digital object was categorized and tied to a descriptive set of data, so it could be properly stored and searched online. Much of this work was accomplished by Dartmouth students under the direction of Camerlenghi, who said the effort required a great deal of care and knowledge of Rome.
Recreating the past
Digitizing Lanciani's collection is part of a larger project called "Mapping Rome" that Tice and Steiner began around 2004 with Allan Ceen, director of Studium Urbis, an institute devoted to the study of Rome's architectural and urban history.
As part of that effort, the team digitized the work of two 18th-century Italian architects: Giambattista Nolli and Giuseppe Vasi. They continue their work with Svevo and Camerlenghi to complete the digitization of Lanciani's cartographic masterpiece, the Forma Urbis Romae.  The map, which measures 17 by 24 feet, traces Rome's ancient ruins and its later developments as a series of color-coded layers and is considered to have the most detailed information of its kind about Rome's historical topography. The team envisions the end product to be an interactive map of Rome that updates Lanciani's original and links to his digitized archival materials.
Along with allowing access to any scholar in the world, digitizing the archives also ensures their future preservation in the Stanford Digital Repository, Steiner emphasized. Tice added that, "The 'future of the past' of Rome is an exciting new development that digital technologies can help bring to scholars and others interested in the rich culture of the most thoroughly documented city in the world."
The entire database is now permanently preserved in the Stanford Digital Repository.
The Lanciani project has been featured in these publications:
Conde Nast
Kress Website
National Geographic Blog
Like My Modern Met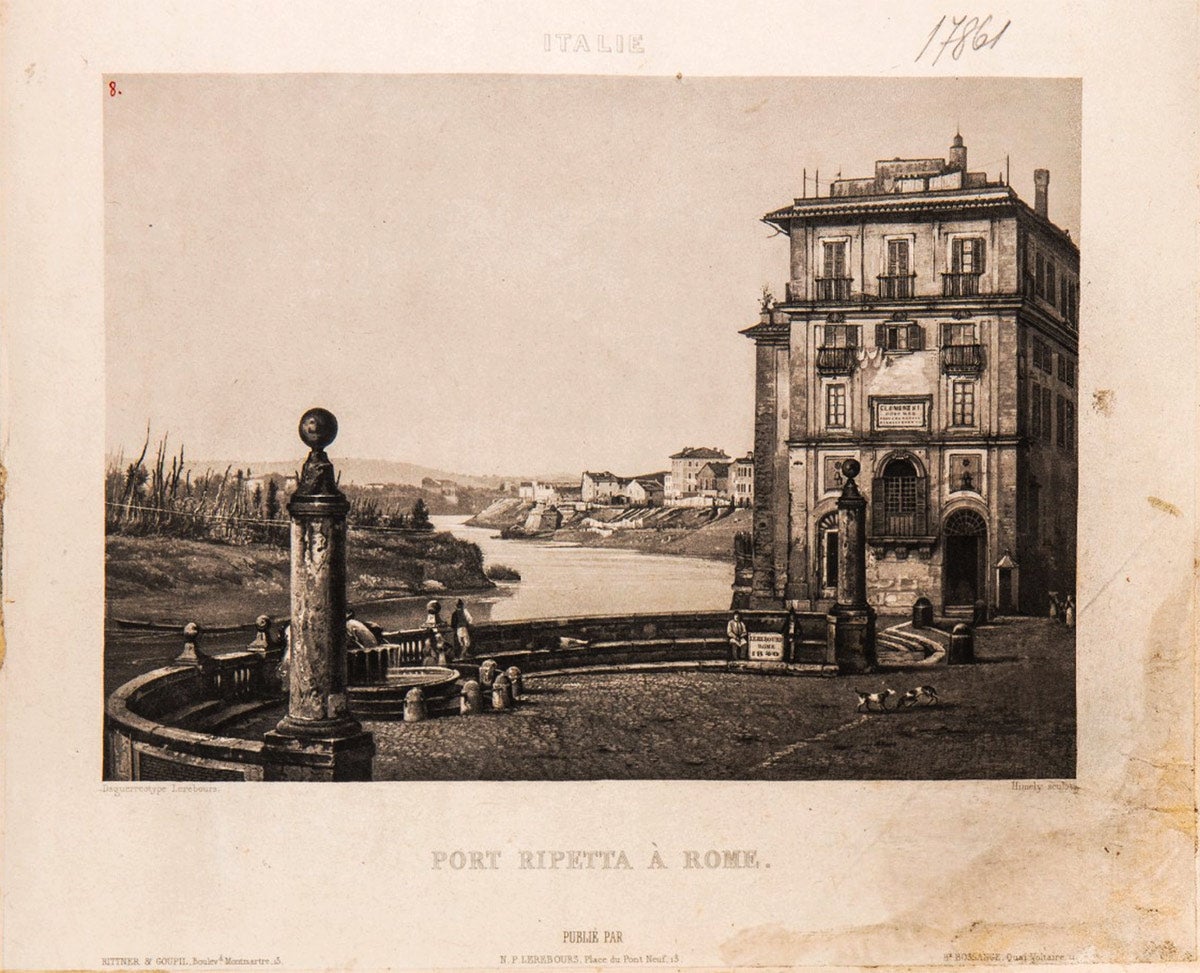 Above: The Porto di Ripetta, Lithograph, 19th century.