UO architecture students could have 'etymology' to their lesson plan during the recent excavation for a house they are building in west Eugene.
"When we excavated for the foundation, we found a deep refuse pit containing old tires, a washing machine, and all kinds of indescribable debris," says Associate Professor Rob Thallon. "This kind of thing might have something to do with the origin of the word 'pitfall.' "
That didn't stop OregonBILDS from forging ahead on this year's design-build project, that will be for sale and featured in the annual Lane County Tour of Homes, July 23-31.
Oregon BILDS consists of four classes offered during the year to students interested in a hands-on residential design-build experience. Roughly 60 UO students in architecture and interior architecture participated in the program during the 2015-16 academic year.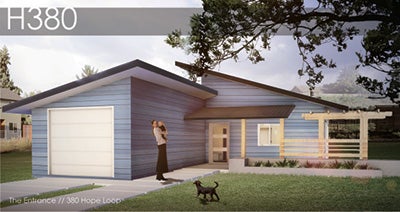 Above: Students' rendering of the new OregonBILDS house in west Eugene. Images courtesy OregonBILDS.
'BILDS' stands for Building Integrated Livable Designs Sustainably: Integrated means fitting in to a community. Livable means thinking carefully how to meet the needs of families buying entry-level housing and Sustainability means the house is efficient in both energy use and material choice.
Thallon developed OregonBILDS after researching curricula across the country and discovering that there are no other hands-on programs in architecture schools in the Western US. 
The UO program includes four classes spread throughout the academic year — fall studio, winter build lab, spring build lab, and a winter/spring interior architecture design-build seminar. The classes are unique, so students can enroll in them individually, in sequence, or in any order.  The learning experience also changes from year to year, so students can take individual OregonBILDS classes more than once.
Students are exposed to every aspect of designing and constructing a single family house. They learn how to select sustainable materials, achieve high-performance energy benchmarks, manage a budget, and what is involved with each phase of construction—from foundation to framing, roofing, siding, insulation, storm water retention, interior trim, and custom cabinetry.
They don't handle construction tasks requiring licensed professionals, such as electrical, plumbing, mechanical. They also get help with excavation, foundation work, and carpet installation — aspects the school is not set up to have students undertake alone. "We do try to include students in all of these, however — either by observing or by doing a small part of the work," Thallon says.
This year's house departs dramatically from the previous two years' houses: It's the first single story home, a change that required major adjustments to the site design, Thallon says. The decision to build on one level "was based on our realtor's advice that single-story houses have more market appeal. As you can imagine, this creates a much bigger footprint that takes up much more of the site," he says.
 

Above: This year's house is the first single-story version that OregonBILDS students designed. Realtors said a one-story house would open up availability to more buyers. Undergraduate architecture student Ryan Janowksi and architecture graduate student Sean Arnold are working on the framing for the entry roof.
 
The houses each year include custom design options. This year's house features a built-in desk behind a barn door, apple plywood built-ins, and colorful paint accents. The kitchen, which includes a countertop bar with seating for four, opens to the living room. The design is a Great Room concept, with vaulted ceilings and clerestory windows. Outside, storm water planters manage rainfall runoff while also shaping outdoor space.
To Thallon, OregonBILDS imparts three overarching concepts to young student design-builders: "The importance of good design. The relationship of design to construction. The ability to make beautiful and functional places with common everyday materials."
Buyers who earn 80 percent or less of Lane County's median family income are eligible to purchase the home, which will be priced in the $190,000 range. Profits from the sale will return to OregonBILDS to fund building of more houses by students for local families.
A total of nine student designed and built houses are planned for the .3-acre parcel in west Eugene made available to the OregonBILDS program in 2013 by Housing and Community Services Agency of Lane County (HACSA). This along with a grant from the UO Meyer Fund for a Sustainable Environment, a lead gift for startup costs plus a pickup truck from construction firm Lease Crutcher Lewis, and sustaining gifts from Gerding Edlen, Don Prohaska & Associates, and Pacific Northwest Regional Council of Carpenters were all instrumental to establishing the program. Many generous contributions from the local business community are also helping to sustain the program.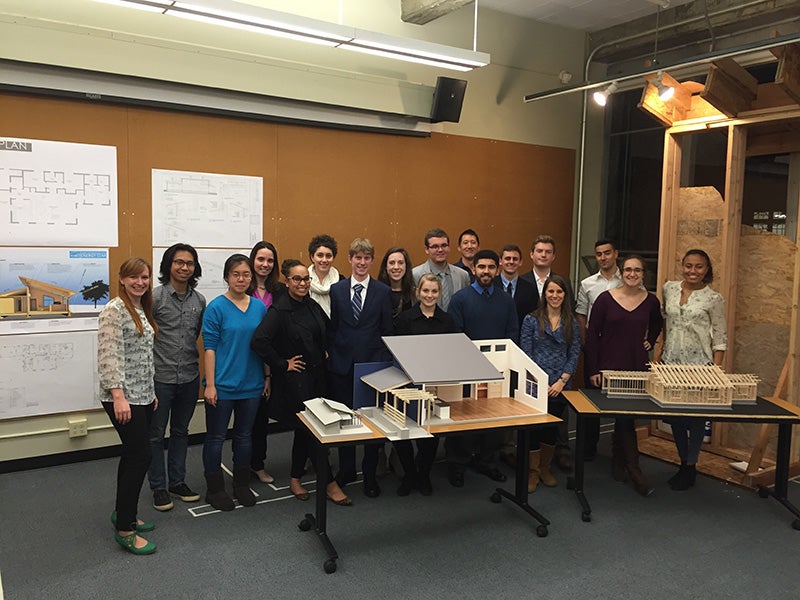 Above: Students in OregonBILDS design studio gather during their final review. Pictured, left to right, Bettina Andrew, Erick Bernabe, Yue Gu, Andrea Villicana, Amber Bass, Gregory Moore, Stephanie Morales, Samantha Freson, Laurel Sleeper, Zane Johnson, Instructor Alec Dakers, Dylan Garza, Ryan Walla, Brady Davidson, Jilian Carlo, Kian Filippi, Amy Rose Smith, and Claire Mischeaux.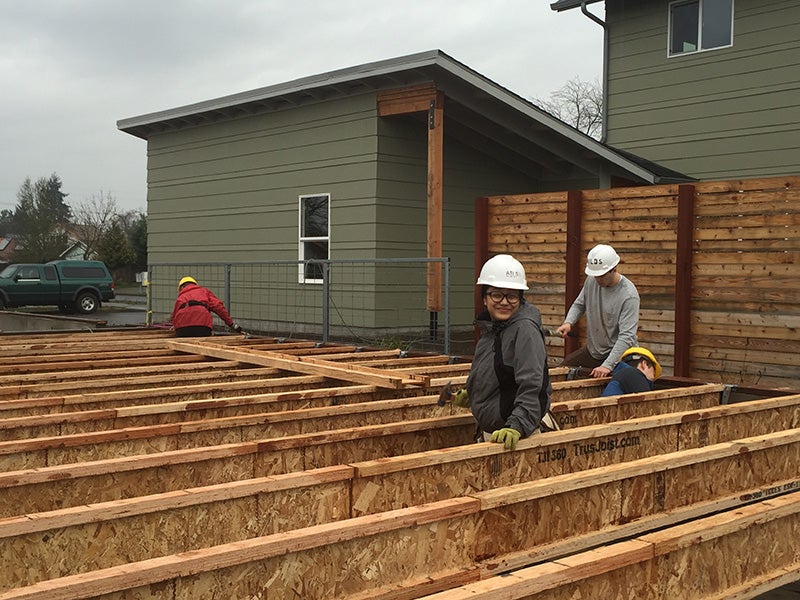 Above: Dristi Manandhar, architecture graduate student, pauses during construction of the house in west Eugene. Other students working on the project include Meg Verplanck, Patrick Reinhard, and Sean Arnold.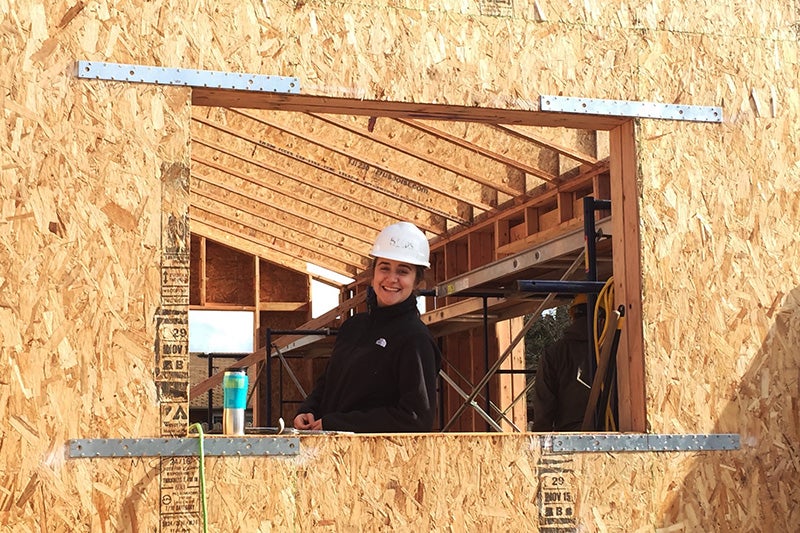 Above: With the framing well under way, Amy Rose Smith works inside the new OregonBILDS house.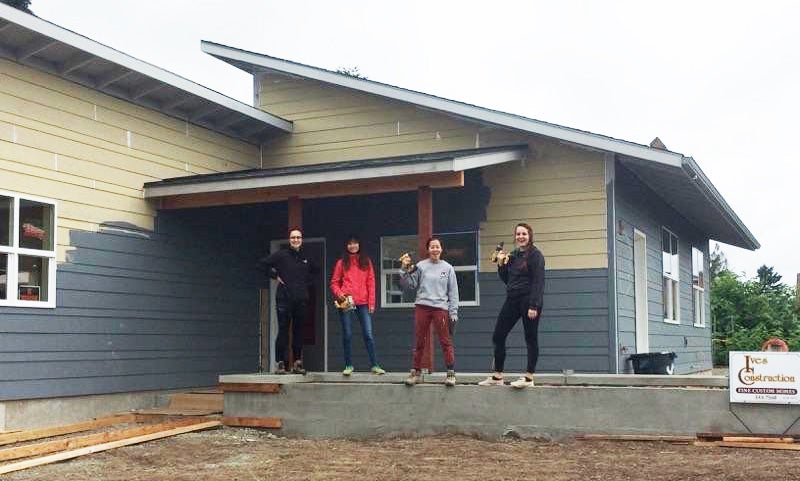 Above: OregonBILDS students Amy Rose Smith, Janice Lee, Saya Shimada, and Emily Rist on the partially completed front entry porch take a moment for a photo.