The University of Oregon presents the George McMath Award to a co-founder of FFA Architecture and Interiors, Inc.
Portland architect Hal S. Ayotte is the recipient of the University of Oregon's 2012 George McMath Award. His expertise and guidance in preservation efforts on some of the Northwest's most notable historic treasures earned him high praise and recognition.
The awards ceremony will take place Wednesday, May 30 from 11:30 a.m. to 1 p.m. at the UO in Portland White Stag Block at 70 N.W. Couch Street. Tickets to the award luncheon are $50 with proceeds supporting financial aid for historic preservation students.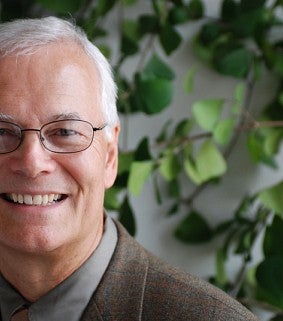 Above: Hal Ayotte, 2012 George McMath Award in Historic Preservation recipient and principal (retired) of FFA Architecture and Interiors, Inc. in Portland, Oregon.
Ayotte, AIA and principal at FFA Architecture and Interiors, Inc., received his bachelor of architecture degree from UO in 1971. He is a registered architect in Oregon and Utah, and is certified by the National Council of Architectural Registration Boards (NCARB).
Ayotte has fostered numerous client relationships through his forty years of professional practice, ranging from the National Park Service to the Oregon University System, that have influenced critical decisions and outcomes on the built environment, resulting in a lasting and meaningful effect on many historic properties that Oregonians and all citizens continue to enjoy.
"Beyond being an advocate for preservation, Hal's influence in the arena has often come from his influence on important clients," says Dale Farr, FFA principal. "Through forming meaningful relationships with the National Park Service, the U.S. Forest Service, the U.S. Postal Service, the U.S. General Services Administration, and the Oregon Department of Transportation, he has helped leave a wide and lasting mark on a significant body of important historical structures."
Stephanie S. Toothman, associate director for cultural resources in the National Park Service headquarters office in Washington, D.C., says the NPS "has entrusted Hal and his team with some of our nation's most treasured resources," including Crater Lake Lodge and the National Historic Landmark Paradise Inn at Mount Rainier National Park. "These are just a few highlights from the many projects important to us where we have relied upon Hal and his FFA team to serve as our trusted advisors and assistants."
A particularly rewarding project for the National Park Service was the reconstruction of Crater Lake Lodge, Farr said. "Hal led the charge through seven years of research, planning, design, and construction administration." The lodge won several design awards, including the Regional Honor Award and the Portland AlA People's Choice Award.



Above: Crater Lake Lodge, Crater Lake National Park, Oregon.
Similarly, Ayotte forged the way for the structural and accessibility upgrade and rehabilitation of Mount Rainier National Park's Paradise Inn, where he served as principal in charge of a comprehensive assessment of the historic inn, including a seismic assessment, documentation and condition analysis of character-defining features, and full mechanical-electrical-plumbing systems assessments.
Ayotte applies the process of adaptive reuse, which repurposes buildings for new uses while retaining their historic features. "He has also taken the lead to demonstrate the best of sustainable design by creating LEED certification in the reuse of historic buildings," says Karen J. Johnson, assistant dean in A&AA. "His work is a combination of the practical and theoretical. The challenges of historic preservation are well known to him, as are the issues of client demands, funding, and schedules."
Other noteworthy historic resources on which Ayotte has worked include Multnomah Falls Lodge (full renovation and upgrades to the busiest public tourist facility in the state); the Salem Passenger Rail Depot; the Marcus Whitman Hotel in Walla Walla, Washington; and the State of Oregon Library.
He also led rehabilitation of The White Stag Block in Portland, "a source of pride for its ongoing effect on urban revitalization in Portland's Old Town/Chinatown Historic District," Farr says. Partnering with developer Venerable Inc., Ayotte worked with stakeholders to rehabilitate three derelict historic buildings into a 143,000-square-foot interconnected complex housing the University of Oregon's urban programs for architecture and allied arts, journalism, and law, as well as administrative services, a library, and a Duck Shop. The $37 million project won more than a dozen awards including the Timothy J. Anderson Award for Excellence in Historic Preservation given by the National Housing & Rehabilitation Association in Washington, D.C.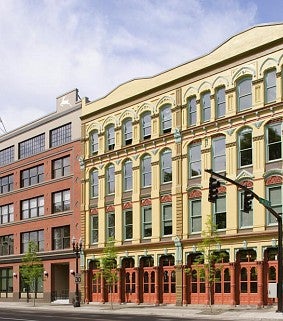 Above: White Stag Block, Portland, Oregon.
Ayotte has received many other accolades and honors for his work as a designer, a champion of preservation, and member of the community. As the principal on The Columbia Gorge Interpretive Center, he won the Regional Grand Award (the AIA's top honor) and four other design awards. He won the 2009 People's Choice Award from the AIA for his work on the Paradise Visitor's Center at Mount Rainier National Park. In 2008, he was recognized with the Craftsmanship Award and Mayor's Award for Design Excellence for his efforts on the White Stag Block. The White Stag Block also was recognized with LEED Gold.
The reservation deadline for the McMath Award luncheon and presentation ceremony is Wednesday, May 16. For more information, please contact Jessie Rowe at 541-346-3697. Parking will be available at the Smart Park at NW Naito Parkway and NW Davis Street. Tickets may be ordered online at hp.uoregon.edu/mcmath beginning April 2.
The University of Oregon's Historic Preservation Program and Venerable, Inc. present the McMath Awards annually to recognize an outstanding individual whose contributions in Oregon have raised awareness and advocacy for historic preservation.
The McMath Award honors the late George McMath, the "Father of Preservation" in Portland. An architect and preservationist, his lifelong commitment to restoring and preserving Portland's architectural history cemented his reputation as one of the most significant figures in safeguarding Oregon's rich architectural heritage.
"Hal knew and worked with George McMath during George's long career in Portland," Johnson says. "They worked together on the Multnomah County Library. George's grandfather, A.E. Doyle was the building's original architect. "It is an additional benefit to honor Hal Ayotte and know that he was a colleague and friend of George McMath."
The recipient of the McMath Award is selected by a jury panel based on nominations from other professionals and Oregon citizens. Kingston Heath, director of the UO historic preservation program, Henry Kunowski, a preservation architect and consultant, and Jessica Engeman, from Venerable Inc. comprised this year's jury.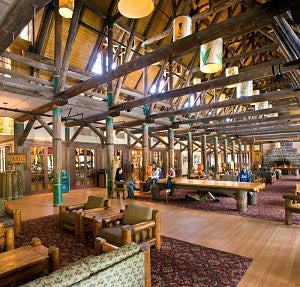 Above: Paradise Inn, Mt. Rainier National Park, Washington.