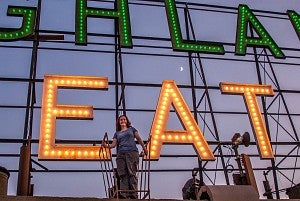 Restore Oregon, the historic preservation nonprofit representing the State of Oregon, has named UO Historic Preservation graduate student Nicole Possert its new executive director.
Possert told the College of Design that her priorities for Restore Oregon are to provide solutions to pressing societal issues, from climate change and affordable housing to social justice.
"My experience living and working in a majority Latinx community of Los Angeles proved that historic preservation works best when it serves as a tool that helps strengthen neighborhoods in ways to advance equity and inclusion," Possert said. "I am eager to continue that work in Oregon."
Before becoming executive director, Possert had been the Director of Development at Restore Oregon since 2016. Originally from Detroit, she spent most of her career in Los Angeles, where she worked at a technology startup and volunteered with the Los Angeles Conservancy and the Highland Park Heritage Trust. This volunteer work sparked her passion for preservation, and she founded her own historic preservation and environmental conservation consulting practice, working with the National Audubon Society, Latino Urban Forum, California State Parks, City of Los Angeles, Friends of the Los Angeles River, and Friends of Griffith Park.
"When I learned the Historic Preservation program is anchored in this magnificent historic building, I wanted to know more."
"Nicole came to the program with significant experience in preservation, but wanted to develop her skills to be able take on a leadership role in the field," said Historic Preservation Program Director James Buckley. "And she's accomplished that even before she graduated! We're very proud of her!"
After moving to Oregon 10 years ago, Possert was immediately drawn to the historic neon sign atop the White Stag Block building, especially as she had just finished helping to save the historic neon rooftop sign for the Highland Theater in Los Angeles (see above photo).
"When I learned the Historic Preservation program is anchored in this magnificent historic building, I wanted to know more," Possert recalls.  "I realized that my life goal, to be the first in my family to achieve an advanced degree, was within reach because the West Coast's top-rated preservation program is in Portland."
Possert was attracted to the program's research focus on assisting minority communities and to its location within the School of Architecture & Environment. As a mid-career professional, she said the program's applied-learning approach was the right fit.
"After years of  'hands-on' experience, I wanted to deepen and formalize my practice," Possert said. "I am energized by the variety of preservation opportunities in Oregon, not only in the built and natural environments, but in the social and cultural realms that can advance the unknown or untold stories of all Oregonians."
Read more about Possert's new role leading the nonprofit at the Restore Oregon site.