John Reynolds is well known in architecture circles for his passion and expertise creating sustainable energy-efficient buildings and living spaces. He has taught both architecture design and environmental control systems at the University of Oregon since 1967, is a coauthor of the widely used textbook, Mechanical and Electrical Equipment for Buildings, and wrote a highly acclaimed book on courtyard design and aesthetics.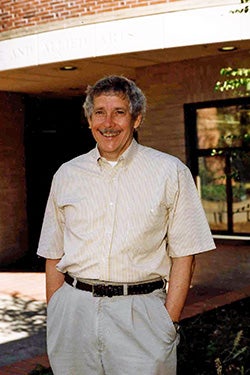 Above: John Reynolds
But Reynolds has another enduring legacy that may not be as familiar to most people: as a catalyst for changing Eugene's energy future and setting its public utility on a different trajectory that embraced energy conservation and renewable resources.
Back in 1968, voters overwhelmingly approved a measure giving the Eugene Water & Electric Board (EWEB) authority to finance and build a nuclear power plant in Lane County. Several sites were explored, including the Big Creek area north of Florence. A conceptual drawing of the potential Big Creek site included a 2,000-acre lake with amenities such as a golf course, duck-hunting area, high-rise hotel, beachfront home sites, marina, restaurant, and seaplane dock.
Earlier that same year, EWEB commissioners also authorized the general manager to complete negotiations with Portland General Electric on a 30 percent ownership interest in the Trojan Nuclear Power Plant near Rainier, Oregon.
But within months of the November 1968 election, opposition began to grow. Reynolds and several other opponents had formed the Eugene Future Power Committee and began appearing at EWEB board meetings, writing letters to the editor and speaking out against the public utility building or buying nuclear power. The committee began an initiative campaign that placed a four-year moratorium on the May 1970 ballot. Eugene became a microcosm for an intensifying national debate over nuclear power. 
Although many others contributed to the shift in thinking, Reynolds advocated that most of Eugene's future energy needs could be met through conservation and development of renewable energy sources, not building expensive new nuclear plants.
This idea proved persuasive and Eugene voters narrowly approved the four-year moratorium, 11,750 to 10,892, becoming the first town in the United States to delay a nuclear plant by public vote. 
Ultimately, the moratorium turned into something more permanent, and EWEB eventually handed over its interest in the Trojan plant (which shut down in 1993).
While the 1970 nuclear moratorium was significant, what followed proved to be an even more important milestone in Eugene's energy history. The political landscape of EWEB slowly began to tilt and, along with it, decisions about how the utility would meet its future energy needs.
With support from the Future Power Committee and others, Reynolds was elected to the EWEB board in 1972, winning by only 220 votes out of nearly 9,000 cast. He continued to push the utility, but it was tough sledding. Although known for being articulate, knowledgeable, and persuasive, he often found himself on the losing end of 4-1 votes. Once, when he proposed that EWEB create a citizen's advisory committee for energy conservation, another commissioner replied that we needn't rush into "lowering the standard of living of the citizens of Eugene."
Reynolds' efforts eventually started paying off. Two longtime, pro-nuclear board members and the general manager resigned in 1973. The public's support for energy conservation increased, aided by the first Middle Eastern oil embargo, in 1973. Slowly, other more like-minded candidates were elected to the board.
One of those was Camilla Pratt, who was elected in 1976 and replaced Reynolds on the board.
"John was the right person in the right place at the right time," Pratt says. "John's gift of clarity and inventiveness gave stimulus and vision for future EWEB conservation efforts."
In 1977, EWEB established its Conservation Center, considered the first of its kind in the nation. Since then, the utility has placed conservation at the forefront of meeting future energy needs, along with renewable energy and a continued reliance on hydroelectricity. In the nearly four decades since then, EWEB's conservation measures have saved customers the equivalent of 25 percent of Eugene's current daily electricity demand.
After his single term ended in December 1976, Reynolds continued his work on behalf of energy conservation, energy-efficient design, and sustainability, building an impressive resume of accomplishments.
Reynolds received the American Solar Energy Society's Passive Pioneer Award in 1997 and was elected a Fellow in 2000. The Cascadia Region of the U.S. Green Building Council honored Reynolds as an Honorary Fellow in 2009.
One of his commercial architectural projects was the Emerald People's Utility District headquarters on Seavey Loop in Eugene.
He currently serves on the board of the nonprofit Energy Trust of Oregon, where he served as board president for the past five years. Reynolds is the only one of the original board members still serving. 
The inaugural John Reynolds Sustainability Symposium will bring together Reynolds' long career in one weekend. In recognition of Reynolds' lasting contributions, EWEB is proud to be one of the event's main sponsors.
"Because design, teaching, research, and energy policy were important parts of my career at the University of Oregon, we decided to bring together people who were doing leading work in these areas, and who had a close connection to Oregon and/or me," Reynolds said. "We expect a lively exchange of ideas, and insight to how Oregon came to a position of such influence in the sustainability movement."
More information about the symposium can be found on the Architecture website.