University of Oregon President Michael Schill on Tuesday told a gathering including US Sen. Ron Wyden, D-OR, how research by the UO's Department of Architecture helps highlight the role that education and research can have in creating jobs and boosting the economy. Schill's comments came during opening remarks to a roundtable discussion about wood products manufacturing and design.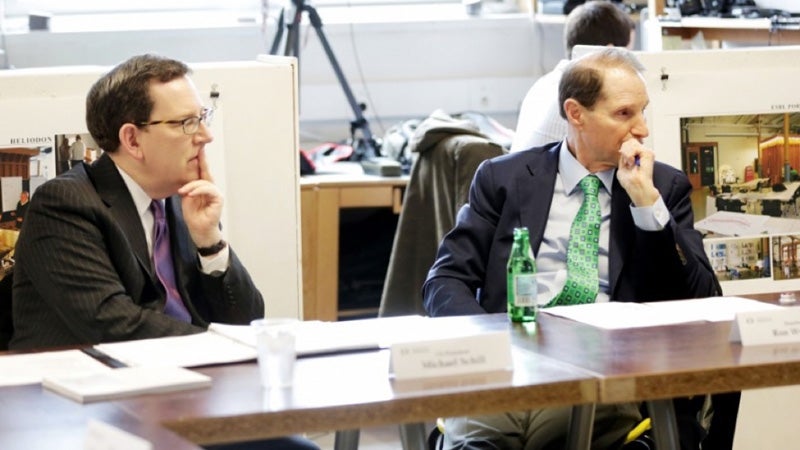 Above: UO President Michael Schill (left) and US Senator Ron Wyden listen during the roundtable in the Energy Studies in Buildings Laboratory on Tuesday.
The roundtable included Wyden, City of Springfield leaders, and UO and Oregon State University faculty members, research associates, and students.
Schill opened the discussion by praising the School of Architecture and Allied Arts for its number one ranking in sustainable design education leadership and the valuable work done over the past three decades by the Energy Studies in Buildings Laboratory (ESBL), which is housed in the Department of Architecture. The Energy Studies in Buildings Laboratory is dedicated to market transformation for more energy efficient, healthy and sustainable buildings and communities.
"This lab is one of the university's strengths," Schill said in the ESBL, where the gathering took place. "For more than three decades, the lab has collaborated with designers, builders, developers, and governmental agencies to develop strategies and design tools that maximize energy efficiency in new materials, components, assemblies, buildings, and communities. The ESBL has acted as a design consultant on more than 100 projects. It is this kind of can-do expertise and bent towards innovation that a great public research university brings to the state and people of Oregon."
Schill also noted that the UO Department of Architecture is "one of the university's top academic programs. That is an accomplishment worth noting for two reasons. First — the University of Oregon is a great university but my aim is to make it an even better university. More and more I expect to point to programs that are at the top of the rankings. Second, as you will hear from our faculty, that sustainable design education capability is essential to this partnership with Oregon State University."
The roundtable discussion centered around the National Center for Advanced Wood Products Manufacturing and Design, a partnership of UO and Oregon State University that focuses on the development of innovative wood products and building components capable of being produced in Oregon. The applied research center is actively partnering with Oregon building design professionals and wood product manufacturers to drive innovation and testing for engineered wood materials, allowing Oregon to compete in emerging domestic and global markets.
Earlier this month, Wyden and fellow US Senator Jeff Merkley, D-OR, announced an Economic Development Administration grant of more than $400,000 to the center. The funds will establish an independent peer-review program to assess and compile performance information on mass timber construction related to Oregon's building code standards.
"The partnership with OSU and the Wood Innovation Center is another excellent example of how universities can work together to transform a market and help build value for new technologies and processes," said ESBL Director Kevin Van Den Wymelenberg.  "We believe that the use of advanced timber products can be an important part of sustainable buildings and communities.  We are collaborating with researchers at OSU to study the energy, thermal, and structural performance of mass timber buildings."
Read more at AroundtheO.