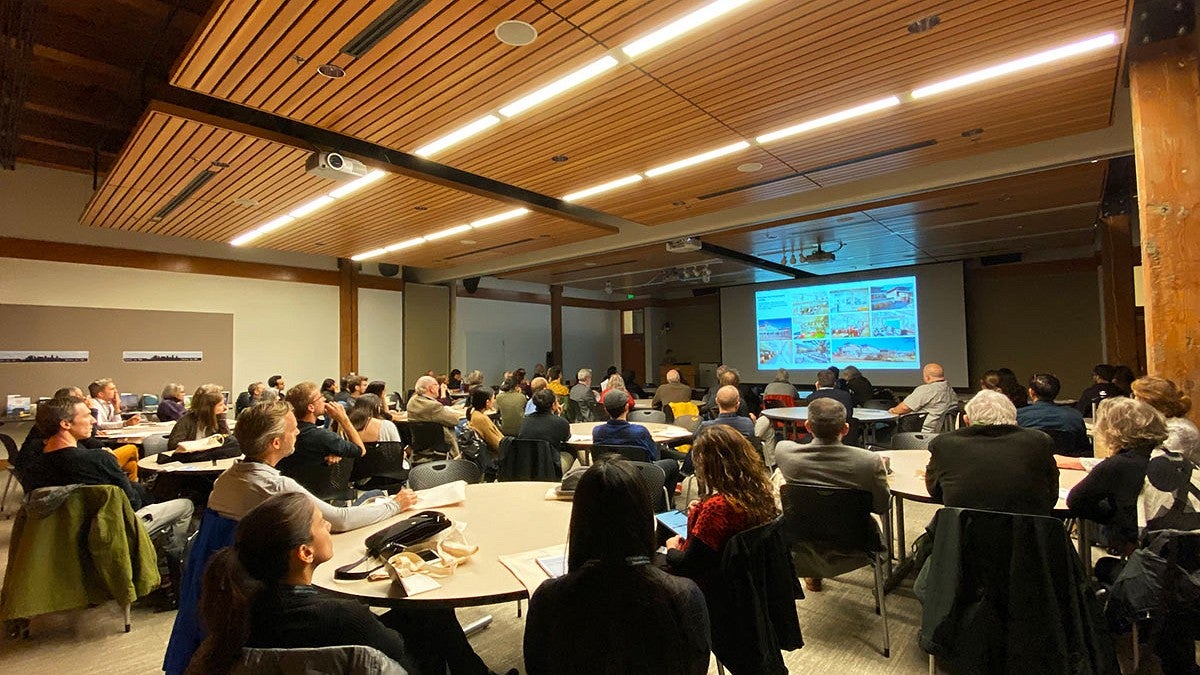 The 2019 Reynolds Symposium in Portland
At the 2019 Reynolds Symposium, October 18–20 in Portland, scholars, professionals, and UO alums from 21 institutions and six countries gathered to address the urgency of the multiple challenges facing the environment. The group shared their most effective lessons to push the design process toward creating and sustaining environments that are healthy, resilient, and free of carbon-emissions.
At the symposium, approximately 100 attendees developed and signed the Portland Declaration, which they submitted to the National Architecture Accrediting Board (NAAB), the body that sets criteria for architecture education and rules for school accreditation. NAAB is accepting comments for revision of this criteria until Nov. 22.
The Portland Declaration affirms that sustainability should be a major component of NAAB's accreditation criteria and that students graduating from accredited architecture programs must be exposed to and demonstrate the ability to engage in design integration and synthesis, building integration, sustainability, and environmental stewardship values.
"The University of Oregon's Portland Declaration is critically important as we shape the future of architectural education and practice for sustainability, climate action, and environmental stewardship," said Erin Moore, associate professor of architecture and director of the School of Architecture & Environment. "These are the right voices, this is the right message, and this is the action that is needed now."
The Portland Declaration was born from a symposium full of inspiring speakers. Lawrence Medalists and architects William Leddy (BArch '75, FAIA) and Marsha Maytum (BArch '77, FAIA)—the 2015–16 Belluschi Distinguished Visiting Professors in Architecture—delivered the inspiring keynote, "Redefining Design Excellence for a Climate Positive World," which projected where the field could go over the next 30 years.
Opsis Architecture partner Alec Holser (BArch '81) and Opsis Senior Associate Architect Heather DeGrella shared an insider's guide to the design integration of the Oregon Zoo Education Center, which won a 2019 AIA COTE Top Ten Award. 
In November, Ned Cramer, editor-in-chief of AIA's ARCHITECT Magazine published the editorial "The Future of Architecture Education Is the Future of Civilization," which included the Portland Declaration and the AIA Committee of the Environment (COTE) letter to NAAB of recommended revisions. 
"For the foreseeable future, every architect should possess (and exercise) the skills to minimize carbon emissions. The shift in values depends on the lessons we impart to students of architecture," Cramer wrote.
Read the full editorial at ARCHITECT Magazine.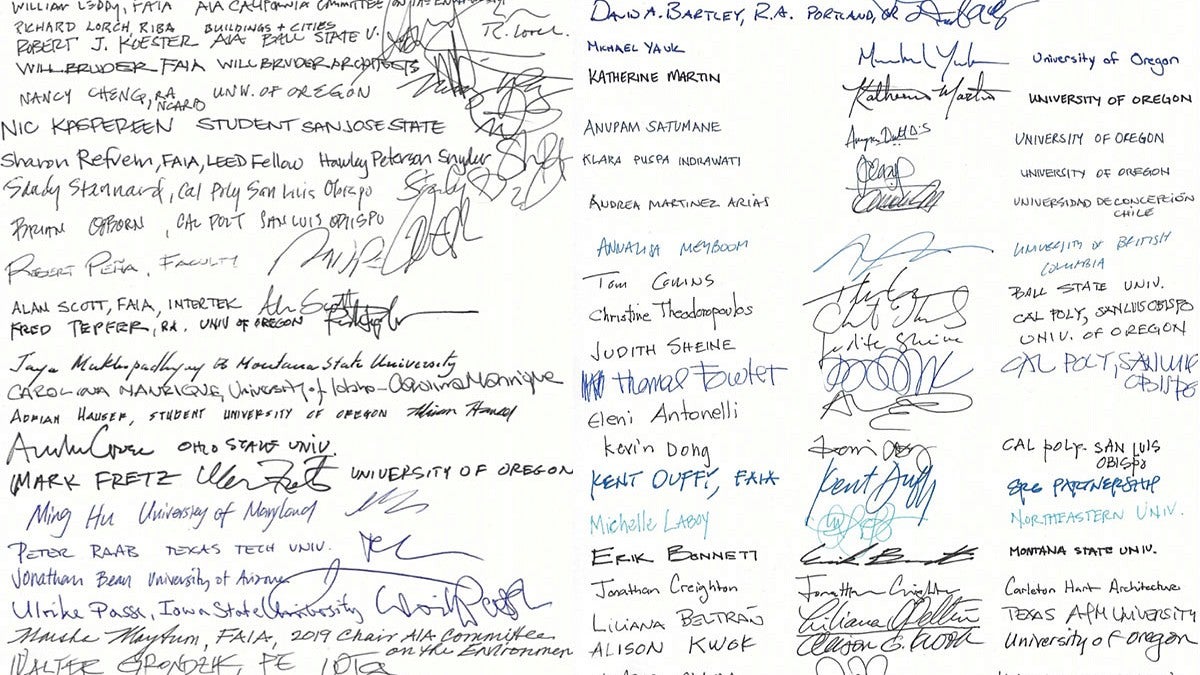 Portland Declaration signatures