Hallgeir Homstvedt once competed as a professional snowboarder in Norway—a career that seamlessly transitioned into his prolific career as a product designer. He's now teaching a furniture design studio in the UO Interior Architecture Program.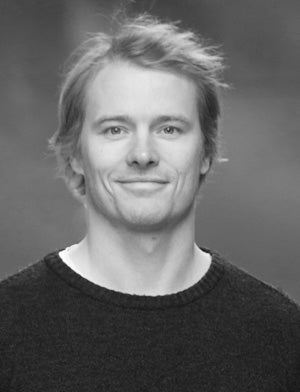 As an athlete, Homstvedt participated in half-pipe and slope-style competitions at the World Cup in Switzerland. His snowboarding career ended when he dislocated a shoulder during the 2001 World Cup. He later interned at the Norway-based Norrøna, a snowboarding brand that had sponsored him. During his internship, he worked on hiking and backpack designs, and some of his ideas became commercial products.
Homstvedt is a visiting professor this term at UO, made possible through the Julie Neupert Stott Visiting Professor endowment. This award finances Homstvedt's visit to the UO to teach IARC 486/586 Furniture Design Studio and to give presentations about his work.
Furniture design is a required studio for interior architecture students and an elective for architecture students. Students in the six-credit course undergo intensive training on the design and construction of furniture. By designing and fabricating their own work, they learn how their design intentions can be shaped and enhanced by materials and processes.
Program Director Linda Zimmer said the interior architecture faculty uses the Stott endowment to bring in designers who can share their own work and "inspire students to think globally."
"We have been focusing on bringing practicing professionals who have an international presence," says Zimmer. "It's been really interesting having [Homstvedt] here. His practice runs the gamut of scale from retail environments to small decorative objects, so we've been talking a lot about how interior designers approach furniture design versus how an industrial designer might approach the same project."
This is Homstvedt's first experience teaching a course. He says his own university education lacked the kind of real-world design teachers like those the Interior Architecture Program invites as visiting professors.
"What I was lacking when I was studying was someone from the industry who'd say how it is. We were lacking people who were in tune to the design scene that was going on," says Homstvedt. "It's a fast-moving industry, so you have to be involved."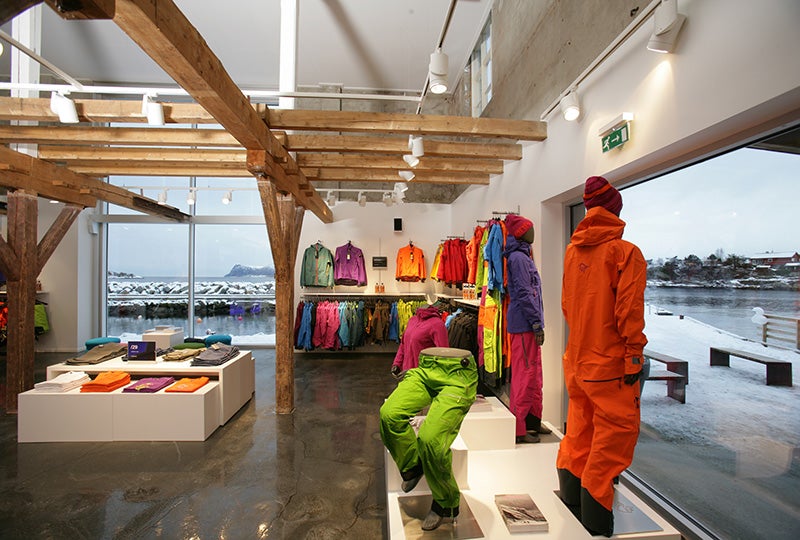 Above: Outdoor equipment retailer Norrøna commissioned Homstvedt to design a dozen of their stores in Scandinavia and France. Norrøna's signature minimalistic aesthetic design is visible in their stores, with concrete floors, high ceilings, exposed ventilation, and a stark black-and-white color scheme that contrasts with the colorful clothing and gear. Photo courtesy Peder-Otto Dybvik.
In the Furniture Design studio, students are assigned various tasks in wood-based design and construction. The predominant theme of the course, Homstvedt says, is storage.
Student exercises so far have included a textures design, in which they combine different pieces of scrap wood into a decorative object. This allowed students, who created key holders and coasters, to learn about the unique properties of different species of wood.
Homstvedt noted that it's often difficult for architecture students, normally tasked to make furniture with purpose and function, to create something simply for its aesthetic value.
"The idea of making something that's just nice and decorative is hard to fathom, especially if you're an architect," says Homstvedt.
For a second assignment, students designed a handle for an organizer that holds an architect's tools.
"I'm trying to get students to use their personal preferences in design," says Homstvedt. "If they can use their knowledge from school and home, they can apply it to their design."
The course's primary assignment is to design a table with storage, intended for a small living space. This could include a modest-sized hallway table or a custom-made table for a remote control.
"In architecture you have to think in a wide spatial scale, from city form down to a single room," says Chazandra Kern, a graduate architecture student in the studio. "Rarely do we get to think on this level of creating the objects in those spaces. … In our previous assignments—the wooden decorative object and the toolbox—Hal really encourages us to explore our ideas by lending his own expertise."
During the second week of the term, the studio visited Portland on a field trip. Homstvedt says the city has "a lot of object culture that's really special to that place."
The excursion included visits to Portland-based design shops, including Schoolhouse Electric, Design Within Reach, The Good Mod, and Beam & Anchor. The objective of the visit was to provide students with minute ideas for their designs, like a leather handle or a brass detail.
"Visiting Design Within Reach was wonderful because we got to see a variety of furniture by notable designers," says Kern. "It was also a chance to interact with objects to study their use, materiality, and joint connections."
Homstvedt earned a BA degree in industrial design in 2006 from Newcastle University in Australia. The same year, he was hired for an internship at Norway Says, a Norwegian design studio.
The firm was internationally recognized for fronting a new wave of Scandinavian design in its work with MP3 players, sofas, lamps, and radios. (While Norway Says designed its own necklace-style MP3 player, tech giants like Samsung and Apple soon swallowed up that sector of the industry, purchasing all the storage chips for the devices.)
Homstvedt was commissioned for a design to make acoustic furniture silent enough for an office workplace. His design, a silent sofa built with acoustic panels, eventually went into production and is still sold today.
He opened an independent design firm in 2009 that focuses on furniture, interior, and product design.
Today, Norrøna is one of his clients, commissioning him for packaging and retail store design for a dozen of their locations around Scandinavia and France. Norrøna's signature minimalistic aesthetic design is visible in their stores, with concrete floors, high ceilings, exposed ventilation, and a stark black-and-white color scheme that contrasts with the colorful clothing and gear.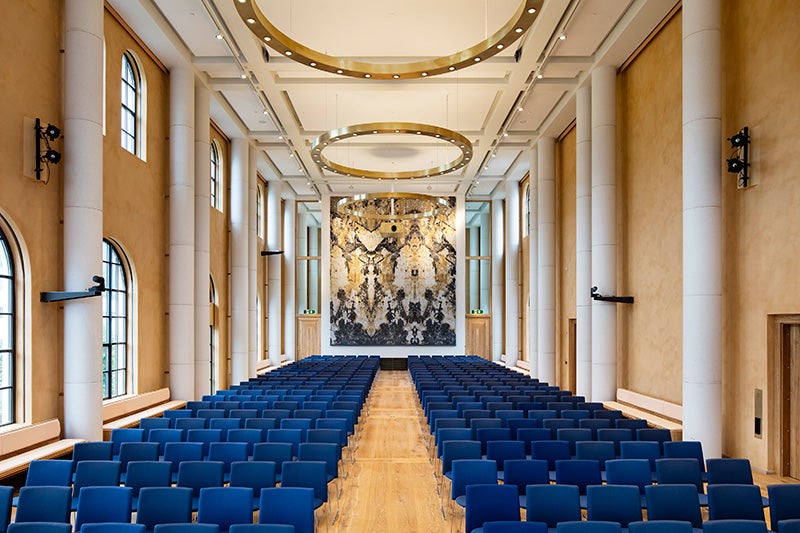 Above: Homstvedt was responsible for the chair design in the University of Bergen concert hall. His design was selected from entries in a national design competition. The hall opened in August 2015. Photo courtesy Hallgeir Homstvedt.
As a professional designer, Homstvedt's career has spanned a breadth of product design assignments, including sofas, espresso cups, lamps, and digital radios. This multidisciplinary approach to design is crucial for any independent firm, which needs to be versatile to remain competitive, he says.
"When you're a small company you get thrown into a lot of different projects," he says.
Homstvedt's firm has garnered several clients of European furniture manufacturers, including Lexon, Muuto, L.K. Hjelle, OneNordic, and Established & Sons. His work has been exhibited in London, Oslo, Tokyo, New York, and Milan.
Homstvedt spoke twice in January during the Department of Architecture Winter Lecture Series at the White Stag Block in Portland and in Lawrence Hall in Eugene. His talk, "Eclectic Design," was a presentation on his work and how he became an industrial designer working in the field of furniture design.
In May 2014, Homstvedt's studio was one of a few firms invited to compete in a national design competition in Norway. There he competed against his former bosses, who had gone on to work with much larger studios.
The contenders submitted chair designs for a newly renovated assembly hall at the University of Bergen. The chairs would need to be presentable for banquets, dining events, and formal graduation ceremonies.
Judges assessed each design entry without knowing which studio was behind it. The judges unanimously selected Homstvedt's design as the winner. When the new assembly hall opened in August 2015, it was furnished with Homstvedt's chairs.
"It was pretty prestigious," he says. "It gives us a lot of confidence as a small business."
Homstvedt is only the third recipient of the Stott Visiting Professor honor. The first was New York architect David Ling in 2008. The second was Gabriel Tan in 2015. The program, established in 2008, supports an internationally recognized scholar and/or professional in the field of interior architecture to teach and lecture design students in A&AA.