A house built by University of Oregon students has won the 2016 Golden Key Award for Most Innovative Homeownership project in the state, an honor presented by the Oregon Opportunity Network.
The house, constructed during a three-term UO architecture class called OregonBILDS, is part of a multi-year effort to build nine houses on Hope Loop in west Eugene using sustainable design and construction methods. This is the third home the students have completed for income-qualified buyers.
"This was no small feat, as the Hope Loop project was up against some great projects from Portland and around the state," said Steve Ochs, real estate development director for the Housing and Community Services Agency of Lane County (HACSA), which nominated the project. HACSA facilitated the purchase of a 1.3-acre parcel in Eugene for the BILDS program in 2013.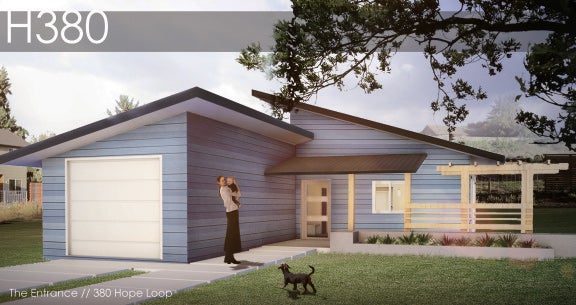 Above: Students' rendering of the new BILDS house in west Eugene. Images courtesy OregonBILDS.
The Golden Key Award honors a homeownership project—either rehabilitation or new construction—completed in 2015-2016 that best demonstrates the ideals of affordability, cost containment, quality of design, livability, community revitalization, or service integration. 
BILDS— Building Integrated Livable Designs Sustainably—consists of four classes offered each school year to students interested in a hands-on, residential design-build experience. Roughly 60 students in architecture and interior architecture participated during the 2015-16 academic year.
In January 2016, the UO Department of Architecture was recognized by the Association of Collegiate Schools of Architecture and the American Institute of Architecture as among the finest in the country for its housing design education. UO architecture faculty members Michael Fifield, Peter Keyes, and Rob Thallon received the "Housing Design Education Award-Excellence in Housing Education Course or Activity."
The Oregon Opportunity Network is a network of community development organizations, affordable housing providers, construction companies, lenders, and other businesses that work throughout Oregon to ensure that families, seniors, and people with disabilities have a safe, decent, affordable place to call home.
Several hundred leaders in the affordable housing community—including numerous state legislators, mayors, and other elected officials—attended the conference where Oregon BILDS was honored.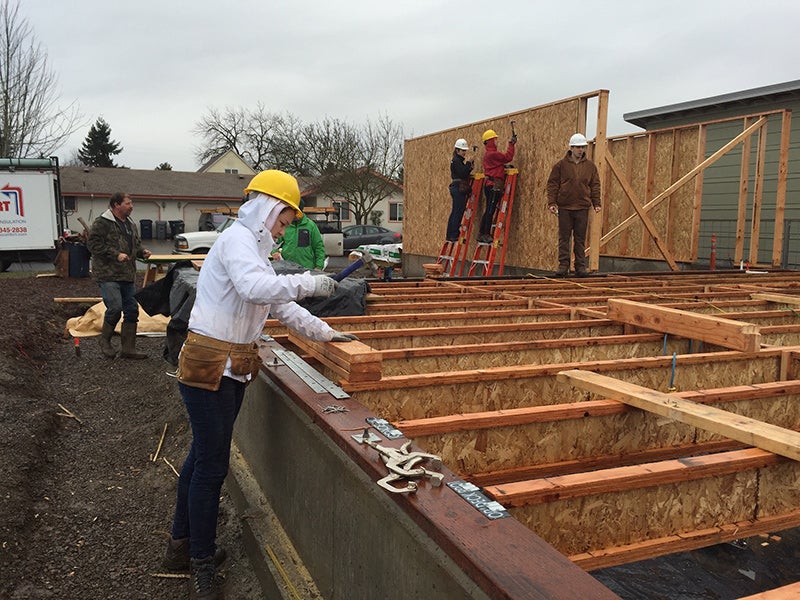 Above: OregonBILDS students build the subfloor and begin erecting walls for the house.