UO architecture undergraduate Jiawei (Vincent) Mai is first-prize winner of the Lyceum Competition travel grant for his entry in this year's competition sponsored by the Lyceum Fellowship. UO architecture undergraduate Haley Davis won a merit award in the annual challenge, which is open to students in accredited architecture programs in the United States and Canada. Both students were part of Associate Professor Nancy Cheng's fall 2014 Architectural Design studio in which students toured the first  LEED certified continuing care retirement community tower and multigenerational housing.
This year's theme was rejuvenation—for both an aging population and aging infrastructure—challenging students to address both problems in a single architecture solution: by re-imaging the Empire State Building as a home for seniors. The competition challenged this year's applicants to consider how "growing old is a problem for cities, a problem for buildings, and a problem for people." As people age, so do cities, as " 'obsolete' buildings [are] abandoned by businesses and residents seeking spaces that accommodate contemporary technologies and modes of living and working." 
Mai's entry, "Integrate me softly: Tomorrow's aging city today," envisions the building as a sustainable "senior living hub" integrating residents with nature as well as enterprise.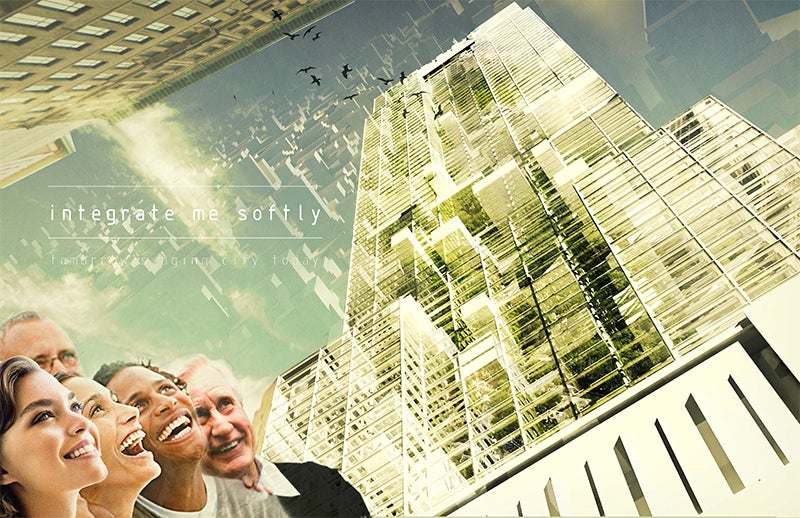 Above: Jiawei (Vincent) Mai's entry, "Integrate me softly: Tomorrow's aging city today," envisions the Empire State Building as a sustainable "senior living hub" that integrates residents with nature as well as enterprise.
"Our urgent need to mitigate climate change pushes us to rethink the connection between the built environment and nature. Thus, [my] proposal examines ways that an iconic, aging skyscraper can become a framework for social and natural system integration," Mai's narrative states. "These closely located functions benefit those with limited mobility, allowing them to continue to play an active part in society."
Mai divides an envisioned residential section of the building into several small communities, "each paired with a unique facility such as daycare, library, chapel, etc. Opened to the public, these facilities not only become the heart of the community but also encourage residents to interact, socialize, and exchange with the rest of the city.
"Residential apartments are designed with efficiency and built-in flexibility—sliding walls and fold-out furniture accommodates various uses and contingencies," the proposal continues. "Two smaller apartments can be combined to create a larger one. Each floor is visually interconnected by a large common space. … The skin of the building will also transform over time. Operable louvers open up during rainy seasons to allow stormwater to be collected, filtered, and stored at an indoor bioswale. As the building skin gradually evolves from the iconic limestone panels with galvanized strips to a smart system that interacts with solar, wind and precipitation, more spaces will be passively conditioned and largely reduce energy consumption."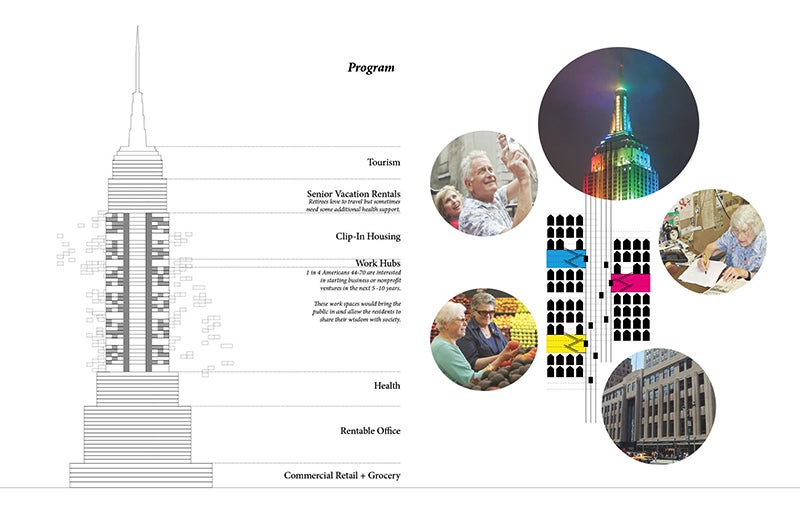 Above: The program in the competition entry by Haley Davis factors in work hubs for older workers interested in starting new business or nonprofit ventures, "clip-in housing," health care options, along with retail, office, and grocery space.
The merit-award winning entry by Davis envisions a "new type of modular home where the life cycle of the architecture parallels the life cycle of the inhabitant. You would add and subtract components throughout your life and ultimately, when you need more support, you would 'clip in' to a larger framework …  structured around large communal spaces. Moving would be a theatric event that celebrates both the arrival of new community members and the end of the life cycle. The historic nature of the Empire State Building is preserved by leaving the memorable top and base of the building intact. This solution to aging buildings and the aging population has the ability to expand out from the Empire State Building and be applied to any obsolete structure."
Lyceum Fellowship travel award prizes are intended to enrich a student's academic experience subsequent to the travel experience it funds; student competitors are required to have at least one year of architectural study remaining following the competition. Each entry must be completed within a design studio structure and under the oversight of a studio faculty member.
Mai's first-place award grants him $12,000 for four months of travel abroad.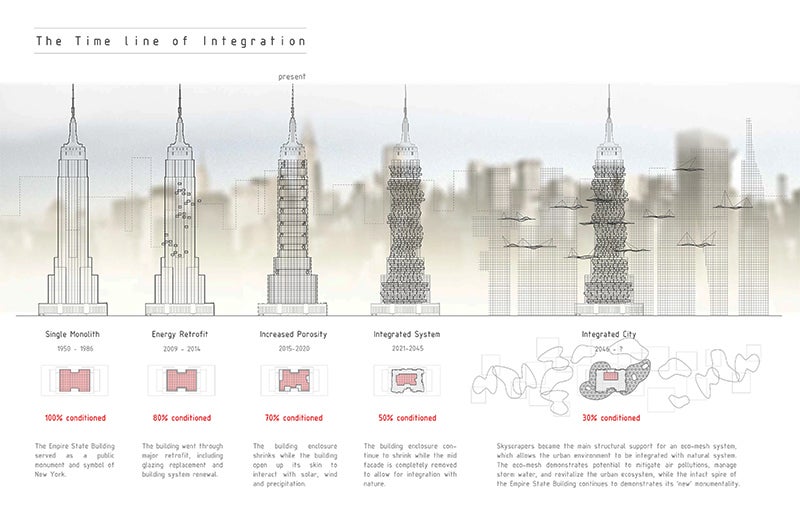 Above: In "The Time line of Integration," Mai illustrates past and future changes in the Empire State Building and how it could be re-imagined with improved sustainability features and programming.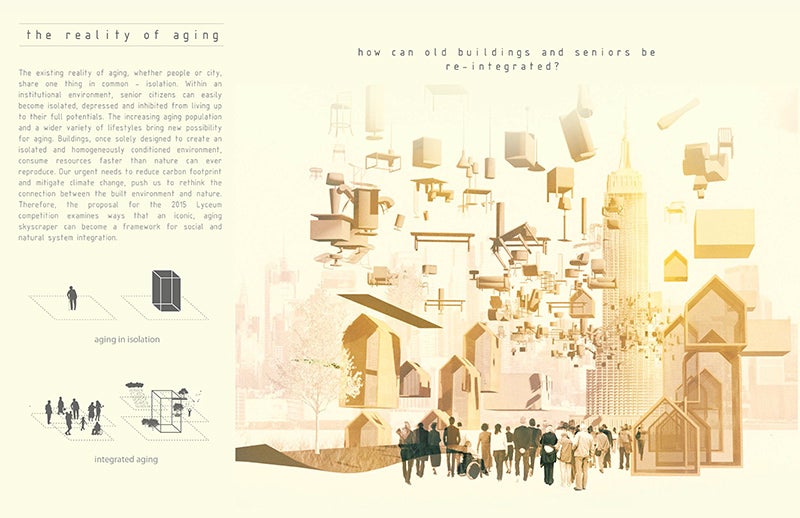 Above: Mai's proposal examines ways "that an iconic, aging skyscraper can become a framework for social and natural system integration."