The University of Oregon's Energy Studies in Buildings Laboratory (ESBL) has been awarded $702,218 in funding to build and manage a new Acoustics Testing Laboratory in collaboration with the TallWood Design Institute (TDI). As announced by Business Oregon, the state's economic development agency, the Oregon Innovation Council awarded the money from its High Impact Opportunity Fund.
TDI is a partnership between the UO and Oregon State University (OSU). The collaboration already provides expertise and world-class facilities for structural, seismic, durability, and fire testing, but currently lacks appropriate facilities for the acoustic testing and research support necessary for the growing mass timber industry in the Pacific Northwest. The project will benefit from substantial cooperation between UO and OSU through TDI and the strong partnerships already in place with the mass timber industry in Oregon and beyond.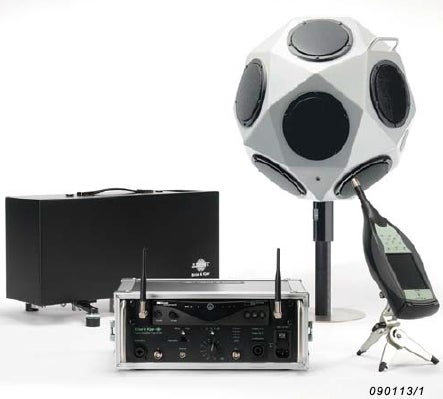 In collaboration with TDI, the UO proposed to develop the acoustics testing lab. The new facility will be managed under the direction of Principal Investigator and UO Associate Professor Kevin Van Den Wymelenberg through the ESBL in collaboration with TDI Director of Design and Architecture Professor Judith Sheine. "The acoustics testing lab will add a critical resource to ESBL, significantly increasing their research capacity in mass timber, which already includes projects on thermal and biome characteristics," noted Sheine.
According to the project proposal, "Locating this facility at the UO, in association with the other assets of the TDI, will solidify and strengthen the mass timber leadership position currently held by the state of Oregon, enhance the value of its timber resources, and further Oregon's reputation for leadership in sustainability."
Currently, companies must ship their products and assemblies to the East Coast for testing, which slows down product development, increases costs, and makes design iteration and optimization difficult. Building a new acoustics lab in this region will help address these problems and eliminate a significant barrier to the wider adoption of mass timber. The new equipment could be useful for non-mass timber applications because acoustics issues can also affect other low-energy building materials, assemblies, and practices.

According to proposal supporters Hacker Architects in Portland, "Acoustical performance of engineered timber products remains a critical gap that must be resolved with testing in the US to realize the anticipated growth of this industry." All the architecture, engineering, and manufacturing companies that provided letters of support for the funding proposal—including Oregon Best, SRG, KLH, Hacker, DR Johnson, BAR Architects, KPFF, Freres Lumber, SmartLAM, ZGF, and Oregon Forest Resources Institute—echoed this assessment.
While mass timber is the driving force behind the proposal to build this facility, other industries in Oregon and across the Northwest are expected to benefit from it, such as aviation and other building materials manufacturers, including glazing and curtain walls, façade cladding, masonry, and even materials that are not mainstream, such as straw bale. Van Den Wymelenberg noted, "having affordable and rapid access to acoustic test data will help accelerate research and development for a variety of materials and assemblies. The acoustics testing laboratory will generate impact in Oregon by facilitating design and construction innovation and ultimately help to move more Oregon products to market."
Site selection for the new acoustics lab is underway at the UO and research faculty in ESBL are set to oversee the installation, calibration, accreditation, and operation of the acoustics research and testing laboratory.