A&AA Dean Christoph Lindner moved from The Netherlands to Eugene in summer 2016 partly due to a program established at the UO. 
"One reason I uprooted my life from Amsterdam and came to Eugene included the Sustainable Cities Initiative," Lindner told a crowd gathered in the Jaqua Academic Center for Student Athletes to kick off the SCI's 2016–17 collaboration with the City of Albany, Oregon.
"It is truly special on a global scale," Lindner said of the SCI. "There's great diversity of expertise in a university, but very rarely can we bring those [diverse areas] together. SCI does that."
Under the SCI umbrella, the Sustainable City Year Program (SCYP) annually partners hundreds of students and faculty with an Oregon city seeking sustainability-focused solutions to civic concerns. Students and faculty will pour roughly 40,000 hours of work into the chosen city.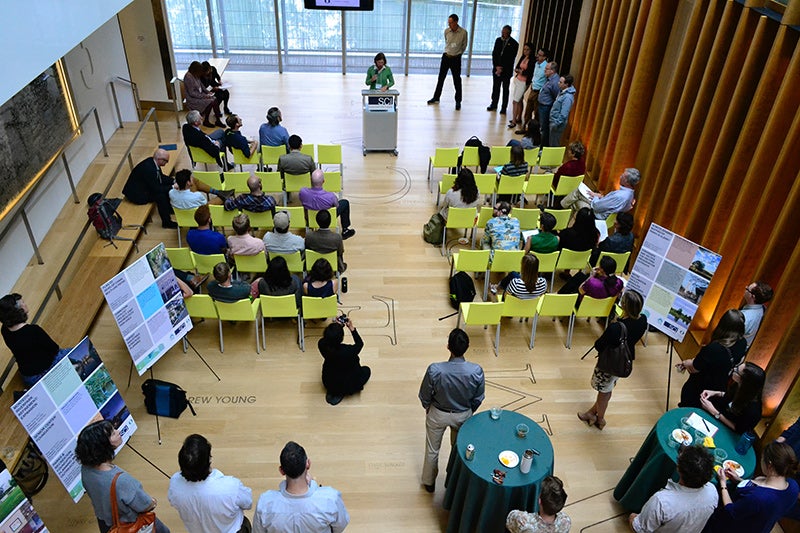 Above: Dyana Mason, assistant professor in the Department of Planning, Public Policy and Management, addresses those gathered to celebrate the SCYP year with Albany. Mason is teaching "Nonprofit Consultancy," a capstone course for Masters in Nonprofit Management students. In spring 2017, the students will work with the City of Albany to support its new Parks & Recreation Foundation and the Senior Center Foundation. Photos by Marti Gerdes.
Faculty in the UO's Departments of Architecture and Planning, Public Policy and Management developed SCYP in 2009. Since then, SCYP has worked with Redmond, Medford, Salem, Springfield, and Gresham.
The large-scale university-community partnership model has since been adopted throughout the US and internationally, including at Technion-Israel Institute of Technology in Haifa.
Given its reach, the program has plenty of enthusiastic supporters.
"As an alumnus, I am proud to note the University of Oregon Sustainable City Year Program model has been adopted by more than 25 universities," Congressman Peter DeFazio said in a statement read at the UO event by his district director, Dan Whelan.
Albany Mayor Sharon Konopa was raised in Albany when "it was fun and vibrant," she said. "Then in the '80s and '90s things became blighted." She anticipates SCYP will reanimate Albany "to help us get to another level" with projects including riverfront parks and trails and downtown retail development.
SCYP participants include students from schools and colleges across the UO, from the College of Arts and Sciences and the Lundquist College of Business to the School of Architecture and Allied Arts and the School of Journalism and Communications (SOJC).
During fall term 2016, A&AA students in PPPM, architecture, and arts administration will engage with Albany in downtown redevelopment, parks and recreation funding, and community engagement. Later in the year, A&AA students will work with Albany on projects ranging from multi-use paths on canals to parks planning and expansion.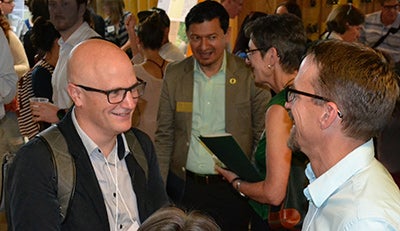 Above: A&AA Dean Christoph Lindner (left) talks with Rich Margerum, professor in the Department of Planning, Public Policy and Management about projects for SCYP Albany. Juan-Carlos Molleda (background, in green shirt and tan jacket), dean of the School of Journalism and Communications, talks with City of Albany Public Information Officer Marilyn Smith.