Portland-based architect Pietro Belluschi was one of the leading proponents of Modernist architecture in the Pacific Northwest. Join his son, architect Anthony Belluschi, and Judith Sheine, head of the Department of Architecture at the University of Oregon, for an evening of conversation about Pietro Belluschi and his legacy, from 5:30-7:30 p.m. Wednesday, February 18, at the Jordan Schnitzer Museum of Art (JSMA). A reception will follow. On April 15, Sheine and Anthony Belluschi will be joined by Randy Gragg, executive director of the Yeon Center in Portland, for a panel discussion at Central Lutheran Church, 1857 Potter Street in Eugene, beginning at 5:30 p.m.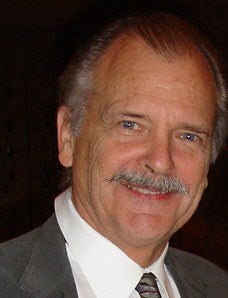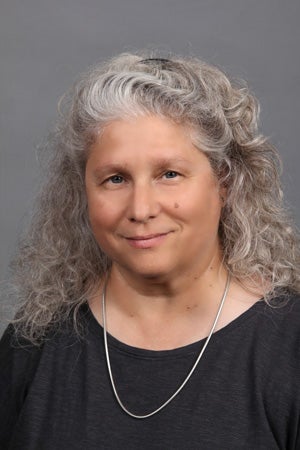 Above: (left) Anthony Belluschi, FAIA (right) Professor Judith Sheine
The discussions are being held in conjunction with the JSMA exhibition The Architecture and Legacy of Pietro Belluschi, which was designed by Anthony Belluschi and his wife, Marti Mull Belluschi. The exhibition features models built by UO students of several Belluschi buildings in Oregon. 
The exhibit will run from February 7 through April 26. It is based on a similar show that premiered at the Oregon Historical Society in Portland in 2012.
While "the jewels" of the exhibit are the architectural models by UO students, Anthony Belluschi says, "we want to share both the architecture and legacy of Pietro by highlighting his life story in addition to showing his buildings. The exhibit panels cover his youth in Italy, his journey to the U.S., the beginning of his career as an architect in Portland, his work as an educator at the Massachusetts Institute of Technology (MIT), his national and international impact as an architect and philosopher, and finally his return to Portland, where he was able to continue practicing as a design consultant until he was 91 years old."  
Anthony Belluschi's conversation with Sheine will, along with other topics, touch on growing up as son of a nationally pre-eminent architect.  
"My father's overall influence on me was, first, in seeing his life as an example of the success that comes from hard work and focus," Anthony Belluschi says. "Second, in teaching me, again by example, the nuances of designing buildings and the numerous details that come with them. Eventually I worked with him on more than sixteen separate projects and learned something different from him on each of them."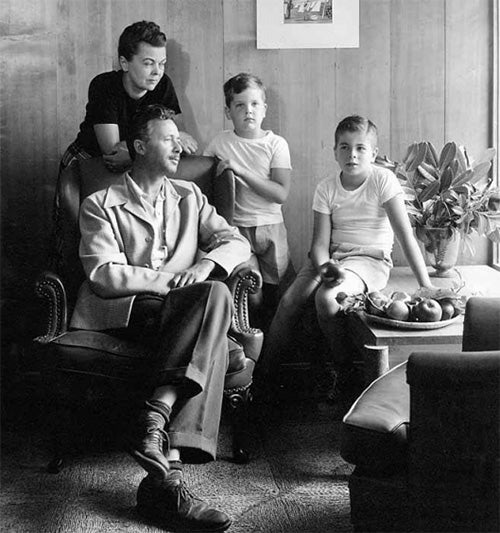 Above: Pietro Belluschi and his young family lived in Aloha, Oregon, for several years. From left in this 1946 photo are: first wife Helen, Pietro, and sons Anthony and Peter. Photo courtesy Anthony Belluschi.
Because his father's designs ranged from residential to commercial to cultural, "many Oregonians experience something of his design every day," Anthony Belluschi says. "His influence also stretched beyond Oregon; for example, he was a member of the jury that chose Maya Lin's design for the Vietnam Veterans Memorial Wall in Washington, D.C., completed in 1981."
The JSMA exhibition "will provide our architecture students and other museum visitors with critical exposure to the works of the most significant twentieth-century architect who practiced in Oregon," Sheine says. "The exhibit will also reinforce the connection our department has with the Belluschi legacy through our Belluschi Distinguished Visiting Professor program, which allows us to bring very accomplished practitioners to teach in studios and seminars and to promote excellence in design education." 
One of Pietro Belluschi's lasting influences in Oregon is the UO's Pietro Belluschi Distinguished Visiting Professorship in Architectural Design, which he endowed at A&AA in 1993. Past recipients include Johnpaul Jones, Will Bruder, David Miller, and others.
Born in Italy, Pietro Belluschi (1899–1994) came to the United States as an exchange student at Cornell University. After graduation and a brief job in Idaho, he joined the Portland firm of A.E. Doyle in 1925, eventually buying out the remaining partners in 1943. 
Belluschi contributed to the design of more than 1,000 buildings, many of them in Oregon. Those include the main building of the Portland Art Museum (1932), which was completed during the Great Depression. Its design was groundbreaking: In an era when museums tended to resemble temples, Belluschi's design "created an uproar that Frank Lloyd Wright was asked to help quell," according to the Oregon Encyclopedia. 
His other notable Oregon buildings include Central Lutheran Church in Eugene (1959), which is among seventeen churches he designed in the state, and Portland's U.S. Bancorp Tower (known in Portland as Big Pink), on which he served as design consultant. 
Perhaps his most noteworthy design in Oregon is the Equitable Building in Portland (1944–48), now called the Commonwealth Building. Designed in the International Style, it employs a curtain wall system with exterior panels made from surplus World War II aluminum. It was "the first to be sheathed in aluminum, the first to employ double-glazed window panels, and the first to be completely sealed and fully air-conditioned," wrote Sylvia Hart Wright in Sourcebook of Contemporary North American Architecture: From Postwar to Postmodern.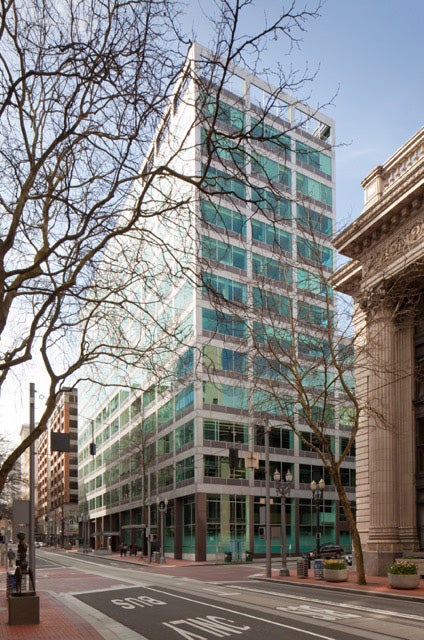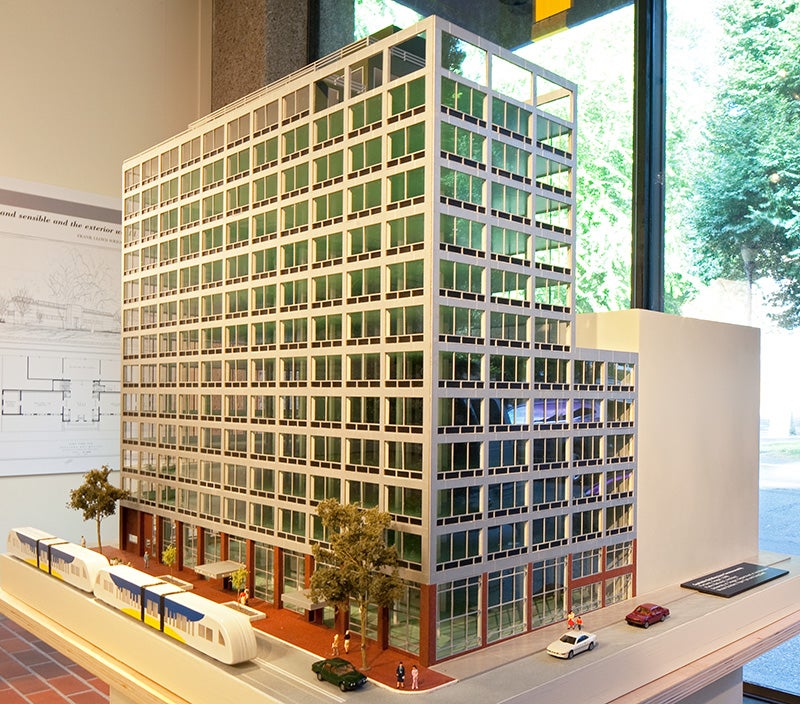 Above: (left) Although completed in 1948, the Equitable Building (now the Commonwealth Building) in Portland is still considered a masterpiece of modern architecture. It is known as the first glass curtain-wall office tower and the first office building to use aluminum cladding. Even today, it is admired for its elegant simplicity and enduring freshness. Photo by Sally Painter; photo courtesy Anthony Belluschi. (right) The model of the Equitable Building built by UO students in 2012.
 
Belluschi served as dean of the MIT School of Architecture and Planning from 1950-65, during which he continued design work on numerous high-profile buildings including collaborating with Walter Gropius on New York City's Pan Am Building (1963), now the MetLife Building, also built in the International Style. (A Manhattan landmark, it can be seen in films including The French Connection, Catch Me If You Can, and Charlie and the Chocolate Factory. In On a Clear Day You Can See Forever, the building is host to Yves Montand singing the first verse of "Come Back to Me" from its roof.)
Though Belluschi left Portland in 1950 to work on the East Coast, in 1973 he returned to Portland after retiring from MIT and purchased a house he'd designed in 1948 for clients Dr. and Mrs. D.C. Burkes. He lived out the rest of his life in the house in Portland's West Hills with his second wife, Marjorie Belluschi. 
Tony Belluschi inherited the property and spent several years restoring and renovating the house to better fit the needs of he and his wife, Marti, who divide their time between Chicago and Portland. Their meticulous and sympathetic restoration of the Burkes-Belluschi House won the Restore Oregon 2013 DeMuro Award for architectural preservation. The house was among six Belluschi-designed houses featured on Restore Oregon's Midcentury Modern Home Tour in 2014. It is also featured as the House of the Month in the February 2015 Architectural Record.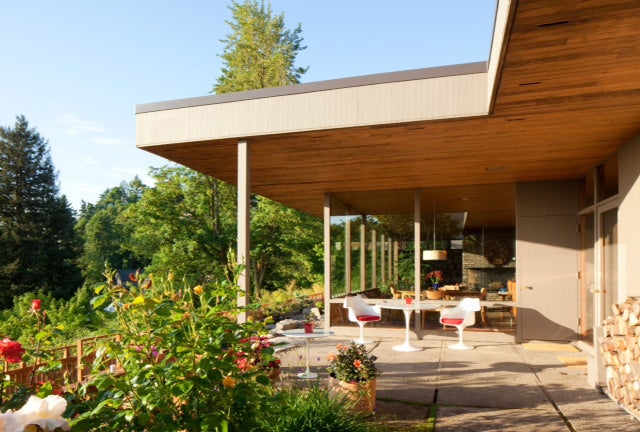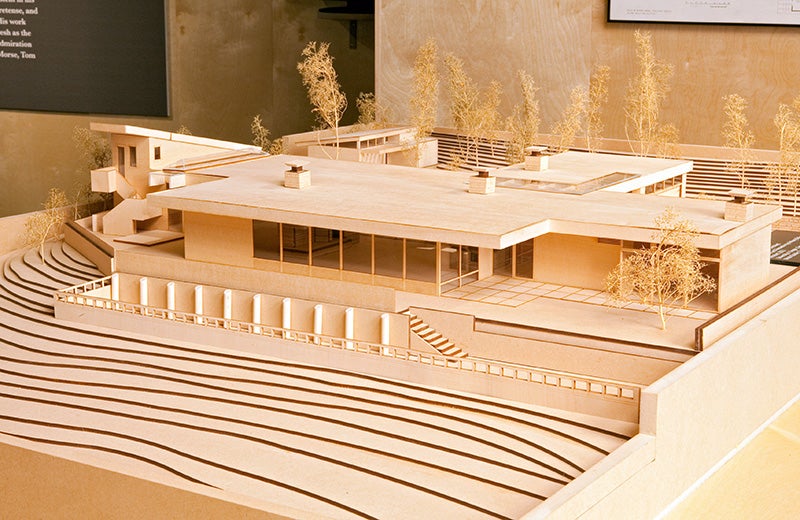 Above: (left) Pietro Belluschi lived his final years in the 1948 Burkes-Belluschi House, which he designed for a client and purchased in 1973. Photo by Sally Painter; courtesy Anthony Belluschi. (right) The model of the Burkes-Belluschi house as built by UO students.
 
For the JSMA exhibition, the Belluschi models built by the UO students "offer the best visual examples for showing Pietro's range of design in office, church, and residential architecture," says Tony Belluschi. "I spent many Saturday mornings with the students in their studio in the [White] Stag Building critiquing, making suggestions, and encouraging them in their model making. That was, for me, one of the more interesting and exciting parts of creating the entire exhibit. The work and talent of the students was amazing."
The JSMA exhibit includes about 65 percent of the original material as exhibited at OHS—but some of the "missing" information from the Portland exhibit will be available via iPad at JSMA. The main change between the two shows is that the 15 X 30-foot cedar "room within a room" at OHS will not be part of the JSMA exhibit due to cost and space considerations.
Anthony Belluschi served as chairman of the board of trustees of the Rhode Island School of Design, the first RISD graduate to hold the top leadership position. He currently serves on the boards of the Pacific Northwest College of Art (PNCA) and the Architecture Foundation of Oregon (AFO). Now a full-time design consultant, he offers four decades of international experience in the planning and conceptual design of commercial, retail, office, residential, and mixed-use developments.
A book about his work, Urban Places, Public Spaces: The Architecture of Anthony Belluschi, by Edward M. Gomez, was published by Edizioni Press in 2006. The book features eighteen projects in five countries.
The JSMA exhibition is made possible in part by a JSMA Academic Support grant.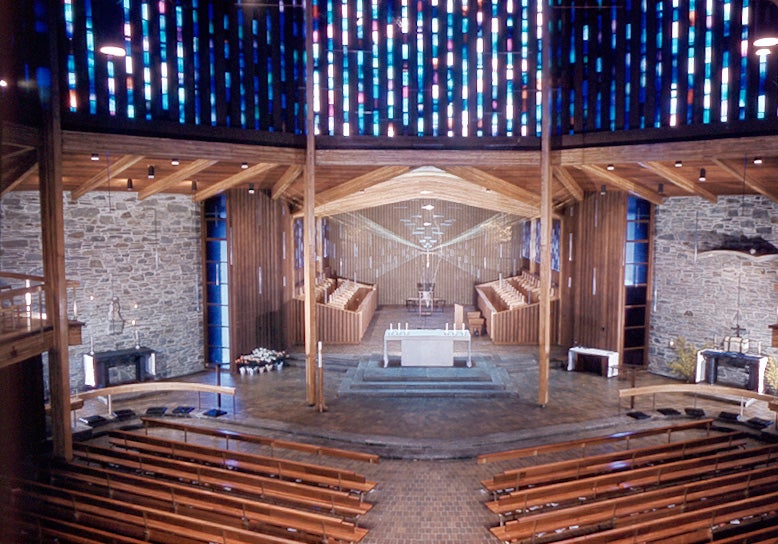 Above: (left) Pietro Belluschi designed the Bank of America World Headquarters (1969), the second tallest building in San Francisco. The design features thousands of bay windows; Belluschi did not want "dark holes" in his building, and designed the structure with dark polished granite so that reflections would be visible from many angles. Photo courtesy Anthony Belluschi. (right) The chapel at Portsmouth Abbey is an architectural gem frequently cited as one of the important buildings in New England. Designed by Pietro Belluschi and built in 1960, the exterior mirrors the wood and stone of surrounding countryside while the interior embodies peace and contemplation. Photo courtesy Anthony Belluschi.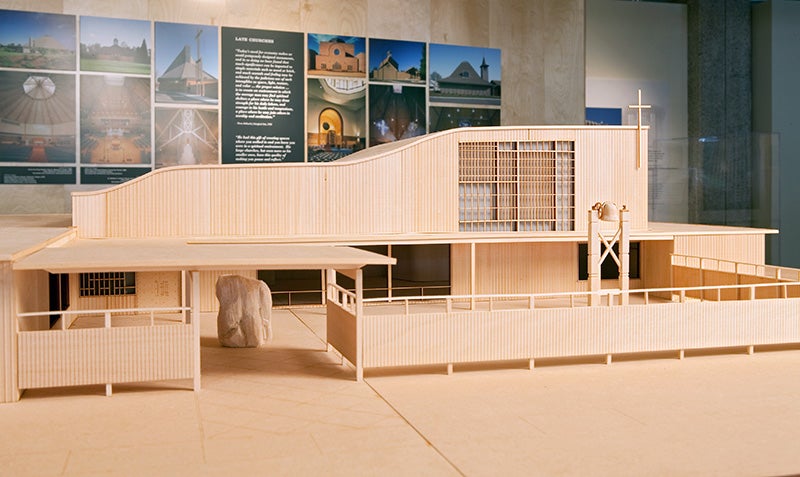 Above: Another notable Oregon building by Pietro Belluschi is Cottage Grove Presbyterian Church, which is among seventeen churches he designed in the state. This image shows the model of the church built by UO students.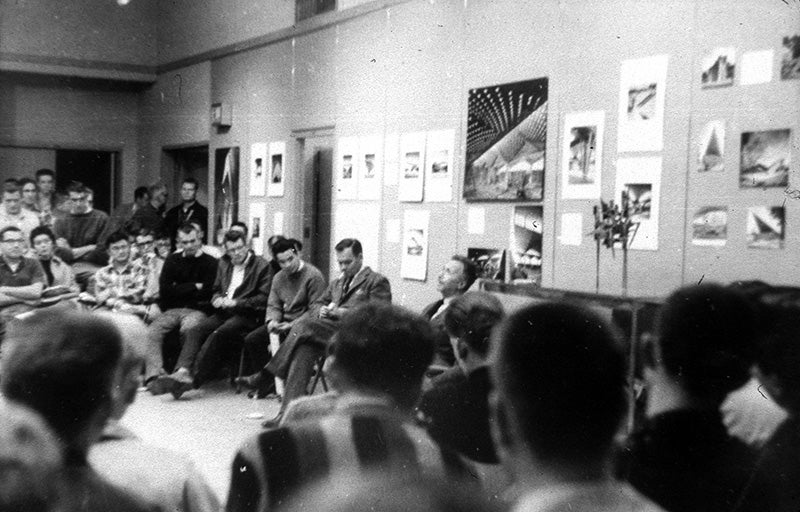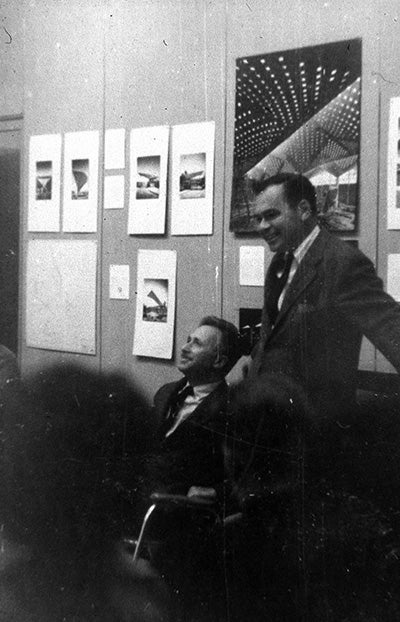 Above: (left) UO students meet with Belluschi during his visit to A&AA in 1959. Photo by George Okamoto. Pietro Belluschi (at left) visited UO in 1959 while he was dean at MIT. (right) A&AA Dean Walter Gordon stands at right.  Photo by George Okamoto.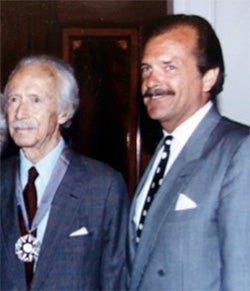 Above: Pietro Belluschi, with son Anthony Belluschi, when Pietro received the National Medal of Arts at the White House 1991. Pietro Belluschi is the only person from Oregon to receive either an American Institute of Architects Gold Medal (1972) or The National Medal of Arts (1991). Photo courtesy Anthony Belluschi.