Although many architecture graduates might agonize over whether they'll be able to land a secure job at a firm, Miguel McKelvey found an alternative way to convert his architecture degree into entrepreneurial success.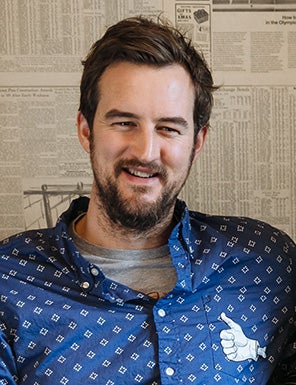 Above: Miguel McKelvey, chief creative officer of WeWork. All photos courtesy WeWork.
McKelvey, BArch '99, is the cofounder and chief creative officer of WeWork, a New York City-based company that leases cooperative workplaces to startup businesses and freelance workers worldwide. The business appeals to young creatives and displaced employees in need of office space.
McKelvey will deliver a keynote address for the thirteenth annual Professional Outreach and Development for Students (PODS) career symposium, which takes place from 9 a.m. to 5 p.m. April 21 at the White Stag Block (70 NW Couch Street) at the University of Oregon in Portland. The symposium is open only to current students in the UO School of Architecture and Allied Arts and professionals serving as mentors.
The symposium offers A&AA students – whether their career goals lie in architectural design, artistic practice, or another discipline – a chance to meet and network with professionals in their field, gain connections for after graduation, and learn more about their industry as a whole.
McKelvey says he's interested in PODS because he believes there's a divide between education and career preparation and he's interested in what role he and WeWork can play in bridging the gap.
"What I would say to anyone – no matter what profession they're in – is that their perspective should be that they're creating their life's work. It's a WeWork tagline," says McKelvey, "but it's true. You should feel like you're progressing toward something that's going to make you feel successful and happy with your life. If you feel like you're not making progress, then you're in the wrong place."
McKelvey's WeWork has undergone meteoric rise since its founding in 2010, having acquired more than 50,000 members who operate from its 77 locations around the globe, including throughout most major US cities as well as in Tel Aviv, Berlin, Amsterdam, Montreal, Shanghai, and London.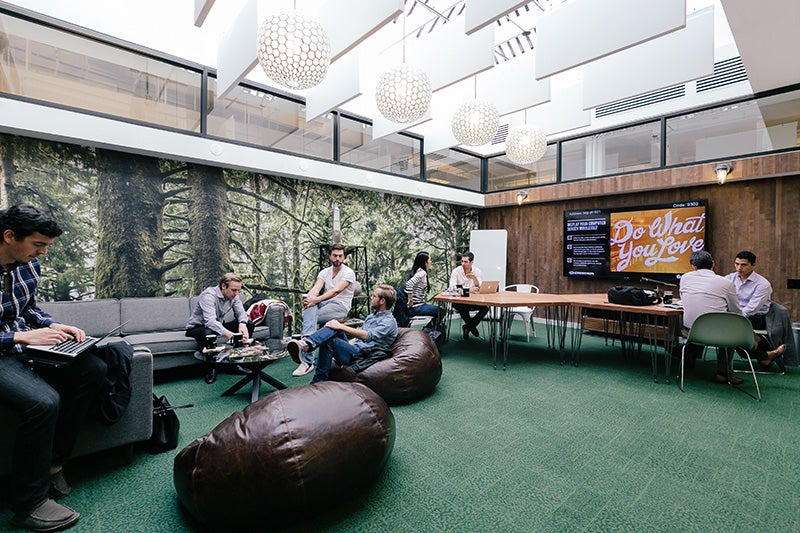 Above: The West Broadway WeWork space in New York.
Fast Company magazine ranked WeWork at No. 1 of the World's Top 10 Most Innovative Companies of 2015, and it has been featured in Forbes, The Wall Street Journal, and Business Insider. CNN called McKelvey's business partner, WeWork CEO Adam Neumann, "the next Mark Zuckerberg."
In March 2016, WeWork received $430 million from Chinese investors, which will help its expansion and development of more office locations in China over the next several months.
"Not only does WeWork have one of the largest addressable markets I have ever seen, but the quality of its execution and fit for the Chinese culture is unparalleled," John Zhao, CEO of private-equity firm Hony Capital Ltd. in Beijing. "Our investment in WeWork is both strategic and obvious." Zhao was quoted in a WeWork blog post penned by Neumann.
"I'm super excited" about the Chinese expansion, says McKelvey. "I think it's an extraordinary time in China; it's an inflection point, certainly. I think the move to their economy and startup business is just getting off the ground, and I think we can be a meaningful part of that."
But despite WeWork's eminent success, McKelvey still considers the business – now valued at $16 billion, according to the Wall Street Journal – to be a startup.
"The reason we continue to refer to ourselves as a startup is because we feel like we're still figuring it out," says McKelvey. "We still feel like we're working hard to figure out the full spectrum of ways we can help our members. It's about our approach everyday to continue to grow and evolve. Rather than saying we've got it all figured out, we're still building the ship. We're not just trying to keep it afloat."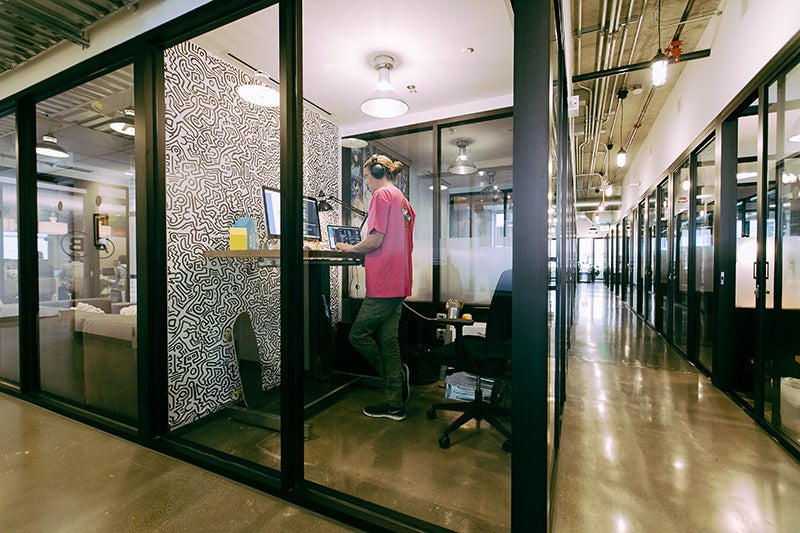 Above: The South Lake Union WeWork space in Seattle.
As McKelvey learned, entrepreneurship and architectural design are not very far apand the cycles of work are very similar. His long nights in Lawrence Hall studios forced him to develop a design, refine it, and iron out complex problems before presenting it for critiques. And sometimes, he says, the criticism is "super harsh." The design process is directly comparable to entrepreneurship, he says.
"One of the first things you learn in architecture: You can't fall in love with the first good idea. You have to push it further. You have to be willing to stand in front of someone and defend it," he says. "I had no fear of that cycle. For me, that's an incredible preparation for entrepreneurship."
One of McKelvey's business philosophies is what he calls "benevolent populism" – the idea that design requires human context. He likens the idea to a standard cubicle system, perhaps once considered to be a "populist approach" to a workplace, wherein all employees have "their own people-sized cubes."
"My feeling about design and architecture when I first [considered 'benevolent populism'] is that there was an elitist attitude about design and architecture," he says. "I think about making well-considered experiences available to everybody, to not make them available to a specific group of people to experience. … It's design for the people. It's positivity and thoughtfulness for everybody."
The annual PODS symposium allows A&AA students to connect with professionals to encourage career mentorship and networking. Students can learn about careers in architectural and artistic practice, as well as portfolio development, interview skills, and industry trends, while professionals share tips for success.
"Students and professionals leave inspired with fresh thinking about their careers and approaches to their discipline," says PODS Director Kassia Dellabough. "Miguel is an inspiration to all students from A&AA. He radiates optimism. He wants others to imagine what's possible and realize their ambitions."
She adds, "Ultimately, for Miguel, success is about dreaming big and making a difference. The reason WeWork is so successful is because they've used the principles of design to make a really unique community where people want to be."  
Brook Muller, interim A&AA dean, echoed this sentiment.
"Miguel uses design thinking as an incredibly powerful business development tool," he says. "It makes you think a little bit differently about how we prepare our students and what kind of possibilities might be before them, if we were to think along the lines that he thinks. He's a spectacularly successful example of what we wish for our graduates."
PODS serves students in all A&AA disciplines to develop job search strategies, career goals, and career development tools.

Above: A WeWork space in Hollywood.