A detail of the award-winning design
Last fall, interior architecture graduate student Amicia Nametka remembers seeing a man bent over on a stoop, jacket pulled over his head. The man appeared to be one of Eugene's unhoused population.
"He was creating private space," Nametka said. "For the homeless, there is no room for them to return to and close the door for a minute." Privacy and autonomy affect confidence, she explained.
Nametka and their collaborator, fellow interior architecture graduate student Julia Roath (MIArch), tapped into this empathetic mindset when designing their project "R+D (Respect + Dignity)" for the fall 2019 studio "IARC 4/584: The Invisible Half" taught by Assistant Professor Solmaz Mohammadzadeh Kive. The prompt was for students to create a basic needs hub.
This spring, the Interior Design Educators Council (IDEC) named Nametka and Roath first-place graduate studio winners of its student design competition, sponsored by the Council for Interior Design Qualification (CIDQ), the organization that oversees certification for professional interior designers.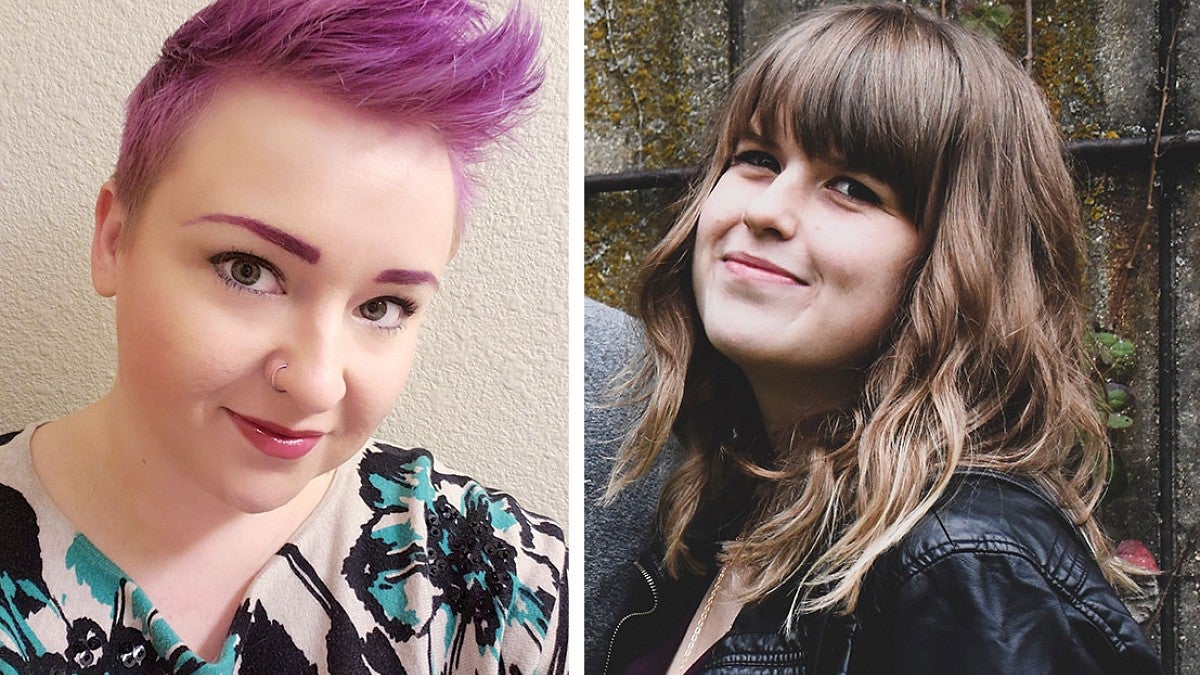 Amicia Nametka and Julia Roath
"This competition provides a major opportunity for schools to engage students in the kind of multimodal design thinking that we encourage in our vertical studios," said Linda Zimmer, associate professor and head of Department of Interior Architecture. "In winning this competition, our graduate student team created a research-based, functional, sustainable, and uplifting space that addressed the needs of 'the invisible' population of homeless people here in Eugene."
Kive explained that the project was done over an intense three-week span where students were tasked with researching local homelessness and designing a space for a basic needs center.
"The homeless are often dehumanized by ascribing poverty to their own alleged weakness. As a result, the homeless are denied the right to be visible. Different explicit policies and implicit hostile design systematically exclude the poor from the public," Kive wrote in her course description. "This studio explores some design solutions to both issues—providing some basic needs and claiming the right to social visibility."
Nametka and Roath took a tour of the St. Vincent de Paul First Place Family Center, a self-described "refuge and place of support for children and their families who are low income, at risk of losing their housing, or are already in transition between homes due to job loss, health issues, and other critical problems."
They also connected with people from Nametka's volunteer experiences—the Portland-based Street Roots newspaper, which creates income opportunities for people experiencing or near homelessness, and Habitat for Humanity.
They applied this research to their design for "R+D," which is based on five design principles: inclusion, non-judgement, confidence-building, privacy, and autonomy. These principles can be seen in, for example, avoiding an open shower plan (like for a locker room) and opting instead for spacious individual showers with skylights, providing privacy for the user; a place for the occupant to close the door and have a room of their own, if only for 15 minutes.
The principles can also be found in the design of the entry, administration, and check-in area—otherwise known as the Support Station.
"Through our research, we heard that the check-in experience can be very inhumane," Roath said. "We didn't want people to go in there and feel like they have to jump through hoops."
While the presence of staff is important, the team members said, checking into the space should not feel punitive, and thus the Support Station is visible from the entrance, but not a barrier to using the space.
"Our context was trying to empower the people who come to this facility and give them resources that can uplift them and integrate them into the community," Roath said of the design.
"There's a violence of sleeping on the street, a trauma on the street," Nametka said. "We want to say, structurally, we trust you, we support you."
Both Nametka and Roath said they were glad the School of Architecture & Environment encouraged them to use design to help solve societal issues.
"It changed my point of view of the homeless," Roath said. "It's a very serious and powerful thing to design for someone who's never been designed for."
"What really excited me about this project, what really impassioned me about the work, is this is what I went back to school for," said Nametka, who has a BFA in interior design from the Art Institute of Portland. "My trajectory since I went back to school is spatial justice. This is how I want to do design. I want to do it for this community."