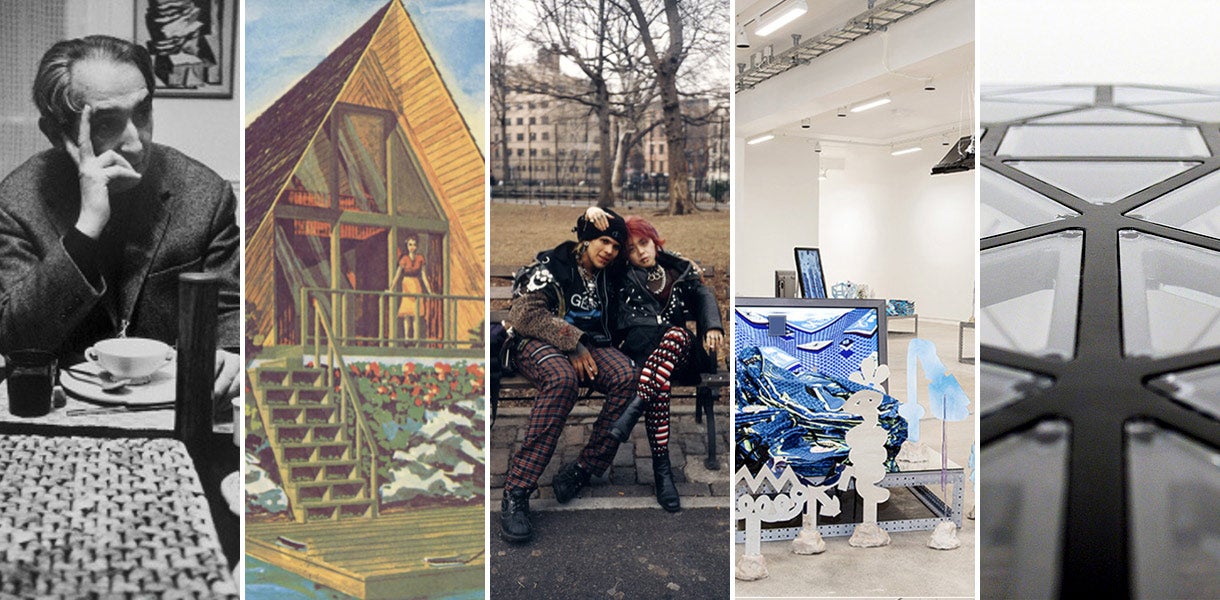 From left to right: Sonia Angela de Laforcade is a scholar of art critic Mário Pedrosa; an illustration from Chad Randl's book A-frame; a detail of a photo by Nikki S. Lee, a contemporary South Korean artist studied by Yookyoung Choi; an art installation by Jacob Riddle; and a detail of a bench designed by Cory Olson
The College of Design is excited to welcome new and visiting faculty for the 2019–20 academic year.
School of Architecture & Environment
Cory Olsen
Cory Olsen joins the Department of Interior Architecture as an assistant professor. Olsen's research interests include furniture design, woodworking, and computer numerical control (CNC) processes, or how programmed computer software can dictate, automate, or monitor the movements of a machine, such as a CNC router.
As a former cabinetmaker, Olsen's explores opportunities to integrate CNC processes and digital fabrication (3D printing, laser cutting, waterjet cutting, and more) into the long tradition of craft practices to achieve a hybrid technique through creative built works, illustrated by his thesis project.
Olsen earned two degrees from the University of Texas at Austin School of Architecture—a BS in Interior Design ('08) and a Master of Interior Design ('17).
Before coming to the School of Architecture & Environment, Olsen was a visiting lecturer and visiting assistant professor at the University of Arkansas where he taught lighting design and design history, in addition to numerous studio sequences. The work his students produced in his Advanced Furniture Design studio was shown at the International Contemporary Furniture Fair schools exhibition in NYC in 2019.
He will be teaching a furniture design studio, some core studios, and the Interior Construction Elements lecture (IARC 571).
Chad Randl
Chad Randl, who came to the Historic Preservation program in 2017 as a visiting professor and served as interim program director in 2018, has been appointed Art DeMuro Assitant Professor in Historic Preservation and continues to serve as program director this year.
His research interests include examining the cultures of building conservation, design, and inhabitation with a focus on change and trajectories of popular taste in U.S. architecture.
Randl earned an MA in 2000 and a PhD in 2014, both from Cornell University, where he wrote the dissertation "'Live Better Where You Are': Home Improvement and the Rhetoric of Renewal in the Postwar United States." For his master's thesis, Randl examined the history of A-frame vacation homes. He published his 2004 book A-Frame, for which he was cited in The Wall Street Journal in 2019. In 2008, Randl published his second book, Revolving Architecture: A History of Buildings that Rotate, Swivel, and Pivot.
Before coming to the College of Design, Randl was an architectural historian with the National Park Service and a visiting lecturer at both Cornell University and Syracuse University.
Design for Spatial Justice Fellows
In addition to Olsen and Randl, the School of Architecture & Environment also welcomes a cohort of visiting faculty fellows as part of its Design for Spatial Justice Initiative. Read about Menna Agha, Priyanka Bista, Karen Kubey, Zannah Mae Matson and the Design for Spatial Justice Initiative.
School of Art + Design
Jacob Riddle
Jacob Riddle will be joining the Department of Art as a visiting professor in Art & Technology. Riddle's interdisciplinary research centers on critical engagement with technology and its impact. His practice includes photography, new media, sculpture, 3D modeling and animation, virtual reality, and digital fabrication.
Riddle earned his MFA in 2016 at Syracuse University, where he was also the lab supervisor for the Department of Transmedia. In this role, Riddle was instrumental in implementing VR equipment.
Before coming to the School of Art + Design, Riddle was a part-time instructor at Syracuse University teaching digital sculpture, digital photography, history of photography, and more.
Department of the History of Art and Architecture
Yookyoung Choi
Yookyoung Choi comes to the Department of the History of Art and Architecture as a visiting assistant professor of Contemporary Asian Art and Architecture. Her research focuses on the ways Korean American artists negotiate their hybrid cultural identities in a contemporary world. She will be teaching courses about the intersections of race, gender, and ethnicity in contemporary Asian American art; women and contemporary Asian art; contemporary Asian art and politics in China and Korea; identity politics in Asian American art, and more.
In 2012, Choi earned a PhD in art history with a focus on contemporary art, writing her dissertation "Globalization and Ethnic Identity in the Art Works of Theresa Hak Kyung Cha, Yong Soon Min, and Nikki S. Lee." She also earned a BFA and MFA from Seoul National University; an MA in art history from the University of Wisconsin, Madison; and an MA in museum studies from George Washington University.
Before coming to the College of Design, Choi taught art history survey courses and modern and contemporary art courses as a visiting assistant professor at Wells College, in Aurora, New York.
Sonia Angela de Laforcade
Sonia Angela de Laforcade joins the Department of the History of Art and Architecture as a visiting assistant professor. Her academic specialties include art circuits in Latin America with an emphasis on Brazil, transnationalism in the 1960s and 1970s, and media practices in art and art history. Her research has examined histories of critical and curatorial practice, the intersection of art and pedagogy, and art and political violence.
This autumn, de Laforcade will complete her PhD in Modern and Contemporary Art of Europe, the Americas, and the Black Atlantic at Princeton University. Her dissertation, "Áudio-Visual: The Slide as Medium in Brazilian Art," theorizes slide projection as a medium of critical, pedagogical, and artistic experimentation. She has written for Grey Room, The Oxford Dictionary of Art, and Review: Literature and Arts of the Americas. De Laforcade has also written extensively about Mário Pedrosa, Brazil's preeminent critic of art, culture, and politics.