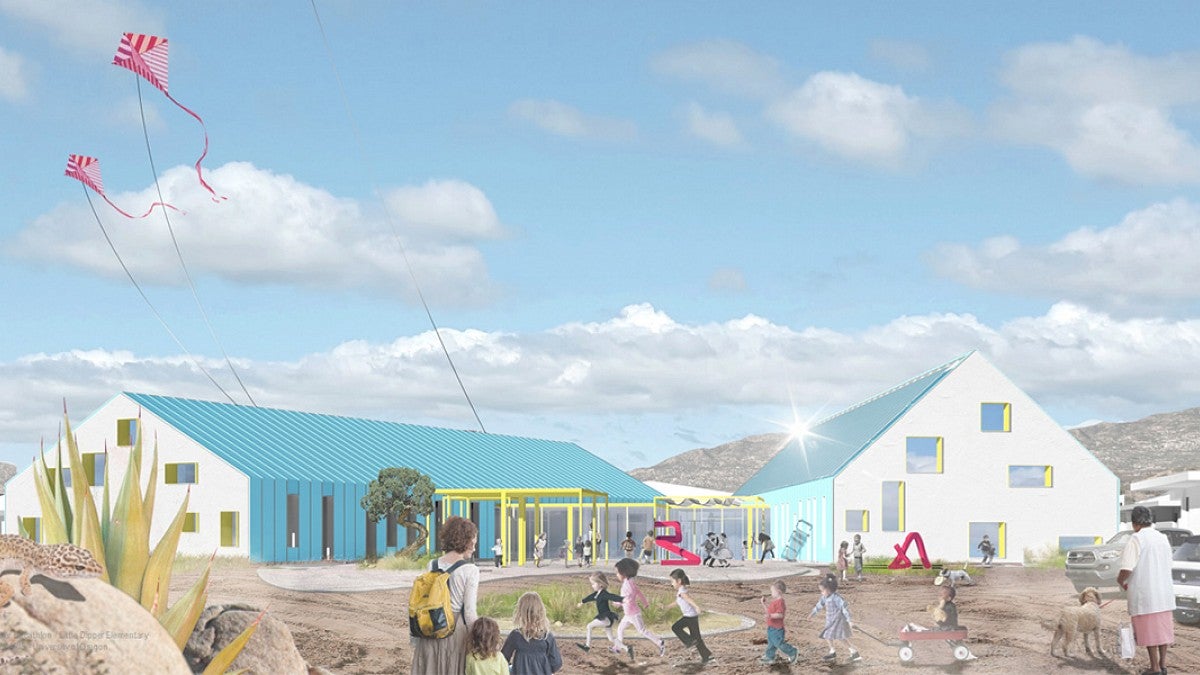 A rendering of 'Little Dipper Elementary' by Team Polaris
The U.S. Department of Energy's 2020 Solar Decathlon Design Competition has declared a College of Design architecture studio team winners of the Grand Commercial category and first place in the Elementary School Division category. The Solar Decathlon awards go to projects emphasizing low-carbon, low-energy, sustainable design.
Team Polaris, led by School of Architecture & Environment Professor Ihab Elzeyadi's High Performance Environments studio, is comprised of student design leads Garrett Leaver (BArch, class of 2021), Katharine Marple (MArch II, class of 2021), Danielle Valdez (BArch, class of 2021), and student designer David Deussen (MArch II, class of 2021). They won for their project "Little Dipper Elementary: An Interactive Climate Exploratorium" located at the U.S.-Mexico border.
"This is a monumental achievement and the first time in the competition's 20-year history to have an architectural team sweep both awards," said Elzeyadi, who is also the director of the High Performance Environments Lab.
The U.S.-Mexico Border as a Design Bridge
During the spring presentation to the Solar Decathlon Design Competition jury, the team said they had not only gained appreciation for how multifaceted the field of architecture is, but they had also developed a deeper understanding of the complex social, political, and environmental challenges that exist on the border between Mexico and the United States.
"Through breaking down global challenges into kid-sized learning moments, encouraging active learning through interactive relationships, and letting the building be a stage for education, we believe that Little Dipper Elementary is a step forward in the exploration of these issues and represents an optimistic narrative for bridging barriers and engaging with future generations," Leaver said during the presentation.
Little Dipper Elementary was borne from a 10-week winter term architecture studio taught by Elzeyadi. Over winter break, Elzeyadi had been thinking about the competition when he read an article about the situation at the border.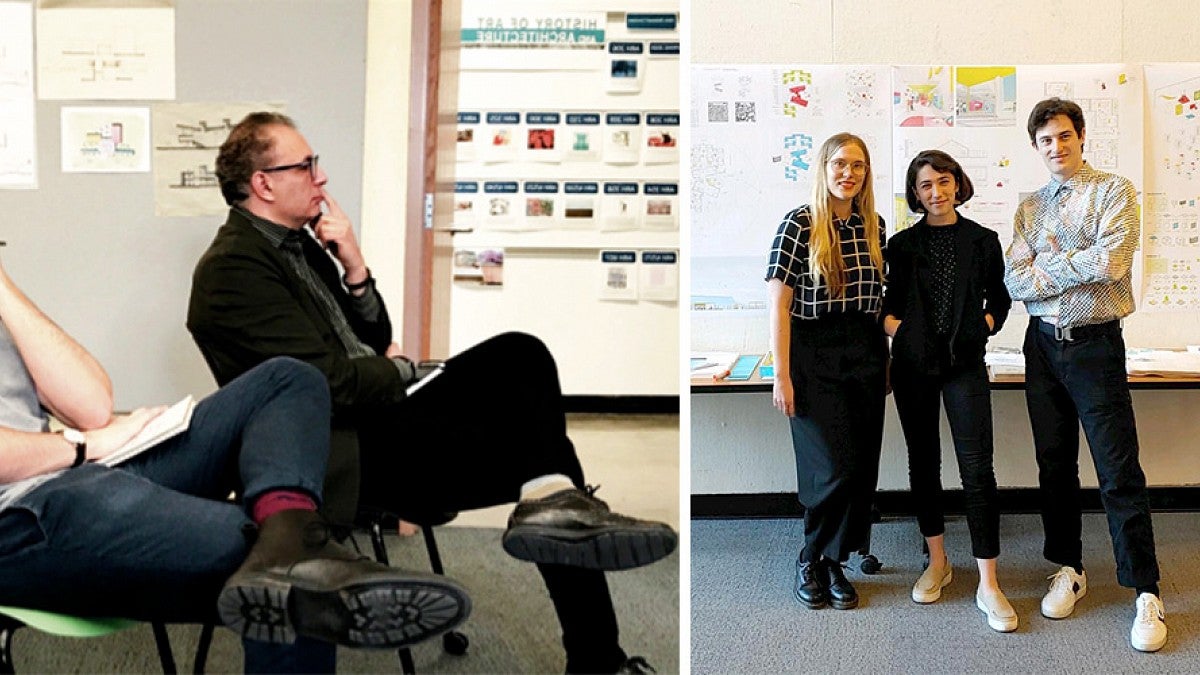 Architecture graduate student David Deussen with Professor Ihab Elzeyadi; Team Polaris members Danielle Valdez, Katharine Marple, and Garrett Leaver
"I came across the article about injustice on the border, specifically about families being torn apart," he said, adding that many children cross the border daily to attend school. Instead of using the border to separate groups, it could be used to bring communities together, he said. 
The studio then focused on how to use sustainability, high-performance buildings, and environmental and passive systems to create a community-based border solution.
The U.S. Department of Energy (DOE) states that the Solar Decathlon Design competition challenges student teams to design and build highly efficient and innovative buildings powered by renewable energy. The entrants are judged on 10 criteria: energy performance, engineering, financial feasibility and affordability, resilience, architecture, operations, market potential, comfort and environmental quality, innovation, and presentation.
"The winners of the Solar Decathlon competition are the teams that best blend technology, market potential, and design excellence with smart energy efficiency and renewable energy production," the DOE competition guidelines state.
The design for Little Dipper Elementary—located 1,500 feet from the border in Tecate, California—featured all these elements, creating a net-positive energy (i.e., producing more energy than it consumes) campus on the border as a response to climate change, border injustice, and overconsumption. The team investigated how design can inspire children to be responsible stewards of their environment, ecosystem, and community.
Elzeyadi explains that the team's success was even more of a feat because they tackled the engineering side of the competition, competing with teams from universities that have both architecture and engineering schools.
And while he said the project did not have all the "bells and whistles" of the newest technologies, the students created a cost-effective campus that employs innovative passive and simple systems, such as utilizing daylighting, hydeonic heating and cooling, natural ventilation, and roofs that slide open and close like shades.
"This is not your grandfather's passive system," Elzeyadi explained. "This is a 2020 millennial passive system. We now have much more sophisticated simulations to test when these systems work, when they might require assistance, and precisely what times they need to be controlled and managed to perform effectively. It is a more informed, more evidence-based passive system."
Solar Decathlon Design Competition presentation for 'Little Dipper Elementary'
A Kid-Sized Interactive Climate Exploratorium
The Little Dipper team not only incorporated the elements prompted by Elzeyadi and the DOE, but they also infused their design with a sense of whimsy and agency that would engage children, breaking down complex global challenges into kid-sized interactive exercises.
"We all approached it from a playful place," Valdez said. "We wanted to communicate this idea of play through architecture. Often architecture can be really serious and sterile, but we wanted to have playful elements that also acted as learning tools."
The team points to the monitors in the classrooms as an example.
"They serve as passive devices to harvest light and fill the classroom with daylight," said Marple. Hanging below the monitors are theoretical clouds that act as light filters. If it's reading time, Marple explains, students and teachers can diffuse the clouds to let in more light; if it's nap time, cloud cover can be increased for a darker room.
Little Dipper Elementary is filled with these prompts for its students to operate or steward, from sliding walls and modular play objects to native species vegetation areas and Makani kites to generate wind, as well as a visual connection across the border.
"It is designed to be more of a canvas for the user and for the user to create the space," said Deussen.
"Little Dipper is a hopeful vision where it engages people in the space more than your average building," added Leaver. "It gives students not only a feeling of ownership, but it also reduces energy when they take an active role in operating the building."
Teamwork Makes the Dream Work
The team said one of the main reasons their team won was collaboration.
"We had a really great bond as a team," Leaver said. "The process reflects the product in a way. The way you work with your team reflects in the way the building can interact with your community."
"I think we're seeing a shift in the way architecture is done, which is really exciting for me and our generation—collaboration is so much more valued," Marple said. "We are connecting with the community and doing work that is more meaningful than just creating a beautiful building.
Because they had solid foundation of collaboration, the group says it was easier to adapt when COVID-19 hit. Originally, the team was set to travel to Colorado to present the design for the competition. Instead, they remotely had to create a live 25-minute virtual presentation, filmed on their cellphones.
"It really wasn't that challenging—communicating during COVID-19," said Valdez. "We had already set this precedent."
Elzeyadi wants to give a special "hats off" to the team.
"We went through a lot of iterations—it was a tough challenge in the last month and a half. It was great to see the momentum continue even with social distancing," he said. "I really want to stress what this competition has brought to these students—an appreciation for teamwork and respect for one another."