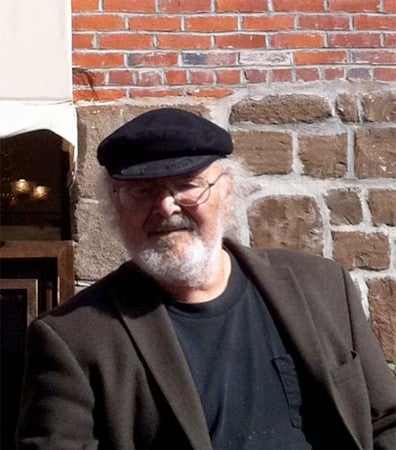 Professor Emeritus of Architecture and Interior Architecture and influential architect and urban designer James Pettinari passed away Nov. 24, 2020. He was 78 years old. Pettinari leaves behind his children Bianca and Anthony Pettinari, granddaughter Olimpia Filippini, grandson Augusto Pettinari, sister Suzanne Pettinari, partner Jennifer Marshall, and former wife Catherine Pettinari.
Pettinari grew up on the Mesabi Iron Range in Minnesota and would go on to receive a BArch from the University of Minnesota (1966), and a MArch from the University of Pennsylvania (1970), one of four UO professors who studied under renowned architect Louis Kahn.
His legacy is full of beloved students, colleagues, and projects that span the country such as the Missoula Downtown Waterfront and Caras Park Master Plan (a National Endowment for the Arts competition-winning scheme); the Ketchikan Pulp Mill Master Plan; and the waterfront revitalization for the city of Astoria, a city Pettinari loved. He and his students also developed many schematic ideas in Urban and Rural Design Assistance Team (URDAT) charrettes for the American Institute of Architects.
Pettinari is perhaps best known for his extraordinary aerial perspective drawings, which were featured in the seminal book he co-authored with his longtime friend and partner Ron Kasprisin, Visual Thinking for Architects and Designers: Visualizing Context in Design (1995).
"Jim Pettinari was an architect imbued with the essential principles of an artist, crafting powerful images that captured the regional and local spatial contexts within which we design; and he understood the connection of design to context," Kasprisin told the College of Design. The two met in 1971 as new hires at Hodne/Stageberg Partners in Minneapolis. "He was my dear friend, confidant, and passionate colleague."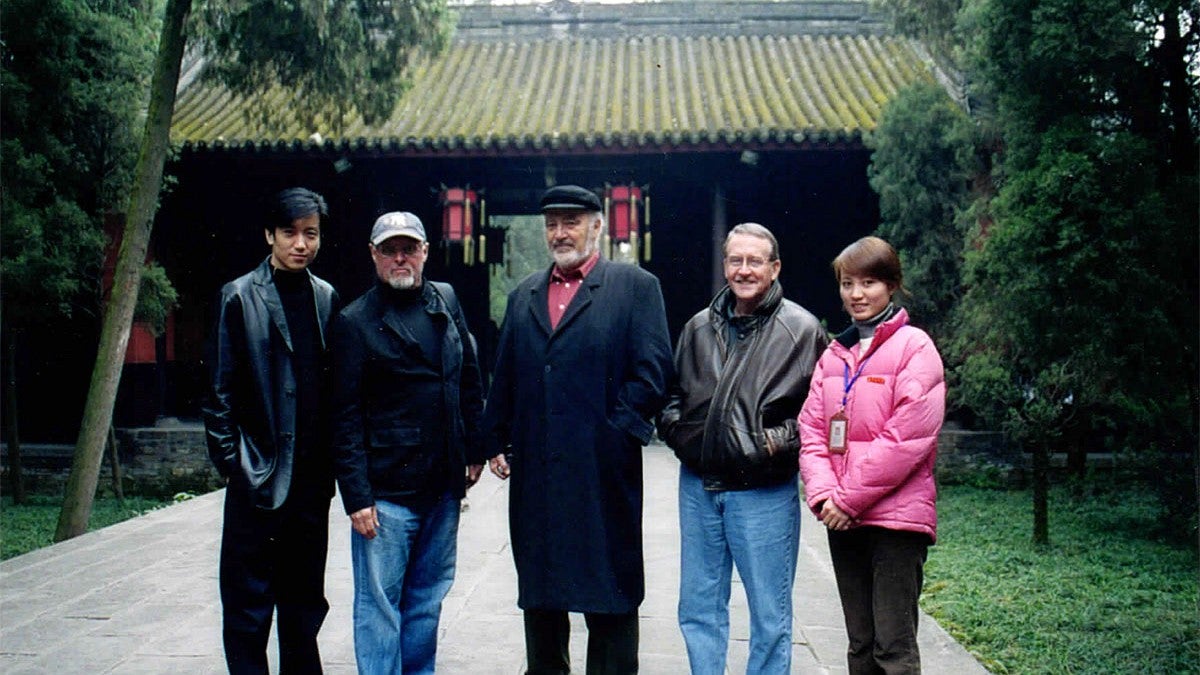 Pettinari (center) in China with friends and colleagues
Pettinari came to teach architecture at the College of Design (then the School of Architecture and Allied Arts) circa 1975 a few years after doing the Peace Corps in Chile and a teaching stint at the University of Louisville. Beginning in 1977, he partnered with Kasprisin—an urban planning professor at the University of Washington—to form the Kasprisin Pettinari Design firm based in Seattle. Together they worked on projects including transit-oriented development and a sports stadium design in Minneapolis; a highway bypass project in Ketchikan, Alaska; and the Port Townsend Downtown and Waterfront Master Plan.
By the mid-80s, Pettinari was an associate professor of architecture. As the eighties turned into the nineties, Paul Benoit, a former city manager of Astoria, fondly recalls working with Pettinari and his studio class to envision how the city's waterfront could be more accessible to the public. Pettinari produced a series of drawings.
"I believe that great artists make great architects,
and Jim was one incredible artist,"
—alumna Nadia Kasko
"They depicted the entire waterfront from a water-side view and from a bird's eye view," Benoit said. "They were works of art."
From 2001 to 2005, Pettinari directed the UO Portland Architecture Program, where he worked with Associate Professor of Architecture Hansjoachim "Hajo" Neis on the downtown development of the city of Tigard, Oregon, as well as studying the implications of Oregon's high-speed rail corridor alignment. Pettinari continued to work in the Portland program even after his retirement. Neis recalls how Pettinari had a pleasant, personal, and resourceful approach to running the program, and building relationships with the local community, be that people, neighborhoods, or institutions.
Pettinari (far right) with Portland architecture students examining his drawings during the 2014 'Freehand Drawing Workshop' he taught with Suenn Ho
"He was a man with lots of humor, wisdom, and decency. He never complained about anything but let his broad knowledge and humanity do the talking," said Neis.
A former student of Pettinari's, architect Nadia Kasko (MArch, '12), said it was privilege to see his visions executed through his beautiful hand drawings.
"I believe that great artists make great architects, and Jim was one incredible artist," Kasko said. "His work inspired me to learn his processes and techniques and use them to capture my own design ideas. He was extremely patient as I was trying to understand layers and layers of information each of his drawings contained."
Kasprisin recalls how dedicated Pettinari was to his students at the University of Oregon, teaching studio and drawing classes in pen and ink (preferring the almost-extinct Rapidograph and Graphos pens).
"He relished his media courses and passed on his techniques and skills to many dedicated students," Kasprisin said. "He also enjoyed engaging large-scale urban projects in the Portland area, from freeway relocations to the redevelopment of downtown industrial district, all augmented by largescale models and a myriad of pen-and-ink drawings."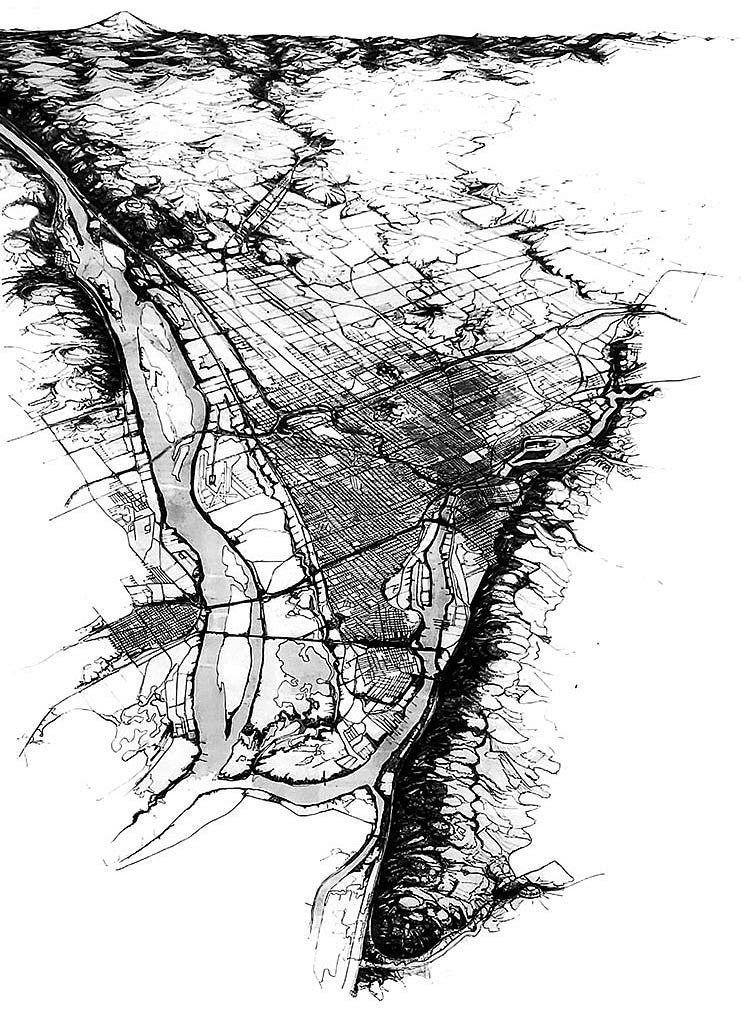 Pettinari's terms-spanning student studio projects of regional and national merit included the removal of Portland's eastside freeway and the Northwest Industrial Area Master Plan.
In recent years, Pettinari taught freehand drawing workshops and was active in attending architecture design reviews in the School of Architecture & Environment. Associate Professor of Architecture Gerald Gast says Pettinari even attended a midterm review on Nov. 11 via Zoom.
"Jim was a great teacher and colleague—larger than life—and remained dedicated to teaching, drawing, and our school," Gast said.
Longtime friend and teaching partner Lloyd D. Lindley II, a longtime friend and former teaching partner in the Portland Architecture Program, recalls how drawing was Pettinari's passion and the way he showed students the wider world.
"In 1974, an ink on mylar drawing hung in the window of a dark office in Lawrence Hall. A multiengine, Star Wars-inspired spaceship crawled over the Willamette Valley with observers hanging below an impossibly massive superstructure. Looking back, that drawing scribbled out the power of perception, big vision, and the language of lines," Lindley recalled. "Sadly, Jim's energy, commitment, fortitude to inspire students to think big and find solutions to complex problems through mindful expression and drawing will be missed."
Pettinari's co-teacher and former UO Associate Professor of Architecture Suenn Ho calls him a "professor's professor."
"May you keep drawing and we will too!" Ho said.
"He will always remain in our minds and hearts through his work, his energy, and his integrity. Thank you, James," Kasprisin said.
Expressions of sympathy can be made at dignitymemorial.com under the care of Zeller Chapel Of The Roses.
Pettinari in China with a friend; Pettinari and Paul Benoit, the former city manager of Astoria