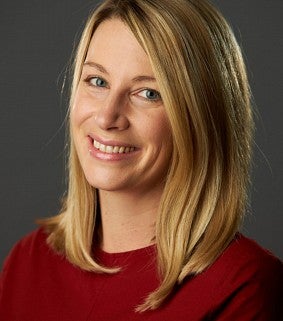 The Architectural Research Centers Consortium (ARCC) has awarded Assistant Professor of Architecture and Interior Architecture
Siobhan Rockcastle
the 2021 ARCC New Researcher Award, which "celebrates the activities, accomplishments, and promise of scholars in the early stage of their research career."
Rockcastle, director of the Baker Lighting Lab, has focused her research on lighting, occupant health, and environmental dynamics of the built environment, prioritizing the human scale over the building scale in design.
In Rockcastle's nomination letter, Associate Professor of Architecture Nancy Cheng and others wrote, "She is a pioneer in human-centric building environments, finding new methods for revealing how aspects of interior lighting, daylighting, and other aspects of health and comfort affect inhabitants' psychological and physiological reactions."
The nomination letter continued, "Her work shows how qualitative aspects of user experience, such as perceptions of comfort and satisfaction, are related to measurable technical factors such as color temperature, brightness, and contrast, as well as physiological rhythms. She is on the cutting edge of researching how virtual reality and sensor technology can enhance our understanding of human perception of lighting and is providing leadership in the area of evidence-based design through virtual evaluations."
Read more about Rockcastle's award in the ARCC announcement.
Rockcastle also co-authored a paper with Architecture PhD candidate Anupam Satumane about environmental factors influencing preferences toward window shading systems in a number of program types. It was accepted for the proceedings at the ARCC 2021 international conference.
Additionally, Rockcastle, along with then-graduate student Megan Danell (MArch, '20) and data scientist María Lovísa Ámundadóttir (with whom Rockcastle co-founded OCULIGHT dynamics), was awarded the Best Paper Award at the 2020 Symposium on Simulation for Architecture and Urban Design. Their paper, "Evaluating Temporal and Spatial Light Exposure Profiles for Typical Building Occupants" was chosen from 72 peer-reviewed papers.