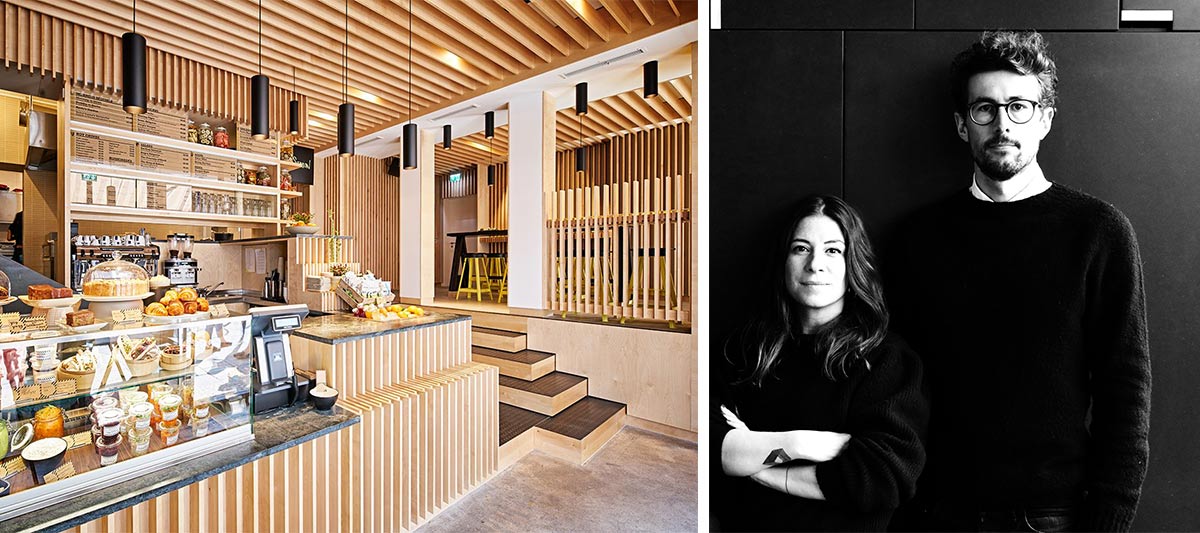 AllenKaufmann Studio's design for Berlin's NuPort Cafe (left) and founders of Allen Kaufmann Studio, Saskia Kaufmann and Justin Allen
As an American living and working in Berlin, architect and designer Justin Allen has found the city to have an open and experimental culture for practicing interior architecture.
"Berlin has always been international and forever in transformation," Allen said. "Its interior spaces reflect this constant change and need for change, which lends itself well to interior architecture projects."
Not only are some of the city's buildings more than six centuries old, the architecture of Berlin represents a dynamic mixture of historical and geopolitical periods, from the Baroque Charlottenburg Palace to Communist-era Alexanderplatz to the modern architecture of the 1990s.
Allen, who, in partnership with "Berlinerin" Saskia Kaufmann, founded the Berlin design firm AllenKaufman Studio, will be a visiting Stott professor this spring term teaching a seminar and a studio, made possible through the Julie Neupert Stott Visiting Professor endowment.
Stott's (BIArch'77) generous endowment helps the Department of Interior Architecture bring talented designers from around the world each year to work with students and faculty for a term.
The Interior Architecture seminar, IARC 407/507, will explore combining hand-drawn, hand-made, and digital techniques in design and creative expression. For the studio, IARC 484/584, Allen and students will look at designing an all-wood meditation space.
The studio, called "Tree Matter Rearrangement," will examine the industrial life cycle of a tree, from the moment it is felled in the woods to the end of its fabrication process. Allen says studio participants will visit a meditation center as well as practice meditation.
"Taken together, the design process can then be informed by simultaneously looking into the industrial and fabricated life cycle of the material wood in combination with experiencing actual meditation centers and meditating," Allen wrote in his course description.
Allen is excited to come to Eugene to explore the area's vibrantwood products industry. He first started working with wood fabrication in his father's tool and die manufacturing shop. He loves the challenge of the medium. "The main reason is because wood is forever alive and in constant transformation," Allen said. "It's forever changing; it's never static."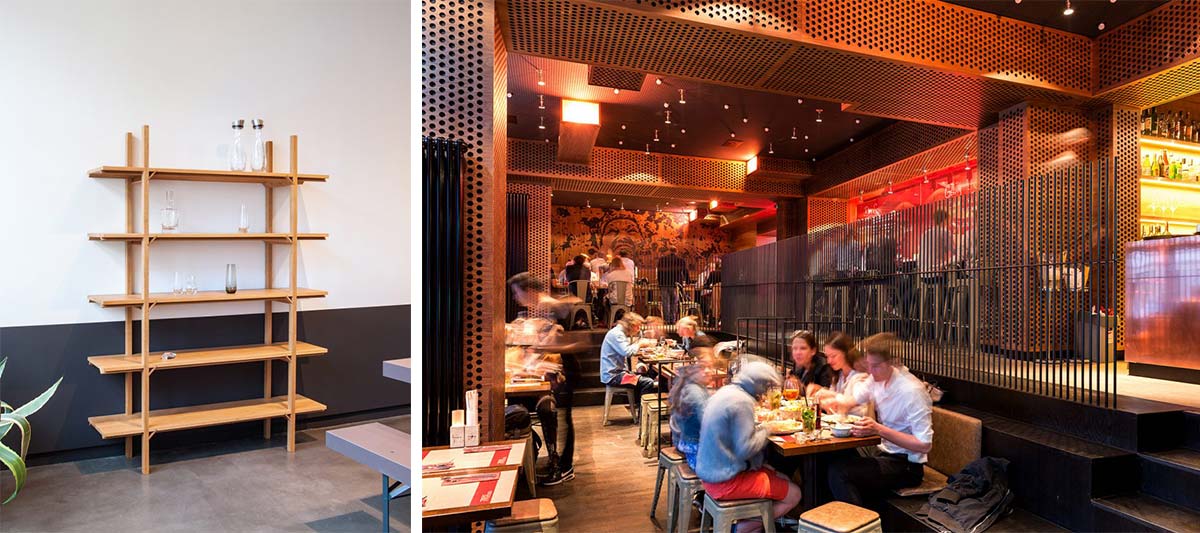 AllenKaufmann Studio's Dado Shelf (left) and interior architecture for Berlin's Nu Restaurant
Before relocating to Berlin, Allen received an undergraduate degree in philosophy and a master's in architecture from the State University of New York at Buffalo. As part of the project team at Steven Holl Architects in New York, he worked on projects such as the Sliced Porosity Block, a building complex in Chengdu, China and a not-yet realized multi-use skyscraper project along the High Line in New York.
In Berlin, Allen started at the architecture firm Von Gerkan, Marg, and Partners, as well as Barkow Leibinger and Ralph Appelbaum Associates, before opening AllenKaufmann Studio. Here, Allen and Kaufmann work "along the fringe of traditional architecture and design" including residential, commercial, fashion, restaurants, night-clubs, sculptures, installations, hybrid projects, furniture and product design.
"We'll do the interior design, but then we'll also design and fabricate an art or light installation, and we'll do the furniture," Allen said. "We're responsible for designing the space and we are trying to include all the objects of that space into our design scope."
Linda Zimmer, head of the interior architecture department, shared her enthusiasm for Allen's upcoming residency. "Allen's grounding in philosophy is combined with a deep knowledge of fabrication," Zimmer said. "We expect his studio and seminar to be a seminal experience for students."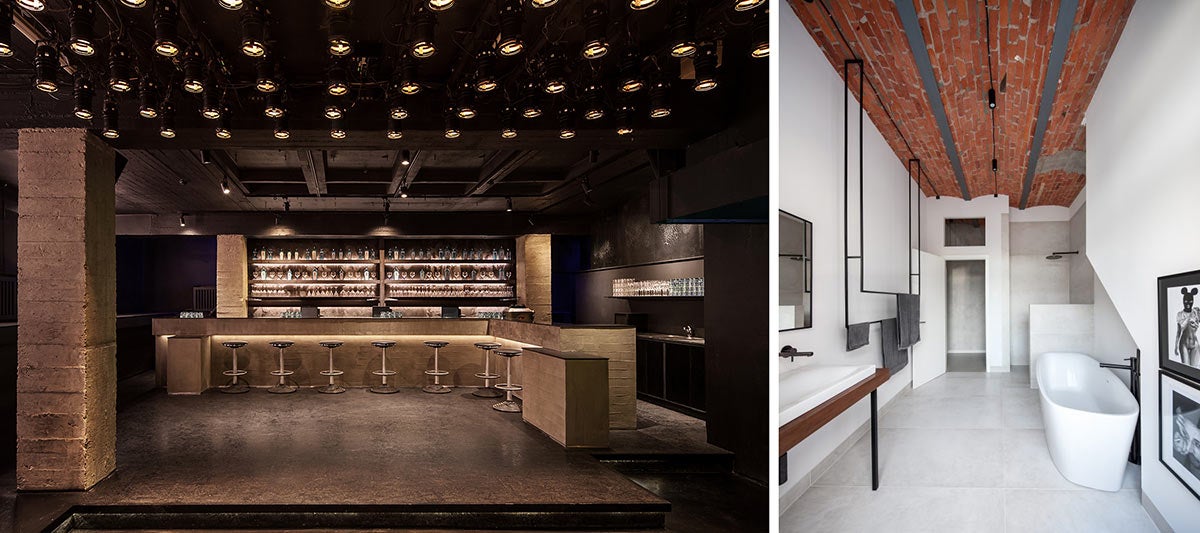 AllenKaufmann Studio's interior architecture for Berlin's Club House of Weekend (left) and a Reichenbergerstrasse apartment